'I am new to the stock market. Please advise what stocks should I hold and for how long.'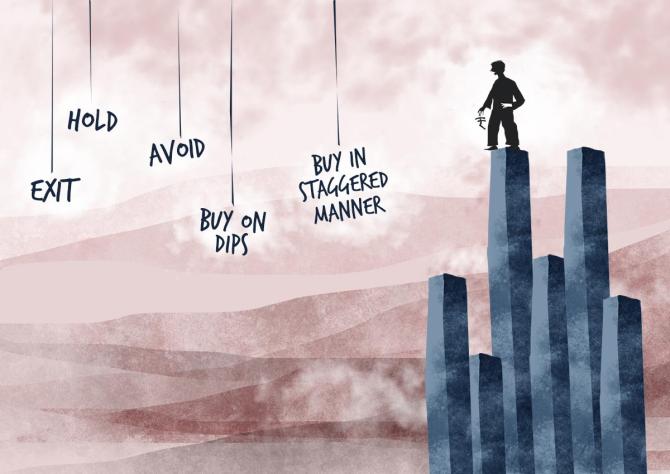 Ajit Mishra, vice president, Research, Religare Broking, answers your queries:
---
Sarita Dsouza: Kindly let me know whether to hold or exit the below stocks.
Have been holding them since 2007.
Ajit Mishra:
Yatin Barapatre: Would like to know your expert views on my portfolio, to hold or to exit.
Ajit Mishra:
Gagan Biradar: I am holding 1,000 shares MCLEOD RUSSELL INDIA LIMITED bought at Rs 16.65. Please advise if I should hold on to the shares or sell? Is the price of shares going to increase?
Ajit Mishra: Exit the stock.
Manoj: I am new to stock market and currently holding the following stocks. Please advise what stocks should I hold and for how long and what to exit.
Ajit Mishra:
Sudhakar Dubey: Please suggest to sell them or hold them. I have shares of the following:
Orient Electric @ Rs. 296.95
Jindal Polyfilms @ Rs. 680
Ajit Mishra: Hold both the stocks.
Manish Jain: Please suggest on the below shares:
Ajit Mishra:
Alok Khanna: I want to invest Rs 25,000 (of my wife's pension) per month for eight years (till she reaches 58 yrs of age). Request your guidance.
Ajit Mishra: You can invest in stocks such as Britannia, ICICI Bank, SBI and HDFC Life.
Kingshuk Sen: I am a long term investor with an investment horizon around 8-10 years. Currently, I am holding following shares. Please advise whether to hold them considering my investment philosophy, add more or exit.
Please also advise, if I really need to sell any one or two of these due to some monetary obligations, which one of the following can I sell, ie which ones of the above are comparatively weak.
Ajit Mishra:
Jagadish Rao: I am new to investing. Kindly check the stocks which I have bought and give your feedback.
Ajit Mishra:
Sushant Patra: I have some 2000 shares of railtel@155. Should I hold it for long term?
Ajit Mishra: Hold the stock.
Bivas Nag: Please suggest your view regarding these holdings.
Ajit Mishra:
| | |
| --- | --- |
| Cadila Healthcare: 250 shares @ Rs 481.36 | Hold |
| IndusInd Bank Ltd: 100 shares @ Rs 1,020.79 | Hold |
| ICICI Bank Ltd: 150 shares @ Rs 632.97 | Hold |
| BPCL: 125 shares @ Rs 465.69 | Hold |
| Coromandel Int'l: 50 shares @ Rs 823.88 | Hold |
| Indian Railway Finance Corpn: 575 shares @ Rs 26 | Exit |
| Vodafone Idea Ltd: 1,000 shares @ Rs 11.61 | Exit |
| SBI: 10 shares @ Rs 386.40 | Hold |
| Havells India Ltd: 2 shares @ Rs 1,131.07 | Hold |
Mihir Trivedi: I have bought 10,000 shares South Indian Bank @ Rs 14.50. Kindly advise if I should sell or hold.
Ajit Mishra: Exit the stock.
Chandrahas Tiwari: I had the following stocks in my portfolio. Please suggest which ones to hold and which to sell?
Ajit Mishra:
Anil Agnihotri: Can you please guide if I should invest in the following stocks at the current level?
Ajit Mishra:
Ghanshyam Saxena: I am very new to the Indian stock market and have started investing since a couple of months. Given below is my portfolio with a request for your expert advice. Thank you.
Ajit Mishra:
Hasmukh Lad: TCS Shares 4 @3446 -- shall I sell the shares>
Ajit Mishra: Fundamentally, the company is strong. You can hold the stock for the long term.
Please mail your questions to getahead@rediff.co.in with the subject line 'Ask Ajit', along with your name, and Mr Ajit Mishra will offer his unbiased views.
Disclaimer: This article is meant for information purposes only. This article and information do not constitute a distribution, an endorsement, an investment advice, an offer to buy or sell or the solicitation of an offer to buy or sell any securities/schemes or any other financial products/investment products mentioned in this QnA or an attempt to influence the opinion or behaviour of the investors/recipients.
Any use of the information/any investment and investment related decisions of the investors/recipients are at their sole discretion and risk. Any advice herein is made on a general basis and does not take into account the specific investment objectives of the specific person or group of persons. Opinions expressed herein are subject to change without notice.