'I have sold all my shares in panic.'
'Could you please advise me a few companies which look promising and I can invest for the long term?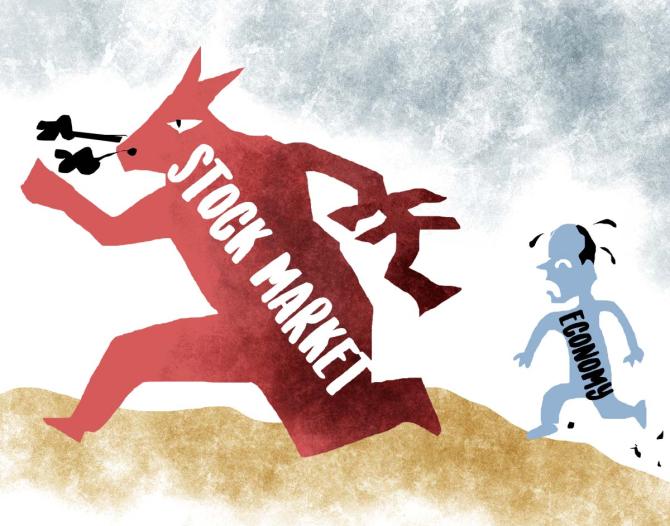 Ajit Mishra, vice president, Research, Religare Broking, answers your queries:
---
Tahir Khan: I am regular reader of your valuable opinions on rediff. I am a long term investor.
I have 75 shares of Indiabulls HOUSING @415. Presently in loss of about 19,000/-. Shall I book loss Sir or wait. I can wait for long also. Pls suggest.
Further, pls suggest about below stocks which I can hold all for long term. Pls suggest to sale / hold / accumulate.
Ajit Mishra: Its better to stick to large NBFCs like HDFC and Bajaj Finance
Coal India 120@215 - now at loss of 20,000/- approx. - Exit
ITC 185@240 - now at loss of 13,000/-approx – Hold for 2-3 years
ONGC 170@134 - now at loss of 11,000/- approx. - Hold
IOC 150@136 - now at loss of 9,000/- approx. - Hold
Neetu Singh: Pl advise future strategy on my portfolio:
Ajit Mishra: Quess@ 198 - Avoid
Eicher motors@1471 - Hold
Tanla @230 – Book partial
Maruti@ - Hold
CAMS@1230 - Hold
Cadila@287 - Hold
Cipla@575 - Hold
Coforge @2020 - Hold
Concor@451- Hold
Tcs @1805- Hold
Solara@973- Hold
Rajeshexports @474 - Avoid
Optocircuits@7.35 – Exit
Nbcc @26 - Exit
GEPIL@282 - Exit
HDFC@1904- Hold
MRF@ 60068- Hold
Trejhara@22.10- Exit
Infy@627- Hold
Astrazaneca@399- Hold
Bajaj fin@2297- Hold
Reliance@1946- Hold
sanjay s sanghrajka: I am holding below mentioned shares, kindly suggest should i hold or sell if sell then where to invest again?
Ajit Mishra: Route Mobile@350- Hold
Bandhan Bank@375- Hold
Angel Broking@306- Hold
HDFC AMC@1100- Hold
AU Small Finance@358- Hold
Coal India@235- Exit
PNB Housing finance@775- Exit
Laurus Labs@85.6- Hold
CAMS@1230- Hold
SBI Cards@755- Hold
Amber Enterprise@859- Hold
amit dubey: I have sold all my shares in panic. Could you please advise me a few companies which look promising and I can invest for the long term. Need to invest Rs 10 lakh.
Ajit Mishra: One can look to invest in Reliance Industries, Britannia Industries, HDFC Bank, ICICI Bank, M&M, and HUL
anand fadnis: I seek your expert advice on the following:
1. I am retired Government servant (MP) since 2006-age 76 with only income from pension
2. This year I had closed my PPF account and redeem TATA mutual fund TINFD -the amount is deposited in my Sbank account
3. I would like to know will there be any tax liability covering short/long term capital gain on the amount received.
Hope you will provide me necessary advice
Ajit Mishra: We suggest consulting a CA regarding the same.
Amit Jain: I have got following Shares. Kindly let me know whether I should Hold them or Exit from them.
Ajit Mishra:
1) Alok Industries - Exit
2) Geojit Financial Services Ltd - Exit
3) GSS Infotech Ltd - Exit
4) Tata Teleservices (Maharashtra) Ltd- Exit
5) Jaiprakash Associates- Exit
6) Jyoti Ltd. - Exit
Pravin Pandey: I have trading and demat account with karvy stock broking ltd .Karvy has transferred few stocks to nsdl demat account and most of the shares are in their pool account. Now karvy has been declared defaulter. Now I opened demat account in Kotak Mahindra and Zerodha. Sir my query is:
1. Can I get my money back?
2. Is there any option to sell these stocks directly?
3. As offices of karvy has been closed they run away how can these stocks will transfer to other demat account?
4. Is there any service provider paid or free who can help me?
Sir I am from small city and also not having any support/ knowledge to resolve this issue. I will be very grateful for your suggestions.
Ajit Mishra: Please check with your existing brokers to help you in this regard.
shailendra raghuvanshi: I have gone through today (8-12-2020) advise at one particular place you have asked to sell Tata power share and on one more place you have asked to hold the Tata power share, quite confusing on the same date for the same company two different opinion. I have 100 shares of Tata power
Ajit Mishra: It could be due to different trading or investment horizon. Also, if someone has bought at lower levels and getting decent returns, it's prudent to book profits. However, if someone has just entered and the stock shows potential to yield further returns, we advise to hold as well.
You may hold the stock if have a long term view.
pandi rtajan kan: I am a new investor and would like to know your advise on the following stocks.
Ajit Mishra:
Name Qty Avg Price Hold/Exit
Aptech 50 122 Exit
AshokLeyland 30 67 Hold
First Source 50 79 Exit
Happiest Minds 150 358 Hold
Tata Motors 30 130 Hold
BIJAY KEJRIWAL: PLEASE ADVICE FOR FOLLOWING:
Ajit Mishra:
1) HINDUSTAN COPPER – Hold but keep exposure minimal
2) COAL INDIA - Exit
3) HINDUSTAN UNILEVER - Hold
4) UTI AMC – Prefer HDFC AMC
Ashok Jain: Sir please suggest me to hold or exit:
Ajit Mishra:
1) Axis Bank- 500@ 621.50 - Hold
2) Bharthi Airtel- 1000@ 471- Hold
3) HDFC- 100@ 2308- Hold
4) Tata Motors- 1000@175- Hold
5) ICICI Bank- 500@509- Hold
Anupam Narkhede: I have following stocks in my portfolio from more than a year. I accumulated few shares in these stocks in the month of April 2020. Please advise which one to hold and from which stocks I need to exit. I'm investor and I have made these investments in long term perspectives.
Ajit Mishra:
1. Amara Raja Batt. - Hold
2. City Union Bank - Exit
3. Divi's Lab- Hold
4. Finolex Cables - Hold
5. Gail - Hold
6. Godrej Consumer- Hold
7. HCL Technologies- Hold
8. HDFC AMC- Hold
9. HDFC Bank - Hold
10. Hawkins Cooker - Hold
11. ITC - Hold
12. Indian Energy Exchange- Hold
13. Infosys- Hold
14. L&T- Hold
15. La Opala RG- Hold
14. Maruti Suzuki India- Hold
15. PI Industries- Hold
16. Reliance industries- Hold
17. Synergy International Ltd- Hold
18. VST Tillers Tractors Ltd – Prefer Escorts
19. Zee Entertainment - Avoid
20. Power Grid Co- Hold
21. Bajaj Auto Ltd - Hold
22. Eicher Motors - Hold
VENKATESAN: My holdings are as follows:

Ajit Mishra:
Company Name Qty Avg Purchase price

ASHOK LEYLAND LTD 50 121- Hold
EICHER MOTORS LTD 8 2159- Hold
MARUTI SUZUKI INDIA LTD 15 9337- Hold
MOTHERSON SUMI SYSTEMS LIMITED 250 199- Hold
TATA MOTORS LIMITED 585 247- Hold
DEWAN HOUSING FINANCE CORPN L 100 51- Exit
ICICI BANK LIMITED 50 337- Hold
INDIA CEMENTS LTD 55 95- Hold
MEGHMANI ORGANICS LTD 1150 74- Hold
LARSEN AND TOUBRO LIMITED 60 1453- Hold
DABUR INDIA LTD 1 523- Hold
HCL TECHNOLOGIES LIMITED 50 493- Hold
TATA CONSULTANCY SERVICES LTD 15 1931- Hold
WIPRO LTD 400 269- Hold
INDIAN RAIL CAT AND TOUR IRCTC 15 898- Hold
BHARAT PETROLEUM CORPN LTD 50 350- Hold
HINDUSTAN PETROLEUM CORP 100 243- Hold
OIL AND NATURAL GAS CORPORATIO 936 158- Hold
RELIANCE INDUSTRIES 50 1265- Hold
KHADIM INDIA LIMITED 50 271- Hold
RELIANCE NAVAL ENGINEERING LTD 100 9- Exit
ALOK INDUSTRIES LIMITED 100 12- Exit

Zoher: Please advise me on
Ajit Mishra: Marksans Pharma , 2350 Nos- Exit
Kalyani Steel, 50 Nos.- Exit
arumugam anbarasan: I am holding the following shares:
Ajit Mishra:
1. DLF -Exit
2. GMR INF-Exit
3. GUJ NRE -Exit
4. IFCI-Exit
5. NAGCON-Exit
6. PUNLLO-Exit
7. RATPOW-Exit
8. SINPLA-Exit
9. SUZENE-Exit
10. Vodafone idea-Exit
11. HINCON-Exit
12. HITKIT-Exit
13. JKSYN-Exit
14. KITSUG-Exit
15. PACCOT-Exit
16. SAKSUG-Exit
17. SATCOM-Exit
18. SININD-Exit
19. TATTE-Exit
Kindly advise whether i can hold all the above shares or sell off?
---
Please mail your questions to getahead@rediff.co.in with the subject line 'Ask Ajit', along with your name, and Mr Ajit Mishra will offer his unbiased views.
Disclaimer: This article is meant for information purposes only. This article and information do not constitute a distribution, an endorsement, an investment advice, an offer to buy or sell or the solicitation of an offer to buy or sell any securities/schemes or any other financial products/investment products mentioned in this QnA or an attempt to influence the opinion or behaviour of the investors/recipients.
Any use of the information/any investment and investment related decisions of the investors/recipients are at their sole discretion and risk. Any advice herein is made on a general basis and does not take into account the specific investment objectives of the specific person or group of persons. Opinions expressed herein are subject to change without notice.