XSEED Education is a curriculum-and training-based learning solution that helps schools improve their teaching techniques. And its impact, even on students with dyslexia and dysgraphia, is remarkable.
Anita Babu reports.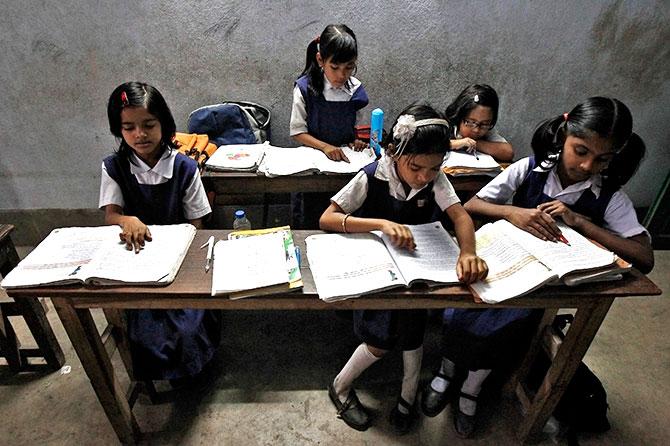 IMAGE: According to Ashish Rajpal, below, India has about 1 million government schools and 400,000 private schools, enrolling 250 million students and the market is pegged upwards of $20 billion. Photograph:

Rupak De Chowdhuri/Reuters

.
Seven-year-old Dethswrang was finding it difficult to keep up pace with his classmates in studies because he suffered from dyslexia and dysgraphia. It was around then his school implemented XSEED's teaching solutions, after which the teachers noticed a remarkable improvement in his performance.
Scientific approaches in curriculum and regular assignments helped Dethswrang transform into a confident kid, says his school principal.
XSEED is a curriculum-and training-based learning solution that helps schools improve their teaching techniques.
Traditionally, schools have been dependent on a textbook-based method of teaching. "XSEED tries to resolve this by replacing the impersonalised teaching technique with an alternative that works inside every classroom, for all children and with every teacher," says Ashish Rajpal, co-founder and chief executive officer.
Rajpal quit his corporate career in Paris to pursue his passion for children's education, which ultimately led to the birth of XSEED in 2008.
XSEED's solution is a scalable teaching toolkit.
Every concept is broken down into five simple steps -- make the objective clear to children, conduct a hands-on activity to experience it, question to grasp the concept, apply this knowledge in a real-life situation, and assess what children learn.
The package involves training for teachers and management, and books and assessments for children.
According to testimonials from schools, students have shown more curiosity, more confidence, and an ability to reflect after the programme was introduced.
The company has raised more than $20 million from New York-based Lighthouse Funds and Belgium-based Verlinvest.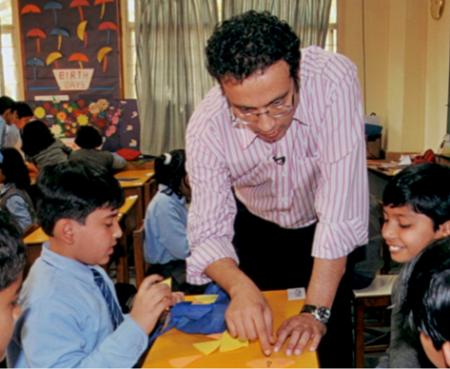 Business model
The Singapore-based company primarily targets aided and privately-owned schools. While most schools do not have a teaching methodology in place for the service that XSEED provides, most are either unwilling or unable to pay for it.
XSEED overcame this challenge by bundling it with the 'product' -- books, workbooks and student assessments -- which the parents pay for. Schools are charged a one-time fee to licence the programme and parents invest annually (through the school) an affordable per-child fee.
"XSEED has a strong value proposition in K-8 (kindergarten to Grade 8, a segment in which this firm operates) learning with its unique pedagogy, structured curriculum and technology," says Nicholas Cator, executive director, Verlinvest.
In his quest to impact the way education is being imparted, Rajpal tried his hand in teaching science to fourth-grade students.
"It's so hard to do a good job in the classroom," he exclaims.
"XSEED was born out of a desire to change this situation; with a solution that actually works inside classrooms and shows results on children," he adds.
Currently, the company has more than 1 million children, through 75,000 re-skilled teachers in about 3,000 schools.
Opportunity
Most schools rely on creating their own teaching plans that are time-consuming, relying on private publishers' textbooks that are often outdated and one-off teacher-training programmes that fail to have a lasting impact in the classroom. In short, XSEED tries to disrupt the 'commodity' model of the publishers.
There is an opportunity for innovation and quality improvement in the K-12 (kindergarten to Grade 12) school education space. Parental aspirations to quality education are growing.
"Parents in India (and elsewhere in the emerging economies) often spend 15-20 per cent of earned income on school and after-school education," says Rajpal.
According to him, India has about 1 million government schools and 400,000 private schools, enrolling 250 million students and the market is pegged upwards of $20 billion.
Traditionally, schools have been served by private publishers and more recently by digital or e-learning firms such as Educomp or XSEED, which offer smart board-based e-learning solutions.
A lot of investment has been made in digital solutions, mostly focused on hardware-centric ones, which haven't shown results in classrooms, Rajpal says. That's where opportunity lies for XSEED.
The edtech start-up is now exploring opportunities to take its service product to Southeast Asian economies.
Challenges
Changing the schooling system was and continues to be the major challenge for the company. It overcomes this by developing practical tools to support teachers in the classroom and demonstrating tangible impact on children's learning outcomes.
The second challenge is to attract quality talent. Often, the impact that the training brings about among the students draws individuals to work for the company.
Currently, the team consists of about 400 employees.
Future
XSEED is growing at more than 50 per cent and claims to be profitable. It targets 10,000 schools and 10 million children.
"To reach this target, we will be strengthening our technology platform, international footprint, and brand in the K-8 elementary education space," says Rajpal.
Scroll down for more stories on thinkers who are changing the way India learns.