'It is the small scale, medium scale and start-ups that are going to create more jobs now... More than 1,000 start-ups are created in colleges and more start-ups are coming up every year.'
Illustration: Dominic Xavier/Rediff.com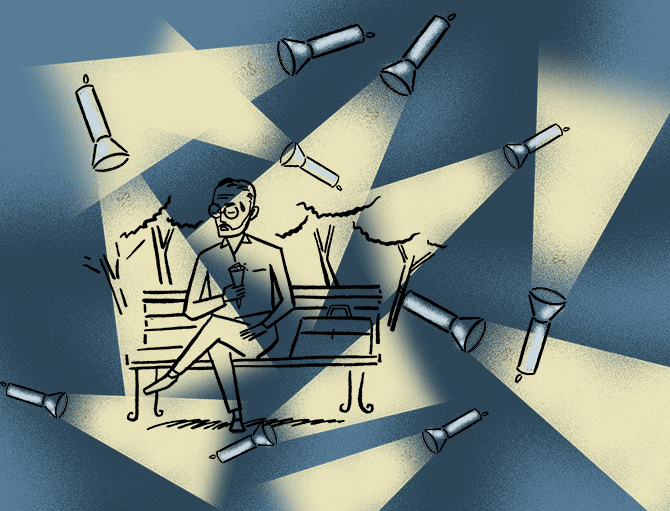 Media reports reveal that, in Tamil Nadu, more than 54 per cent of engineering seats remained vacant after general counselling and not even one student joined any of the 16 state-run engineering colleges.
Is the lure of engineering over? Or are there other reasons behind this lull?
All India Council for Technical Education Chairman Anil D Sahasrabudhe (below), who has been trying to bring in a Common Engineering Examination for all the engineering colleges in the country on the lines of NEET (the National Eligibility cum Entrance Test for those who want to study medicine), talks to Shobha Warrier/Rediff.com about AICTE's efforts to improve the technical education scene in India.
You have been talking about the need to have a common engineering entrance examination for the entire country, like you have NEET for medical colleges. How long will it take for such an exam to happen?
Actually, it is not in our hands!
Since the curricula of different states are not at the same level as that of the CBSE, it could not be introduced.
It will take time for all the states to have a similar syllabus as we want a level playing field before we introduce a common entrance exam.
We have requested all state governments to revise their curriculum; some of the states have already started working on it.
We are hopeful that people will realise the importance of having just one test for all candidates in the country, as this will decrease the pressure on them.
To get all on board, it will take a year or two.
In fact, I cannot predict how long it will take. But it is on our agenda.
How has the response been from the states? For example, politicians of a highly literate state like Tamil Nadu have been opposing NEET as they say it does not provide a level playing field.
Ninety per cent of the states have already agreed but some need more time to revise their curriculum.
Revising the curriculum has to start from the primary level, as you cannot suddenly revise the 10th or 11th standard syllabus.
Some states have asked for time to streamline their curriculum.
However, there are states that do not want any competitive exam as they feel the 12th standard marks are enough.
What I mean is that there are different views on this. So, it will take time to bring all on board.
The trouble with engineering is that the sheer number of institutions and that of seats are too high, unlike medicine where there are fewer seats.
Even NEET was not acceptable to many states but then the Supreme Court said it was the only way admission to medical colleges should be done.
After that, NEET was accepted whether they liked it or not.
In engineering, there is a problem of plenty and many seats are vacant.
So it's natural that there will be some adverse reaction to a Common Engineering Examination.
We have been asking various state governments to revise the curriculum regularly.
What was taught 10 or 20 years ago is not relevant today.
When technologies are changing and science is changing, we need to update our curriculum regularly.
The proposed new education policy will put emphasis on such aspects.
Is it a tough task making the states understand the importance of a common test?
Nothing is tough! What is needed is dialogue.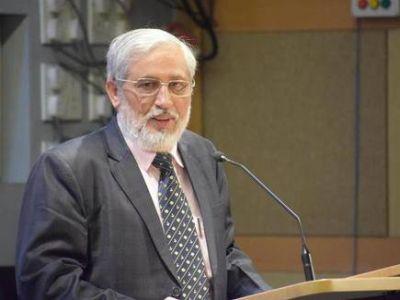 People have started understanding the concept of one entrance test and why it is important. They have started realising that multiple entrance exams put a lot of pressure on students.
It is not just stressful to write an examination, it puts pressure on finances too.
A student coming from a rich, upper-middle class or middle-class family may be able to pay the fees for multiple entrance exams but what about poor students from rural areas?
She/He not only has to pay various fees, but also has to travel to the city to write the exam.
Another thing many people don't realise is that the examination may be on an all-India basis but students belonging to a state will be considered for seats in that particular state, that too based on the policy of the state government.
What I want to say is, the fear of a student losing a seat in his own state is unfounded.
Will you be able to include the deemed universities into the ambit of the common entrance test as they fleece many students through entrance test fees and high tuition fees?
Once they all come under one single entity, it will happen.
Right now, they are enjoying this freedom through some Supreme Court judgments.
Moreover, deemed universities come into existence through the University Grants Commission and the ministry of human resource and development.
AICTE has only started regulating the courses run by deemed universities.
Nevertheless, they are all governed by general regulations.
We will look into that once the common test comes into existence.
It was reported that, in the last four years or so, admissions to engineering colleges have dropped by 50-55 per cent. Is it because of fewer jobs and a reduction in campus placements that students find engineering less attractive?
It is a mixed bag. It is true that in the last five years, admissions for engineering have come down.
That is because of the expansion that had taken place in terms of number of colleges and seats over a decade and half.
Naturally, there is less demand and more capacity.
Moreover, today there are enough career opportunities available in other domains like in law, accounting, etc.
Maybe some of the students are opting for these new openings.
The data that has come out is only in respect to the affiliated engineering colleges which are regulated by the AICTE.
The deemed and private universities that have mushroomed all over the country have no restriction on the number of seats.
Every private university that comes up takes away seats from 10 other colleges and admissions taking place in private universities are not counted in the data.
Therefore, you cannot say that the attraction for engineering has come down and the demand is decreasing.
Still, every year, it is plus or minus 5 per cent depending upon the current employment scene, employability of graduates, etc.
The news items that appear on the employment scene definitely have some impact.
What is happening is that engineering admissions are getting transferred from one set of institutions to another.
There is no decrease in jobs or campus placements.
In fact, various surveys say that employability of students is getting better today.
They say that 57 per cent of students are found employable by the industry.
Campus placements are always around 50 per cent and never more than that. Even today, it is the same.
Besides, many companies are not recruiting through campus placements.
For example, a large employer like Tata Consultancy Services directly recruits students through their own tests.
Also, many companies prefer to recruit students through internships of two months or six months and then employ them.
This gives them a chance to observe the students for a longer period rather than a 15-minute interview.
AICTE has been asking industries to support the idea of recruiting students as interns.
When we spoke a couple of years ago, you talked about internships and also the need to update the syllabus regularly. How successful has this been?
That is showing results now.
Employability of the final year students, when tested by some of the agencies, has been improving.
And the students who have been following the changes in the curriculum for a couple of years will come to the final year soon. We will see better results in another year or two.
We have been upgrading the curriculum regularly as per industry requirements.
If we do not train the academia as per the changed curriculum, there is no use. So we have been training the academia also.
We have also started the student induction programme two years ago. This will inspire more students to join.
We have started innovation cells in colleges and India's ranking in innovation has been constantly improving.
India was ranked 81 in innovation five years ago; now, we are at 52. It shows the direction in which we are moving.
Jobs are created not just by big industries but start-ups also.
In fact, because of automation, there will be a slight decrease in the number of jobs created by big industries.
It is the small scale, medium scale and start-ups that are going to create more jobs now.
That's why AICTE's policy of teaching entrepreneurial courses to students has already created spin-offs.
More than 1,000 start-ups are created from colleges and more start-ups are coming up every year.
This means, around one lakh jobs are created in colleges itself.
There is definitely an improvement in terms of innovation, start-ups and the quality of students.
This side of the story needs to be told, and nobody is talking about it.
You should understand that more than one million engineering students graduate every year in India.
Certainly, we are not creating that many jobs at that level.
So, some of them doing jobs other than engineering should not be looked at as a negative because the training that they receive is far more focussed on analytical and mathematical abilities and creativity.
Therefore, these things will help the student in whatever field he chooses.
For example, more than 50 per cent of the students selected by the UPSC in the Civil Service examination for IAS are engineers.
Yes, our whole philosophy of education has to be re-looked at; we have to create good, confident citizens, capable of learning by themselves, with the ability to have lifelong learning capability. Only then, we can compete with the rest of the world.
Photograph: Kind courtesy Anil D Sahasrabudhe