As Arjun Vajpai sets his eyes on Mt Kangchenjunga, people are wishing him success.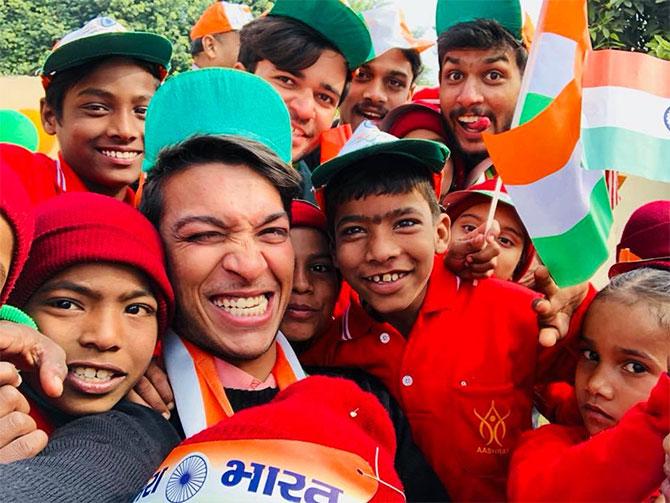 Arjun Vajpai, 24, will attempt Mt Kangchenjunga in April 2018.
Photograph: Kind courtesy Arjun Vajpai/Twitter
Arjun Vajpai was 16 when he became the 'third youngest Indian' to climb Mt Everest in 2010.
A year later, he conquered Mt Lhotse. He's also the youngest Indian to climb Mt Manaslu.
All three peaks -- Everest, Lhotse and Manaslu are over 8,000 metres.
Arjun's next summit -- Mt Kangchenjunga -- is clearly the most adventurous of them all.
Mt Kangchenjunga, which Arjun plans to summit in April 2018, stands at an elevation of 8,586 m.
As the 24-yr-old gets set to summit Mt Kangchenjunga next month, many celebrities including Sachin Tendulkar and Hrithik Roshan are sharing their support.
Arjun who admires Sachin Tendulkar had earlier tweeted to him: "Respected @sachin_rt Sir, as I embark on an expedition to India's highest peak Kangchenjunga, I seek your blessings and good wishes. As an athlete I have always admired you, I am sure you will appreciate the thirst for new adventures, scaling new heights and new experiences."
"Cannot tell you how glad it makes me to know that you are following your dream. All the best for this challenging journey," Sachin Tendulkar tweeted.
Hrithik Roshan, who plays Arjun Bajpai in a new softdrink advertisement also took to Twitter to share his love:
"Arjun! Ur courage,determination n perseverance is infectious!Lets give this hero r best as he gets ready 4 his next expedition 2Kangchenjunga. I'm inspired by his passion and dedication n I'm looking forward 2 hearing more adventurous stories after his return."
Video: Check out the inspiring video of Arjun's journey so far:
Having summitted five of the 14 highest mountains in the world, Arjun's ultimate dream is to summit all 14 of them and inspire people to achieve their dreams.
Video: Watch how Arjun Vajpai fought asthma to conquer his first summit in 2010.
All videos: Kind courtesy Vice Production for Mountain Dew