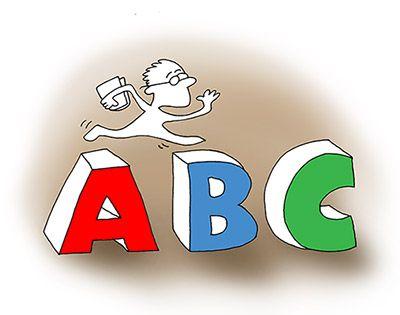 Applying for a passport is no longer the nightmare it used to be, thanks to the government outsourcing parts of the process. Still, there are things you need to know before you take the plunge.
Ram Iyer, who recently got passports done for his entire family, has some tips.
Illustration: Uttam Ghosh/Rediff.com
Once upon a time in India, when foreign travel was only for the super-rich or the super lucky/talented, a passport was a luxury. Now, with some international destinations cheaper than travelling in India and jobs and studies often entailing overseas flights, a passport is a necessity.
The processing times for passports has been reduced considerably, especially after the government outsourced the initial processing to a third party (Tata Consultancy Services).
With the setting up of more passport service kendras with online application, the stress of travelling to a sarkari office and waiting in serpentine lines for the attention of sarkari staff are also nightmares of the past.
As soon as the passport application form is approved by the officials, an intimation is sent online to the police station attached to the pin code of your address.
In fact, the very next day a police officer may knock on your door. He will hand over a checklist of documents to be carried to the police station on a particular day and time (that week itself).
At the police station, the documents are again verified with the originals and a separate file is made for clearance and approval.
This file goes to the Criminal Investigation Department, and their approval is intimated to the passport office.
The entire process takes a maximum of seven days, and the passport generally reaches the applicant within 15 days of submission.
The passport service kendra has four different sections/stages through which one has to pass.
The first counter scrutinises the basic documents such as the online application form, the birth certificate, address proof, marriage certificate if applicable, school leaving certificate, Aadhar card, old passport (in case of renewal).
After scrutiny of the papers, a token is issued together with a file containing the documents. With this token -- a printed sheet with barcode and token number -- you are given entry to the processing office.
This part is handled by TCS.
Once you enter the processing office, there is a waiting hall where two screens display the token number and the counter you should head to. There are three stages from here on. Counter A, B and C.
Counter A (handed by TCS) verifies the original documents, seeks additional document copies, and takes fingerprints, and photograph.
The details entered into the system need to be verified and accepted by the applicants. Your file is given back to you for the next stage, Counter B.
At Counter B (handled by government officials) your documents, scans and other details entered online are checked. Any inaccuracy/corrections/ deletion/addition, you are sent back to counter A.
If everything is satisfactory, you move on with your file to Counter C.
Counter C (handled by government officials) is the final check of all documents with their original, and crosscheck of the data in the computer -- any inaccuracy, and you are back in counter A followed by counter B and then C.
If everything is satisfactory, after surrendering your token at the exit counter you get a passport submission receipt.
My entire family -- my wife, son, daughter, and I -- applied online and got the same date. My daughter is a minor, hence most of her documents relate to parents, besides her birth and school-leaving certificates.
At the passport kendra, my daughter, wife, and I got tokens; my son's application was not accepted.
The reason? His birth certificate indicated my name as 'Ramanarayan' instead of 'Ramanarayanan', whereas his other ID proofs -- like school/collage certificates, Aadhar card, PAN card, election ID, etc -- had my name spelt right.
We obtained a fresh birth certificate from the municipality, got a fresh date for submission. When he went for submission the second time, at the first counter they observed that the father's name was spelt as P S 'Ramanrayanan' and the surname whereas the application as well as in all other documents my son's surname was spelt Iyer. Rejection again.
To add Iyer to my name -- I never had a birth certificate and had provided an indemnity bond when I first applied for the passport, and mine was a renewal this time -- I had to do a deed poll stating that I have changed/relinquished my old name P S Ramanarayanan and have adopted a new name, P S Ramanarayanan Iyer, duly notarised with advertisements in two newspapers.
Meanwhile, my son again went to the municipality office and obtained another birth certificate stating his name and adding the surname to my name.
We are yet to take another date for his passport interview. Hopefully, his application this time will be successful.
Coming back to the rest of us, at Counter B they observed that the pin codes in the Aadhar card and in our address did not match. During our application for the Aadhar card, the postal codes were changed in our area.
While the telephone bill/electricity bill indicated the old pin code, the passport and the application indicated the new pin code.
We were directed to counter A to correct the mismatch.
My daughter, being a minor, had to wait till the processing of her parents' passports was completed and receipt obtained -- since the receipts were to be scanned at Counter A and added in my daughter's database.
Due to this, we spent an entire day at the passport Kendra.
So here are some lessons we learned:
Never take the same date for parent and minor's passports together, take a different date for the minor after the submission of the parents' application.
While applying online, check for accuracy and consistency in all documents you provide.
Carry the originals as well as photocopies of birth certificates, Aadhar cards (in full; in case you have cut the Aadhar card at the dotted line for lamination, take a fresh printout using the online service), electricity bills (current and one year old), telephone bill (current and one year old), gas bill (current and one year old), housing society letter (if applicable) stamped and signed by the chairman/secretary stating how long you have been living at the place.
In case of renewal of passport, carry original and photocopies of your school-leaving certificate, college-leaving certificate (sometimes they even ask for mark sheets, especially if you are a student), voter's ID, PAN card, bank passbooks. Carry whatever proof you have where your name and address are indicated.