YCook can add a year of shelf life to food without the side effects of chemical preservatives.
Arnab Dutta meets the innovators.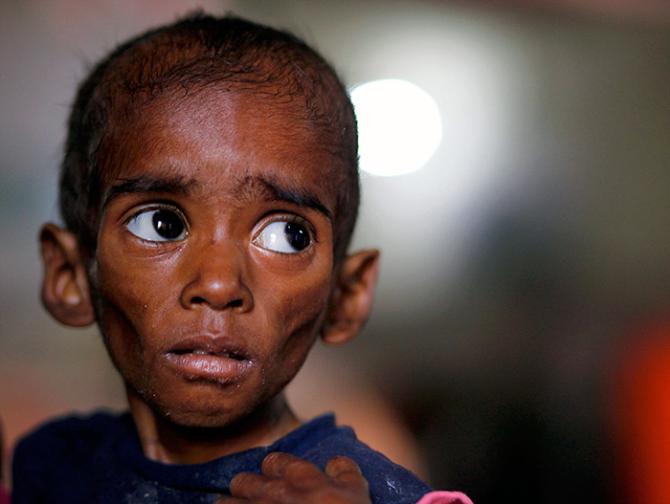 A severely malnourished child in Madhya Pradesh.
Food shortage in India is directly linked to food wastage that occurs due to logistical reasons like insufficient cold chains.
YCook's preservation method can address that problem.
Photograph:

Reinhard Krause/Reuters

.
When Gayathri Swahar plans to cook rajma for her family, she simply opts for preserved beans instead of going the usual, long-winded way -- buying a pack of dry beans that need to be soaked overnight, boiled with baking soda and simmered for hours.
The preserved beans come pre-boiled in water with a pinch of salt; they are vacuum-packed to add a year of shelf life, but without any of the side effects of chemical preservatives.
Gayathri Swahar's idea was showcased during a start-up contest for the best innovative ideas in the food processing sector at the World Food India event in Delhi this month. Its USP is preserving fresh fruits, vegetables and pulses at room temperature for a year, without tempering or altering their natural nutrients or adding preservatives.
It did take her time to refine the idea.
Gayathri Swahar, 42, began her journey in 2010, when she and her two childhood friends, Vijay Reddy and Janardhan Swahar (also her husband), quit their MNC jobs to venture into the country's food processing industry.
A year later, they managed to get a grant of ₹17 lakh from the government.
The seed funding set the ball rolling and the trio set up their company, YCook India.
Much earlier, in 1997, when Janardhan Swahar was pursuing his MBA from IIPM, Delhi, he got acquainted with a researcher, who was attempting to preserve fish curry using the retorting method. The idea of preserving food caught his fancy.
Extensive research and experiments were carried out at a rented warehouse; a retort machine in Bengaluru gave the desired results, finally.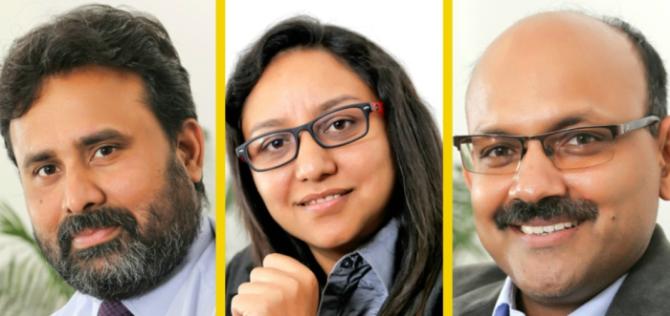 (From left) The YCook team: CEO Janardhan Swahar, brand custodian Gayathri Swahar, and COO Vijay Reddy.
Photographs: ycook.in.
YCook India started production at a small unit in Salem in Tamil Nadu.
It now sells packaged sweetcorn, kidney beans, tur, chana, lentils, and fruits such as tapioca, sweet potato and jackfruit, all under the brand name, Tadaa.
The products are available at major retail chains such as Reliance Fresh, More and HyperCity.
Venture capital firm Omnivore Partners invested ₹7.75 crore in YCook in 2015.
Gayathri Swahar said their company's preservation method can address the food wastage problem in the country -- due to insufficient cold chains -- and provide a healthy alternative to junk food.
At present, YCook employs 120 people directly and sources its raw materials from 1,800 farmers spread across 35 districts of Karnataka, Andhra Pradesh, Tamil Nadu and Kerala.
All products, except lentils, are packed within 19 hours of harvest after minimal boiling in a 0.3 per cent salt-water mixture.
Vacuum packaging ensures no microbes can get into the product inside, and hence, it can be consumed over a year later until it is opened, says Gayathri Swahar.
In case you missed it:
Inside Maharashtra's malnourished corridor