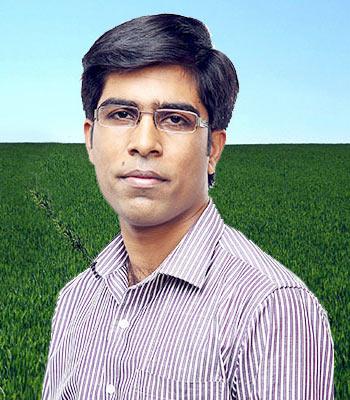 Son of a Madurai farmer, Dr Vijayaragavan Vishwanathan has built a unique device for agriculture that can save water as well as electricity. Ironically, Vijay got support for his project from different international bodies but is still looking to get support from Indian government organisations when the product was specifically made for India.
"I remember my first day in engineering college. We were asked to introduce ourselves, and I couldn't speak more than a few words in English. I had tears in my eyes; I didn't know what to say or do," says Dr Vijayaragavan Vishwanathan, who is today a CERN Scientist, and an entrepreneur.
Hailing from Rajapalayam in Madurai, Vijay comes from a humble background. The son of a farmer and a homemaker, Vijay had from very early on understood the importance and value of education. He always wanted to study and prove himself academically.
His fascination for electronics got him to pursue engineering.
"From my earlier years I remember opening up gadgets and figuring out how they work," adds Vijay. So it came as no surprise to many when he joined an Engineering course in Amrutha Engineering College in Coimbatore.
Learning different lessons
Unfortunately, in the second year, due to financial hardship, Vijay had to discontinue his studies. Nevertheless, after taking help from relatives and friends, Vijay was able to continue his education. A few scholarships came along soon, and they helped immensely. At the end of his third year, Vijay got a placement with one of the first companies that came to recruit from the college campus -- Larsen & Toubro, Powai.
While reminiscing about his first year in college, Vijay mentions that he was really scared of a professor called Mini Menon. He would avoid her because her English was good, and the thought of having a conversation with her in English scared Vijay.
However, one day she did manage to corner him and give him some life-changing advice -- she asked him to read the English newspaper editorials on a daily basis! She told him to read the editorials whether he understood a word or not! Every time Vijay encountered a word he did not understand, she had him write it down and look it up in the dictionary.
Being an introvert and a little different from the others, Vijay would keep to himself and spend most of his time in the library. In the third year, during one of the talks given in the college, Vijay realised that scholarships were available, and he was motivated to pursue higher education.
He then applied to several universities abroad and went in for a bank loan. Even though he was a brilliant student and secured 88 per cent in the final semester, the bank manager turned his loan application down. He said, "Why would we give you a loan? You surely won't be able to repay it."
His first ever snowfall
While Vijay was still dejected, he began to look for universities that offered 100 per cent scholarships. Soon his efforts rewarded; he was able to secure a 100 per cent scholarship in a three country programme -- Italy, France and Switzerland, it was the Italy-India scholarship programme. "I had not even gone outside Tamil Nadu; it was a surreal moment," says Vijay. He was one among three Indian students to be selected for the programme.
In August, 2007, Vijay had to go to Mumbai for processing his visa for foreign travel. Coincidentally, it was the date of joining at L&T as well. He had never been on a flight. In order to experience flying he decided to take a flight back to Chennai. "I had landed in Chennai and I realised that I couldn't hear a single thing. I had no idea about equilibrium change. I remember being scared. Later my friends explained the idea of the equilibrium shift," says Vijay.
On September 5, 2007, Vijay took a flight to Italy to join the scholarship programme. When he landed in Milan, Vijay saw his first ever snowfall, but he was not prepared to deal with such extreme climatic conditions. He had no jacket or warm clothes. His scholarship money had not come in yet, and he didn't have any money of his own. "I was so naive that I had not asked anyone what I needed to carry. The best thing was to layer myself," says Vijay. One of his friends lent him a jacket till he got his scholarship monies.
However, this was not the end of Vijay's troubles. Talking about his first eating out experience, he says that when he walked into a restaurant and asked for a vegetarian sandwich he discovered that there was fish in it! For a month he survived on rice bran water. It was only after he got his internet connection that he was able to learn cooking.
All these experiences, however, did not distract him from his studies and he scored 108 out of 110 in the two year Nano technology programme. Vijay's thirst for knowledge did not stop there; he went ahead and did a PhD in Nano Electronics, specialising in 3D stacking in the design of cameras. It was a collaborative programme between governments, industries and academics.
During this time CERN announced a project through the European Commission. The project was on Advanced Radiation Detection. Having lost his aunt to cancer, Vijay was very interested in learning about all cancer related issues. When CERN announced this programme with 14 partners around the globe, Vijay applied.
He did the programme, partially at CERN, and partially at a company in the Czech Republic. "I was keen on transforming an idea into a product," says Vijay. The programme's focus was on creating researchers as well as entrepreneurs. Thus, during the course, Vijay had the opportunity of participating in several entrepreneurship related programmes. It was here that Vijay learnt that it was important to transfer one's learning to society.
Creating SmartAgri
Being the son of a farmer, Vijay had experienced the problems and issues of a farmer first hand. "Even after working at CERN and learning different technologies, one thing kept haunting me -- what have I given back to this society?" says Vijay.
The thought took a deeper root when Vijay visited Rajapalayam after four years. The region, known for its sweet water, was facing water shortage. This got Vijay thinking: even if someone had a 100 litres of water, how effectively could he use it? "We have machines to measure everything; so I decided to create a device that can measure the moisture content of the soil, minerals, ph levels and other such factors," adds Vijay.
Looking at how the telecom revolution had reached every small town and village of India, Vijay says: "There were places where people didn't have toilets in their homes, but they had cell phones."
He designed the handheld device such that it could be placed below the soil to measure the data, and send the information to a farmer's cell phone via the cloud. The farmer would be able to see the results instantaneously, which are colour coded -- green for good and red for not so good.
He has also developed another device that can be placed on top of a sprinkler, reads data, and wets only those areas of the land that needs water.
"Even if this saves about 30 per cent of the electricity consumption, which will in turn reduce usage of pumps for drawing water, overall, the water usage will come down," adds Vijay.
Vijay is hoping and still looking for support for his project in India. When he next went to CERN he approached Climate-KIC, which is funded by the European Commission. They supported him, and for a month he did a programme where he also learnt about the business aspects. He received a funding for prototype development to implement this technology in India.
After taking a month's holiday, he came back to India for research and groundwork. During this time the UN's programme -- International Telecom Unit -- was looking to support 150 technology innovators in agriculture around the world, and Vijay's innovation was listed in the top 15.
Vijay says he has received help from Climate-KIC, CERN, ARDENT, Jablotron Alarms, EPFL, PSG-STEP, The Management and Dr Usha of Sona College of Technology, Amrita Engineering College, Ajai Narendran (Faculty, Srishti school of Design), Dr Andrea, Dr Massimo, Dr Li Yunjia, Sailesh (Srishti Institute of Art, Design and Technology), colleagues, family and friends.
In May, 2015, the SmartAgri was selected for the Asian Entrepreneurship Award in Japan. The SmartAgri even won an award in Switzerland. Ironically, Vijay got support for his project from different international bodies but is still looking to get support from Indian government organisations when the product was specifically made for India.
"I have worked on SmartAgri during my weekends and at night; I haven't let my work or research at CERN suffer one bit. I continue my work on advance radiation and SmartAgri. I believe that the common man will understand the importance of science and research only when they get tangible results in terms of products they can use. Currently we have tested the device in lab conditions and over the ground. We're looking to do proper field testing for which, we need funds." says Vijay.
He further says that as researchers, we need to ask hard questions, and see how much are we giving back to society. He adds that our education system by and large needs to start looking at entrepreneurship more seriously.