Tired of weekend parties, discotheques and pubs? Have aimless visits to the mall and the latest movies lost their charm?
Are you looking for something more meaningful? Something fun and challenging as well?
Then this weekend, join Harish Srinivasan and his friends at a farm near Chennai.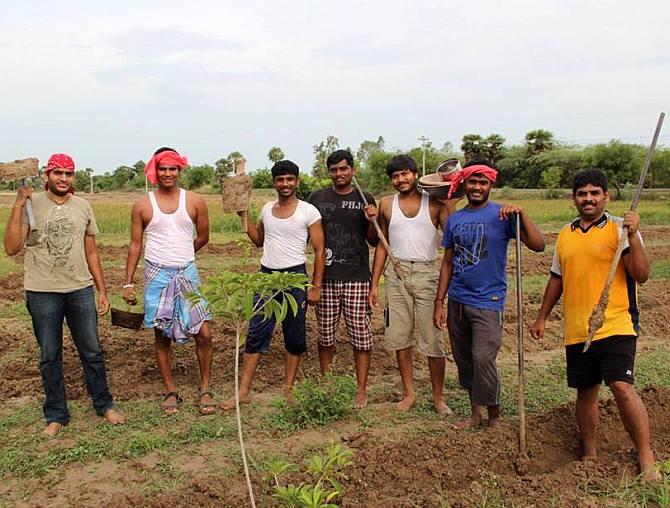 Like thousands of youngsters in the city, Harish has a regular job during weekdays.
But his weekends are anything but regular.
This 29-year-old is the founder of The Weekend Agriculturist, an informal group of enthusiastic youngsters, who offer free labour to small and marginal farmers on weekends.
"My plan is simple: offer free labour to the farmers, who cannot afford to hire help.
"I started a Facebook page outlining my mission and vision for the group. That was about three years ago. Today our group has nearly 5000 volunteers from all walks of life -- IT professionals, doctors, teachers, entrepreneurs, social activists and students," says Harish.
J Satish Kumar, SEO Associate, CoreLead Interactive, Chennai, is part of the core group of volunteers.
"We may have been born and brought up in the city, but agriculture is in our genes," he points out.
"Go back a few generations and most of us will find that our ancestors were farmers. All of us have a deep connection with the land and we probably just need to be reminded about it."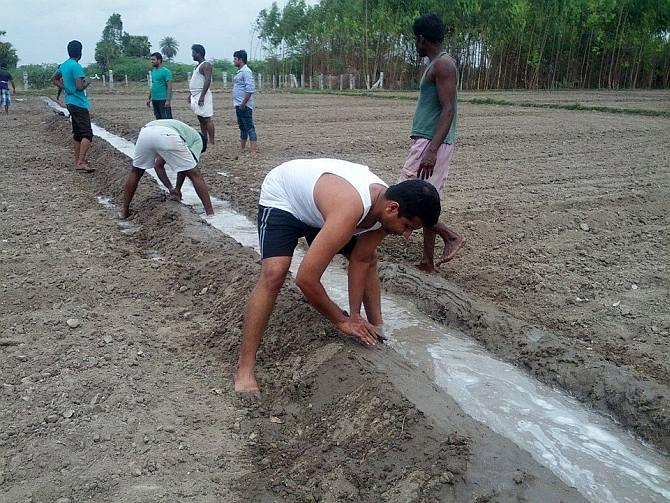 Satish was invited to an event organised by The Weekend Agriculturist (TWA) 18 months ago "and since then I have been completely hooked."
The teams assist with everything from preparing the soil, planting the seed, transplanting, weeding and harvesting.
"Whatever help they require, we provide. In the process, we learn so much. There is nothing like first-hand experience to understand the problems that plague our farmers," Satish says.
For founder Harish Srinivasan it all started after reading MoondramUlagaPor (Third World War), a novel by Tamil poet and lyricist Vairamuthu.
"Though I have no agricultural background, the plight of our farmers has always moved me. But it was only after reading MoondramUlagaPor that I was actually jolted into doing something.
"The book described in painful detail the untold sufferings of our farmers. I knew that I had to do something.
"Blaming the politicians and debating endlessly about who is responsible, while we go about our lives in the city, content with buying our food from the supermarket, was not going to solve the problem," says the 29-year-old who is senior consultant at Virtusa India Pvt Ltd in Chennai.
"It is ironic that farmers, who provide our food, have to go hungry," Harish points out. "Isn't it a national shame that they believe their only solution is suicide?
"Farmers, who for generations have depended on agriculture for their survival, today encourage their children to find other employment.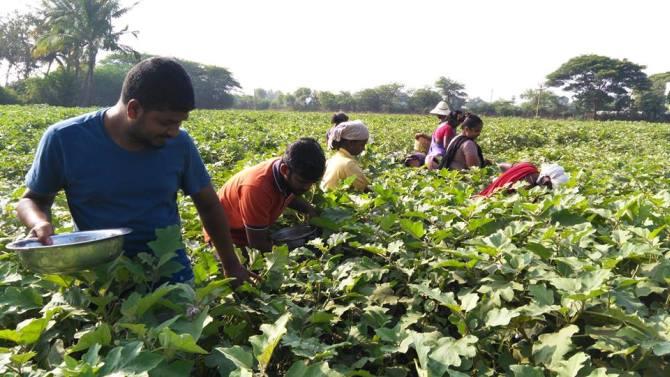 "How much longer are we going to wait? No superhero is going to come save them."
Harish acknowledges that it was not easy to convince farmers that they were serious.
But persistence and sincerity paid off.
"We convinced some of the big, more educated farmers, who took us in and taught us some of the basics. We went back week after week until they realised that we really had their best interests at heart."
They spend their own money for travel and usually spend the night in open terraces, schools or small hostels.
The core group of volunteers is between the ages of 20-30, but there are older volunteers and some bring their families as well.
T R Sarathy, 45, lives in the small village of Alathur, in Thiruvallur district of Tamil Nadu. He belongs to a family of farmers. Six years ago, he gave up farming and ventured into brick making, which, he says, is much more profitable.
"Until about six years ago, farming was all we knew. For generations our family survived growing seasonal crops, but it was becoming harder every year.
"When a few villagers ventured into brick making, I too gave up farming," says Sarathy who is a huge support to Harish and his team. He scouts the nearby farms to find out who needs help.
He says most of the farmers have small farms and cannot afford the Rs 250-300 that the labourers demand.
They grow rice, vegetable and also some flowers like roses and kanakambaram (an orange flower that women put on their hair).
Harish lets him know in advance when the group will be coming. He identifies the farmers who need help most.
They groups are of 10-20 and they work for two days from 6:30 in the morning to about 4 in the evening, doing whatever needs to be done.
"I was forced to give up farming, but today I am happy that at least I am helping my brothers survive," Sarathy says.
Prachi Ghatwal, 25, from Goa, a mobile app developer at Creative Capsule India Pvt Limited was an active part of TWA before she went back to her hometown.
"When I was in Chennai, I used to travel with the other volunteers to the farms. Most of the farms are family owned and can barely afford any extra manpower. They are grateful for any kind of help and it is hugely satisfying seeing your work make some difference to their lives."
She now helps with registrations and provides some technical support. "We are working on a mobile app that will facilitate better and easy registration of volunteers for the various events planned by TWA," she says.
The group not only offers free services, they also bring in consultants, who offer expert advice and provide solutions based on the individual needs of each farmer.
The consultants educate the farmer on how to improve the quality and yield of crops. They work on sustainability and increasing growth and profitability.
They are also trying to make them adopt the traditional, healthier practices of farming.
"Our work is not over with just the weekend; we are constantly exploring new avenues to help the farmers," says Satish.
"For the last 30-40 years, our farmers have relied on chemical fertilisers and pesticides to boost crop production without understanding its long-term effects. Most of the food on our table today is loaded with toxins.
"We are teaching the farmers the benefits of going organic, but it is not an easy task. A few have agreed to go organic on a small patch of their land."
Volunteers are also taught how to grow their own organic vegetables.
"Vegetables like brinjal, chilly, or tomatoes can be grown very easily. I myself harvest about three or four kilos of brinjal every month in my garden. Growing your own food is a totally exhilarating experience," Satish claims.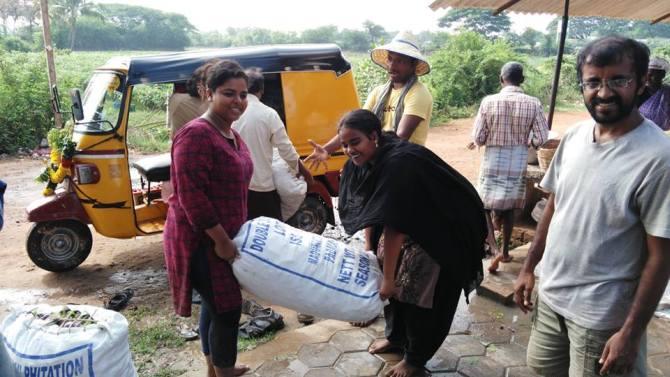 The volunteers are encouraged to buy produce from the farmers.
"These poor farmers sell their produce to middlemen, who buy for as low as Rs 5-6 per kg and sell for Rs 40-50 in the city. We are currently working to get corporates interested in building a direct link between the farmers and consumers, to help farmers get a better rate for their produce," says Harish.
TWA has been in operation for three years and Harish is happy with the results.
"Today, we are appreciated for our work. Occasionally youngsters from Coonoor, Erode and Bangalore join us. There are plans to encourage such groups in other cities too."
He says farmers too are encouraged at getting the help. "Our desire to help them is a huge motivation for them. They are happy to know that somebody cares."