Shibani Gharat loves to run. So this September the 29-year-old decided to test her limits and ran 72 kilometres along the world's highest motorable path.
This is her story.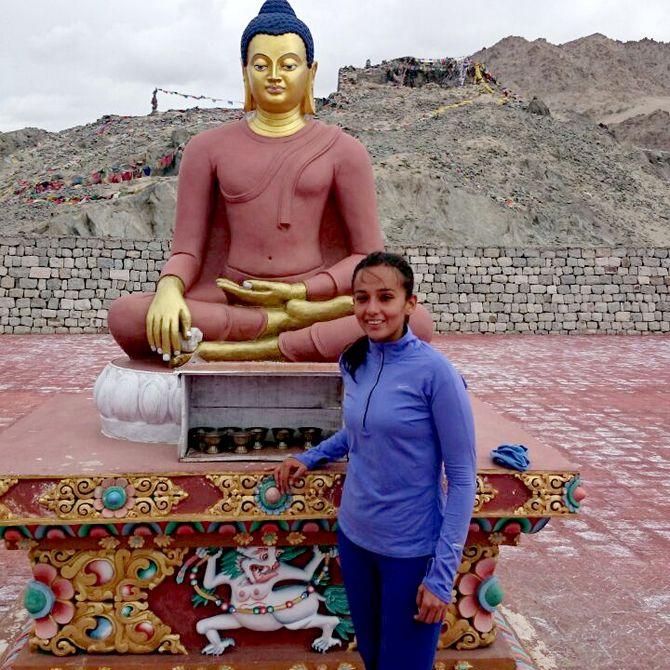 As part of the acclimatisation process, Shibani Gharat took to climbing all the monasteries in Leh. Photographs courtesy: Shibani Gharat
---
Dharmendra Kumar stood on the premises of the Ladakh Public School in Leh that served as the finish line of the Khardung La Challenge.
The 36-year-old who had completed eight marathons and 10 ultra marathons (the Khardung La Challenge, a 72-km endurance run, was his tenth) enquired about his fellow runner, a Mumbai girl called Shibani Gharat.
One of the organisers radioed the request and told him she was no more than 20 minutes away from the school.
"Let me go and fetch her," Kumar thought to himself as he walked back through Leh town.
Kumar had known Gharat, also a marathon regular, for only a little less than a year but between the two there was a bond, the kind that makes marathoners walk back and fetch their fellow runner after having run one of the most arduous races in the world.
It isn't unusual for athletes to give up in the last few miles of a run as long as this one.
So when he finally saw Shibani Gharat walking, Kumar took it as a good sign and started walking back with her.
In the last kilometre of the Challenge they talked about the experience of the run.
They had both crossed the highest motorable pass in the world and as Shibani trudged along it seemed like a good idea for Kumar to remind her of the magnitude of her achievement.
As they spoke, he tried to get her to increase her pace and get her to break into a jog.
No marathoner, he knew, likes to cross the finish line walking.
"Typically, you end a marathon with a sprint. You don't walk the last 100 or 200 metres, you run!" Shibani Gharat told me later in a Mumbai cafe where we met for this interview.
And so, when she finally saw the word that all marathoners want to see, she knew exactly what to do.
Shibani Gharat ran towards the banner that read 'FINISH' and at little past 6 pm on September 14, became the first non-Ladakhi woman to complete the Khardung La Challenge.
***
The Khardung La Challenge is part of the two-year-old Ladakh Marathon that also features the usual categories -- a 7 km run for amateurs, a 21 km half marathon and the 42 km full marathon.
None of these categories -- including the 7 km one -- are to be taken lightly because the altitudes at which these races take place require not just the usual training but also acclimatisation to the height.
Khardung village from where the races start is located at 13,042 feet.
Athletes arrive here a week in advance to get acclimatised to the low oxygen levels and temperatures.
The 72 km long Khardung La Challenge ends at Leh (11,562 feet) and involves a steady climb to the top of Khardung La, one of the world's highest motorable passes.
The route reaches the highest point at 17,618 feet above sea level before it descends to Leh.
According to the marathon's official website, this is what the altitude of the race looks like:
This year, only 46 people completed the Khardung La Challenge. And Shibani Gharat was one of them.
***
Why do people run an ultra marathon, push their bodies beyond its limits and then some more?
In his bestselling book, Born to Run: A Hidden Tribe, Superathletes, and the Greatest Race the World has Never Seen, the American author and journalist Christopher McDougall argues vehemently in favour of the endurance running hypothesis, which suggests that early humans began running long distances at great speeds to hunt down prey.
But what started as a survival technique has since evolved into a dizzyingly popular sport practised by women and men alike.
For her June 2010 essay for the Sociology of Sport Journal, 'Beyond the marathon: (De)Construction of female ultrarunning bodies' Maylon Hanlon of Seattle University's Department of Sport Administration and Leadership conducted in-depth interviews with eight extremely successful female ultrarunners.
The interviews revealed that ultra-marathoners placed great importance on finishing the race.
Success, according to one of them, wasn't just 'winning races and setting course records, but it's also really a sense of pushing myself beyond my preconceived limits.'
Quoting the study, Prikko Markula, PhD, a professor of socio-cultural studies of physical activity at the University of Alberta, Canada notes in her blog on Psychology Today that the 'runners found pushing the limits and finishing extreme running races empowering -- a sense of achievement that made them feel good about themselves.'
Shibani Gharat fits this description perfectly.
"The feeling when I cross the finish line is: Did I really do this? When I look back at the terrain I ask myself: Were the last few hours just a dream? I cannot believe what my body just endured and what I achieved at the end of it all!" she says.
"Life is so boxed," she adds. "Running is liberating."
***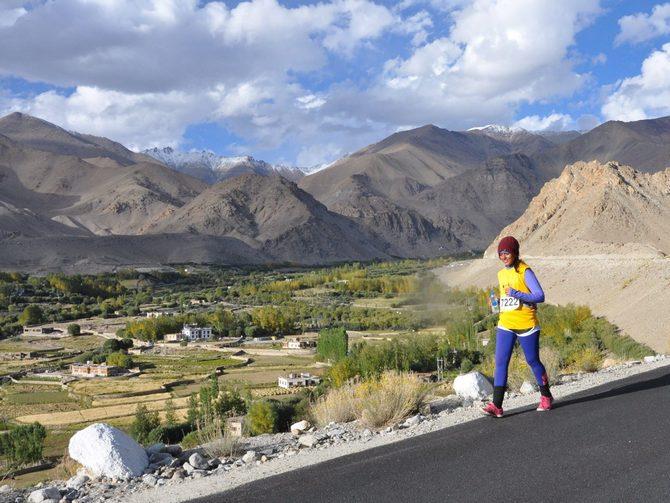 The breathtaking landscape against which the race takes place. "I wished I had a camera," Gharat would say later.
---
Shibani Gharat first started running in college.
It was part of her warm-up routine for her taekwondo classes.
"Back then I would start my day by running at a park near my house (in Mumbai).
"Later, I'd attend college, spend some time in the library studying after class, and head for my taekwondo practice in the evening."
She became a journalist and the regimented life that had defined most of her college years went right out of the window.
"I couldn't even think of pursuing a sport like taekwondo that required me to set aside specific hours of the day for training.
"I took up running because it was easy. At the end of the day, all you need is a pair of shoes. And if you like running barefoot, not even those!
"People ask me how they should start running, what gear they should have and I tell them you just put on a pair of shoes and hit the road.
"Even now I don't use those garments that map distance and time. You run to de-stress and all these bells and whistles tend to stress you out.
"When I first started running, I did it in a pair of denims."
So even as she travelled to various places on her work assignments -- cities, towns and villages -- all Shibani Gharat relied on was her pair of Nikes.
She ran in Baramati where she was covering elections. She ran in Nashik. She wanted to run in Varanasi but work took over.
In Mumbai she runs regularly -- from her home in central Mumbai to the south of the city but for the Khardung La Challenge, she ran largely in the leafy suburb of Bandra, along its two famous waterfronts -- Carter Road and Bandstand promenades -- and up two of its hills -- Pali Hill and the hillock of Mount Mary's basilica.
For the last three years, she has also been running "every marathon in the vicinity (of Mumbai)."
Unlike Dharmendra Kumar, her marathoner friend who accompanied her during the last leg of the Khardung La Challenge, Shibani Gharat isn't keeping score.
"I don't know how many marathons I have run," she says. "The more the merrier!"
Gharat's practice sessions in Mumbai extend anywhere between 20 and 40 km. Often she follows it up with a swim, which helps regulate her breathing.
But the key to ultra-marathon training, she says, is to be able to run on tired legs.
"So if I've run, let's say, 30 km on a day I ensure I run another 20 the following day," she says.
"Ultra-marathons can last for a minimum of 12 hours. So it is also about how long you can run. If you're running let's say four hours on one day, the next day you run for five hours and so on. That way, it takes longer for the exhaustion to set in."
But set in it does.
Gharat says that it doesn't matter how many marathons you've run, there always comes a point when you break down, when your mind tells you that you cannot do this.
"That's when you start talking to yourself and keep going. I am sure there are times when onlookers wonder why I am talking to myself while running. But that's what you do when your mind is saying you can't go on!"
This Independence Day Gharat participated in the Mumbai Ultra-marathon, the first of its kind in the city, and completed it.
"(As part of your preparation) you should ideally cover 60-70 per cent distance of the race you are to run. So when I ran 77 km at the Mumbai Ultra-marathon I knew I was prepared for the distance."
But running in Mumbai and running at almost 12,000 feet above sea level are two very different things and Shibani Gharat was well aware of it.
So, after her first meal in Ladakh, instead of going to bed, Shibani Gharat stepped out of the hotel.
It was past 9 pm. She knew if she had to acclimatise to the weather conditions, she had to start right away.
All she managed was a 45-minute walk.
She had a week to prepare. She began by climbing the stairs of every perceivable monastery the next morning, walking for 12 hours the day after, going for a run and rafting on one day, doing a reconnaissance of the route on another.
When she felt thirsty, she chose regular over bottled water "because it has natural minerals and drinking local water is part of your acclimatisation process."
***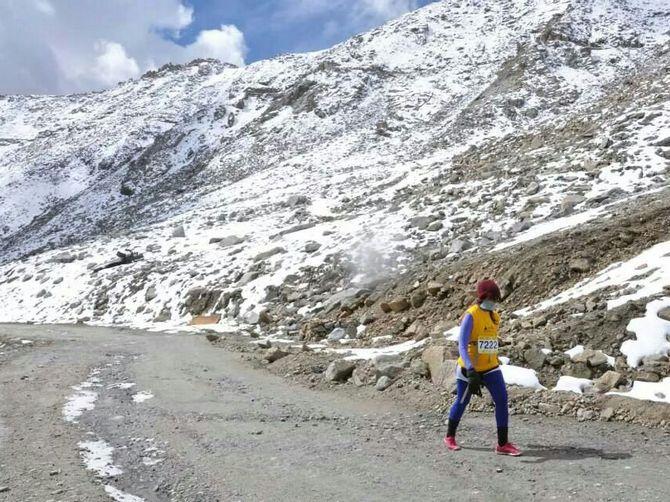 Long-distance running can be a very lonely sport. Shibani Gharat is seen here during the Khardung La Challenge.
---
On the morning of September 14 at about 3 am Shibani Gharat, wearing six layers of clothing, began the Khardung La Challenge.
"A marathon is much like life," she says. "When you start, there are lots of people around you. By the time you reach the halfway mark, you are all by yourself."
"I had company of (a Mumbai runner) Ram Subramanian till Khardung La. But after that I was all by myself."
If you look at the altitude graphic above, you'll see that after the first 32 km it is all downhill. This worked well for Gharat because she prefers running downhill.
But there came a time -- as it always does -- when she felt like giving up.
"You just have to overcome that feeling. You tell yourself that the only thing that matters is taking one step after another.
"There was a telephone tower that could be seen from several kilometres away. That served as an interim destination.
"How do you eat an elephant? Bit by bit. That is the key to tackling an ultra-marathon," she says.
The wonderful terrain helped.
"Fortunately, for a part of the day the sun was out. So I could see the landscape changing colours every few hundred metres.
"The scenes unfolding around me were overwhelming."
The authorities had cleared the road leading to the finish line and people were cheering for her. None of it mattered; she didn't want to be reminded of how much longer she had to go.
Shibani Gharat just wanted to get to the other side of the finish line.
***
That night she didn't sleep.
"After I've run a marathon, I never can," she says.
What she did was accompany Dharmendra Kumar to a local restaurant where the two ordered a pizza baked in a wood-fired oven with tomatoes, mushrooms, onions, spinach and tofu.
Then for the first time in what seemed like days, Shibani Gharat had a bath and in the quiet of her hotel room, marvelled at her achievement.