"To remember all the characters I have dubbed for will be like putting me on a memory test through 25 years."
"Unlike an actor who can use make-up or body language to express an emotion in a certain situation, your voice is your only medium to reach the audience if you are a dubbing artiste."
"Before dubbing for a character, I would pay special attention to their voice quality, attitude and their responses to situations.
"I have studied in the Marathi medium, but if you listen to my work -- in Hindi or English -- you won't be able to make that out."
Dubbing artiste Meghana Erande talks about some of her most important projects and how she found success in a niche industry.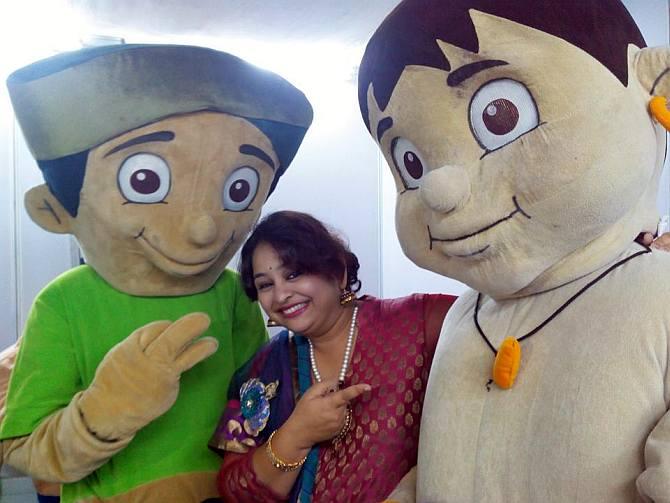 If you were told Meghana Erande was part of your life, it might seem like an overstatement.
However, if you have listened to her latest video clip that has been doing the rounds on several social platforms -- where she reproduces more than eight different sounds -- you'd realise that her profession deserves appreciation.
Mumbai-based Erande, 33, the voice behind some of the most popular animation characters on television, has spent 25 years in the profession.
For someone who studied Marathi literature and stood fourth in Mumbai University, a career as a dubbing artist may seem like an unlikely choice.
In a candid chat with Rediff.com's Divya Nair over the phone, she explains how she made the right choices so that she could write her own success story.
Did you always want to be a dubbing artiste?
When I was young, I used to mimic the advertisement for Woodward's Gripe Water in four different voices -- the kid, the mother, the grandmother and the great-grandmother.
I would mimic actors like (Marathi actress) Shubhangi Gokhale and Madhuri Dixit and entertain everyone.
Back then, I wanted to be an actor.
I belong to a Maharashtrian Brahmin family and my parents -- my father worked at the Bombay Suburban Electric Supply while my mother worked at the Kamlabai Sant Clinic -- weren't quite happy about my acting ambitions.
They felt it was a fake industry where everyone put up a fake smile and showed fake affection.
So, they'd tell me, "Wow Meghana, you have such an amazing voice. You should perhaps try dubbing instead of acting."
Did you undergo professional training?
I am not professionally trained -- I pursued my graduation in Marathi literature from Mumbai University. Most of what I have learnt has taken place on the job.
Starting early had its own advantages. When I started dubbing professionally, there were just about eight to 10 artistes who would dub across feature films and animation films.
Can you tell us about your first break?
I have been recording for 25 years now, but I don't remember my first assignment.
In 1989, I remember auditioning for Disney for DuckTales.
When UTV had called me to do the assignment, I was busy dubbing for a Marathi film so I could not do it.
What was your first salary?
My first paycheck? I remember receiving Rs 50 and I was so happy that I travelled home in a taxi from Worli to Shivaji Park (a distance of about five kilometres). I felt so proud that day.
How many characters have you dubbed for?
To remember all the characters I have dubbed for will be like putting me on a memory test through 25 years.
Frankly, I have lost count and I haven't maintained a record of my work.
When I started dubbing, my forte was the 'kid's voice', which is something I do even now.
Some of the prominent characters I have dubbed for in Hindi are DeeDee from Dexter's Laboratory, Dizzy in Bob the Builder, Doraemon, Shin Chan, Princess in Powerpuff Girls, Harriet Brindle in Small Wonder and Ninja Hattori, among a host of others.
I have also dubbed for Discovery Channel and recorded for the interactive voice response system for Pune Railway Station where you have to make announcement for incoming and outgoing trains in three different languages -- Marathi, Hindi and English.
Not many people knew that it's my voice playing on the system.
Who is your favourite character? How did you bag the assignment?
I am very fond of Ninja Hattori.
I remember auditioning for it. There were 25 artistes from across India who were shortlisted for the audition and everyone was equally good.
We had to say dingdingdingding… dingdingdingding in two different pitches in a sing-song fashion.
Few days later, I got a call saying I was finalised to dub for the character. I was both surprised and thrilled.
How do you prepare yourself before a recording?
Unlike an actor who can use make-up or body language to express an emotion in a certain situation, for a dubbing artiste, your voice is your only medium to reach the audience.
Before dubbing for a character, I pay special attention to their voice quality, attitude and their responses to situations.
It is important to tweak your voice and make it sound as realistic as possible.
If the character is talking after climbing stairs, I would use panting sounds and pause in between words to give the desired impact.
If the character is angry, my tone would be high pitched and sharp.
I would mellow down if I were talking to a teacher or parent.
When I started dubbing for Ninja Hattori, I would take inspiration from my nephew Nihaar -- the way he breathes when he talks, the animated sounds he makes while talking, crying or playing.
Before a recording, I try and avoid eating or drinking chilled stuff.
My throat is very sensitive so I easily catch an infection.
I try not to record when I am unwell rather than exploiting my voice.
To recover, I try and go the natural way -- kaada (a hot drink made from basil leaves, clove and ginger), lots of gargling and rest.
It's only when all the above don't work that I take antibiotics. I try and avoid antibiotics as far as possible.
Can you tell us a little about the recording process?
Usually, we record in a studio and do a set of episodes at a stretch.
The script and dialogues are given to us in advance. Sometimes, we have to improvise on the spot.
There is a mic in front of you and the clip for which dubbing needs to be done is played to you on a screen.
You can listen to the audio on your headphones and speak the dialogues to match the video.
You can hear your own voice and also the original voice which is playing on the headphones.
The challenge is to concentrate, deliver your dialogues and match the clip.
After the first few times, you master the art of lip syncing.
Do artists have a say in the script? Are you allowed to modify or make changes?
I have realised that kids copy and take inspiration from animation films and cartoon characters -- the way they talk and behave.
I would tell my producers to replace certain words that might have a negative impact on young viewers.
I would ensure that we insert values like 'speak politely;' 'respect your elders' and 'keep your surroundings clean' in our episodes.
What's your secret to success?
My greatest USP is that I can record several episodes in a single day whereas a child artiste would take at least three to five days to complete the same amount of work. And no one would be able to tell the difference in the final cut.
I have studied in the Marathi medium but if you listen to my work -- in Hindi or English -- you won't be able to make that out.
I pay special attention to getting the pronunciation right.
I ask for suggestions and spend a good amount of time rehearsing ahead of the recording.
Since an early age, I was taught to read the Gita and the Upanishads. I would recite shlokas with perfect diction.
It helps that I am a fast learner; I can dub five to eight episodes in a single go.
Have you ever goofed up?
I have made my fair share of mistakes but I ensure that, once someone points out my mistakes, I would never repeat them again.
When I was working with director Amol Palekar, he sat me down and told me there is no letter 'fa' in Marathi or Devanagri.
It was always 'pha' which people mistook as 'fa'.
He gave examples of how 'fa' is used more in Urdu or English.
In another instance, I was hosting a programme on Anant Chaturthi on a Marathi channel at Ramoji Film City (Hyderabad). I had to record live for a stretch of 15 hours. At the end of the day, I came home tired only to receive a comment from one of the viewers.
First, he appreciated me. Then he went on to tell me how, throughout the show, I had used the word 'moorthya' (intending to say 'many statues') which was grammatically incorrect.
He explained that it is 'ek moorthi, anek moorthi'.
I felt embarrassed that no one corrected me during the show. Since that day, if anyone says 'moorthya' I immediately try and correct them.
What challenges did you face before you became successful in your career?
When I was a young artist, I had no mentors.
My parents used to be worried and would wait for hours outside the recording studio.
Since my job would require me to travel to different cities, my mother eventually quit her job to travel with me.
If it hadn't been for their love and support, I would not have been able to accomplish any of my dreams.
Back then, we artists would take up work because we were passionate about it -- if we had worked for money, I would have been driving a Mercedes today.
Unfortunately, not many people know about the job I do.
When I have to file my tax returns, my chartered accountant tells me, "Madam, dubbing artiste jaisa koi sector hi nahi hai. Kya fill karu?"
Even today, you get assignments based on how strong your network is.
If you don't turn up for a few recordings, the job will go to someone else who is competent.
I have survived because I am confident that no one can do the job as well as I can.
You have to practise regularly. There is no fixed income -- sometimes you get a lot of work, sometimes you don't. During December and January, for example, there is hardly anything happening.
You also have to survive the competition -- a lot of youngsters are professionally trained today and are readily available.
Tell us more about the video that went viral. When did you first learn about it and what was your reaction?
I never expected the video to go viral.
I was in Dubai and when I switched on my phone, I started getting a lot of congratulatory messages and I had no idea why.
Then my husband told me that a video of mine had gone viral.
I sat with my daughter and watched it. I had tears in my eyes.
Some of them were surprised to know that I was the voice behind some of the cartoons they were watching every day.
When a media representative from Guwahati said she wanted to interview me, I had to ask my husband which state Guwahati was in.
I was overwhelmed with all the appreciation.
What are you currently working on?
Now that I have a three-year-old daughter Ira, I cannot record for long hours. I have to be home with her.
On Wednesdays, I record for the channel 9X in my husband's studio -- Locomotion Studios in Andheri (suburban Mumbai). They produce Marathi films, serials and take care of the sound for some animation films.
My husband has also set up a small makeshift recording studio inside our apartment so that I can do some quick projects there. But I do most of my work in a studio because there is a huge difference in the audio quality when you record in a professional studio.
How do you balance work and family?
When I got married in 2010, I was not aware how to run a family.
I did not know cooking or how to maintain a house.
When I started cooking, I gradually realised that I enjoyed it.
Now that I am a mother, I have learned the art of multi-tasking.
I am more disciplined now and have started prioritising between work and family, but I am still learning.
Would you recommend this profession? Please share your advice for aspiring artistes.
When I started, I wasn't getting paid much. I am told that in Japan, dubbing artistes demand a lot of respect and are paid really well.
Initially, we'd work with no acknowledgement; our names would not even appear in the credits.
However, times are changing. The remuneration and social acceptance is getting better.
Now we have the Association of Voice Artistes that ensure fair pay and protects your rights.
If you are an aspiring artiste and have the talent and passion, there's enough opportunity for you both in India and abroad.
If you're serious about it, you must practice and perform in front of an audience and ask for feedback. You'll know your USP and can look for projects according to your voice quality.
I know my limitations... I can never record in a husky voice like Rani Mukherji's.
What are your future plans?
At one point, I wanted to pursue my PhD in voice communication. However, I got married and now I have Ira who keeps me busy.
Eventually I might even consider completing it.
Your message for our readers...
Find your goal and make that your password. Every time you log in, you'll be reminded of your goal. Example: lose 10 kilos, start a restaurant, etc
Make an effort to listen and observe. When you are dialling someone on the phone, pay attention to how the person says 'hello'. You'll know what mood the person is in and can accordingly decide whether you should continue the conversation or ask for an appointment.
Nurture the child in you. You'll be happy.
Be positive. Try and find happiness in little things around you. Appreciate what you have rather be worried about what you don't have and can't change.
Support a noble cause. If you cannot donate money, donate your time.
Never stop learning.
Be a better person than you were yesterday.
Photograph: Courtesy Meghana Erande