With hard work and determination, anything is possible.
The story of how the son of a businessman beat the odds to become the country's fastest piano player reveals just that, discovers Divya Nair.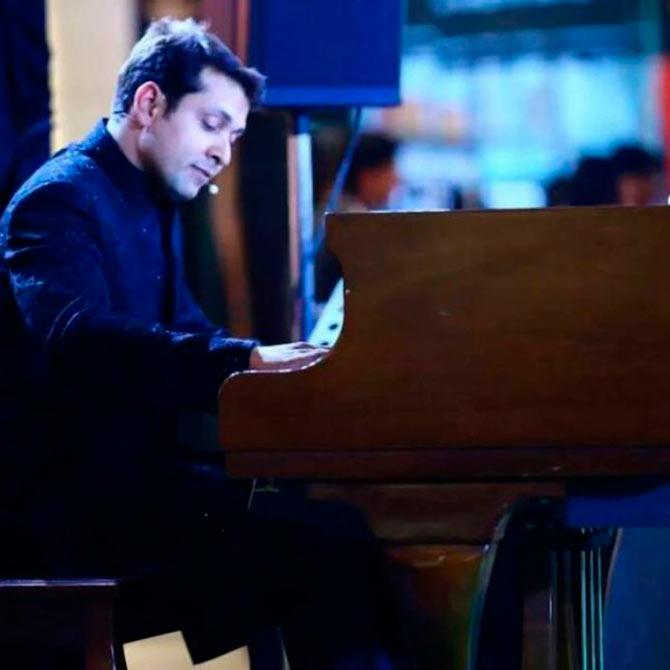 Aman Bathla was 28 when he was 'thrown out' of his family home in Gurgaon.
"My father wanted me to choose between running the family business and music. I chose music."
The year was 2009. Bathla, who was married and a young father, packed his bags and set out with his little family in search of a rented home in Gurgaon where he could pursue his love for music. "There were times when I didn't have even Rs 20 in my pocket to buy bread for my daughter," he recalls.
After five years of hard work and relentless dedication, Bathla finally tasted success.
On December 4, 2014, he performed at the Epicentre auditorium in Gurgaon, where he played a record 804 notes in a minute, thus becoming the 'fastest Indian pianist', an achievement that is acknowledged by the India Book of Records and World Records India among others.
Divya Nair/Rediff.com finds out how Bathla, the son of a businessman -- his father runs a dry cleaning business in Gurgaon -- trained to achieve the impossible.
How did you discover your love for music?
My father gave both his sons -- my brother and I -- the best of everything and expected us to take over the family business when the time was right.
From a very young age, I was inclined towards music -- I would listen to Bollywood songs featuring Raj Kapoor where the piano took the centre stage.
I was fascinated with the idea of how the left and right hand would move in tandem to play a note.
My father was against the idea of sending me to a music school. He always felt music was to be pursued as a hobby.
How did you train?
When I was nine years old, I got my first synthesiser. The fact that I was born in a rich family helped.
I practised on it for hours, trying my hand at different notes. I would experiment with Bollywood songs and play them with a twist. It was difficult to practise without a guru, but I was so passionate that it did not matter.
I would read books on classical and Western music and learn the basic concepts -- the chords and notes -- from there.
I cleared Grade 1 and 2 at the Trinity College of London's Gurgaon branch with distinction. In fact, I topped the Delhi/NCR region.
Then, in 2012, I pursued a sound engineering course for three months from the Alaap Music Academy, Mumbai, which helped me understand and compose music better.
How did your parents react to your decision to pursue a career in music?
Between 2008 and 2009, my father would repeatedly ask me what my future plans were.
He did not realise I was passionate about music. When I told him that I was not interested in joining the family business, he was furious.
He tried explaining why my decision was wrong. He felt music would not help me earn enough money to lead a good life and that I was risking the comfort of my wife and daughter with my choice.
I stood my ground and left the house in 2009.
How did you manage?
I had no savings but managed to get a house on rent with help from a friend.
I used to give music lessons in Gurgaon but, sometimes, my income wouldn't suffice. We led a hand-to-mouth existence, sometimes staying hungry ourselves and arranging food for our daughter.
My wife Shilpi was very supportive; not once did she ask me to quit and look for something better.
I started teaching at two more institutes; the fact that I could play the flute, drums, guitar and mouth organ as well helped.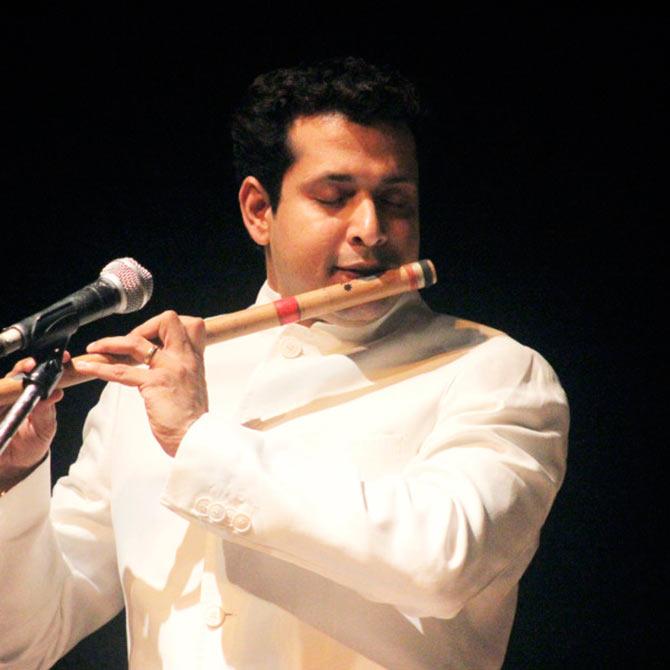 Describe your first public performance and how you landed it?
In 2012, I was walking down the road when I saw a long queue outside Ambience Mall in Gurgaon. When I went closer, I realised it was an audition for pianists to play at the mall.
I asked if I could join, filled a form and played a composition that everyone seemed to like.
A few days later, I got a call saying I had been selected for the job. I would be paid Rs 18,000 for playing four days a week.
I still remember my first day at work. It was February 2012; I was sitting at the piano, nervous and shivering, hoping I wouldn't disappoint.
I had never done this before; it was my first real test. Soon, I saw people noticing and appreciating my work. I became more confident.
How did the idea of creating a piano record occur to you?
When I returned to Gurgaon after my sound engineering course, the management team at Ambience got in touch and asked if I could put up a concert for them at the mall. I agreed.
On December 29, 2013, I gave my first performance. All I knew was that my hands were moving swiftly and the notes just flowed. I could see that everyone was clapping. I was overjoyed.
After the performance, one gentleman from the audience walked up to me and said he was counting the number of notes I played. And he said that I was exceptionally good.
I decided to pay attention on my speed. I researched and found that the record for the highest number piano notes in a minute by an Indian was 669.
I had found my aim in life -- I wanted to break this record.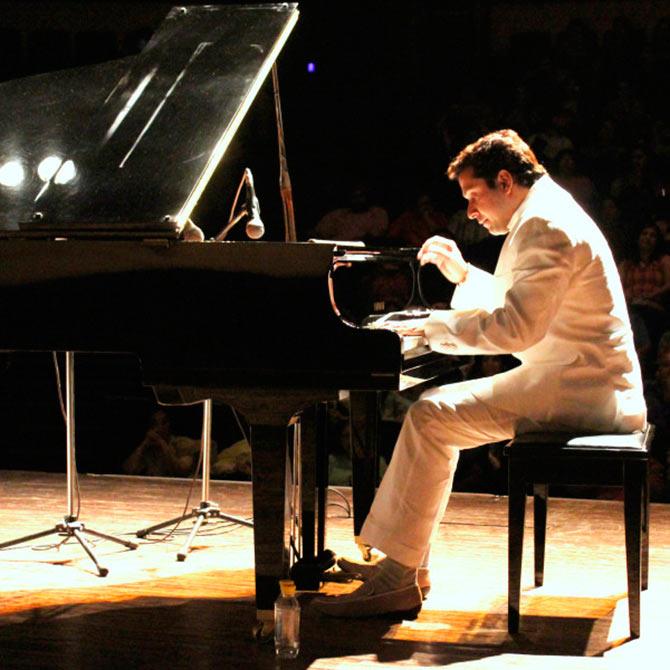 How did you prepare yourself for the record?
From practising three hours a day, I started spending six to eight hours on the instrument. When I thought I was ready, I picked a date. On December 4, 2014, I was to perform at Epicentre, Gurgaon.
My parents, who had by then heard of my prowess, attended the concert. It was a big day for me. Expectations were high.
I wasn't really counting when I played. I played a piece which is a part of my own composition called 'Pragaman' based on Indian classical music and used a set of 40 keys while creating the record. I did not know when I crossed 700 notes. When I finished, I was told I had hit 804 notes -- and that was a new record. I was now the fastest Indian pianist.
My parents had tears in their eyes. My wife was happy. It was a memorable reunion for all of us.
What is music healing? How did you learn about it?
In April 2015, I was performing a composition -- an Indian raga -- and a 70-year-old gentleman stood up and watched me intently. Later, I realised he had tears in his eyes. He was asked to sit, but refused and continued watching till I finished playing.
I do not know what happened but I could see that most members in the audience were emotional. They were clapping and smiling through their tears. For the first time, I realised music is therapeutic.
For example, it is scientifically proven that music does wonders for infants.
A child starts inheriting sanskar (values) in the mother's womb. Several researchers have documented videos where a child is dancing and reacting to the music the mother is listening to.
I decided to pursue it and found happiness in making others happy.
How do you heal through music?
Music is all about notations. I have identified the notes that activate positive energies in the body.
I blend them in compositions that help people feel happy, lively, free and energetic.
Music helps heal sleep disorders, anger and brings in peace and calm.
What are your future plans?
My dream is to bring the piano back to the centrestage. I want more people to appreciate and encourage experimental music.
I want to focus on music for healing and take our Indian ragas to the world. I want to work with talented musicians like AR Rahman, Rahat Fateh Ali Khan -- the list is endless.
I feel proud to say that my student Gauri Mishra, who is just nine years old, is India's youngest concert pianist. I want more Indians to pursue music.
Your advice to aspiring musicians.
Learn the basic concepts but maintain your own style. Don't just make music for the masses. Think out of the box.
Your message to our readers
No matter what profession you choose, it is important to have a vision in life.
Dedication and hard work go hand-in-hand. Never be afraid to fail. If you do fail, work harder and aim higher for success.
Images: Kind courtesy Aman Bathla