"When a building celebrates life, then it is called architecture; architecture is not a product," says the Pritzker Architecture Prize winner.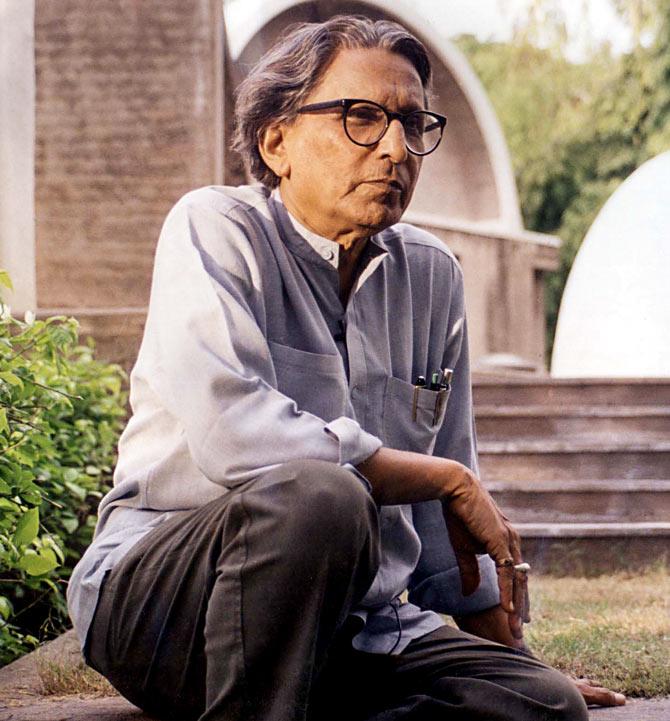 Balkrishna Doshi.
Photograph: Courtesy VSF.
For architect Balkrishna Doshi, who won an award considered architecture's Nobel equivalent, a smart city -- the current buzzword in urban space -- should reflect its residents' aspirations and be built with a holistic approach.
In an interview after he became the first Indian to win the Pritzker Prize, architecture's highest honour, the 90-year-old said his constant preoccupation over the last six to seven decades has been to resolve issues related to cities, urbanisation and living space, and the years have been a constant discovery for him.
At the start of his career, Doshi worked as an associate of the master of architecture Louis Kahn, an American, on the iconic IIM-Ahmedabad project.
He then went on to design numerous institutions like IIM-Bangalore, CEPT Ahmedabad and NIFT Delhi. Designing buildings for institutes, Doshi said, was an effort to "create transitional spaces for people to connect and disconnect and go into reflective mood".
He said, "Institutions must look like a second home. They are not just merely rooms. You go there because it is a place of interactions, place of reflection, place of questioning and wondering, and also a place where you gradually sensitise.
"For example, the School of Architecture at CEPT University: It was a waste land. If you go there today, it has nice mounds, trees, gardens, so everyone who comes there say, 'my god, what a place!', so they want to come often."
For Doshi, an institution is a space with no doors and less boundaries so they can facilitate greater interactions between people, nature and everything around.
"And it should make you question what is the meaning of what I am doing, and is it going to benefit people or not," he added. "Institutions must give time to students and teachers to ponder and question. Spaces there have to be connected to nature and all the forces around. You induce in them some kind of feeling of silence which would lead them to questioning."
The Ahmedabad-based architect, who founded the Vastu Shilpa Foundation in 1978 to research environmental and indigenous design, also started working on low-cost housing in the beginning of his decades-long career, much before affordable housing became a regular theme in government policy documents.
He designed the Aranya Low Cost Houses in Indore, which are home to 80,000 inhabitants.
For Doshi, low-cost housing schemes are designed with an understanding that they should not only be affordable but also take into account availability of scarce resources and funds made available for them.
He explained, "I started [working on] low-cost housing in the beginning of my career. And the idea was not only that they should be affordable, but they should also provide you an easy way to build.
"If cement is scarce, if you don't have concrete and not much funds, what would you do with minimum cost? So, I use local technology, material, crafts, and create buildings out of them so they become very simple to live, but very pleasant to be in. Then I create clusters out of them."
Doshi has vowed to use his award to boost the cause of proper housing for the poor.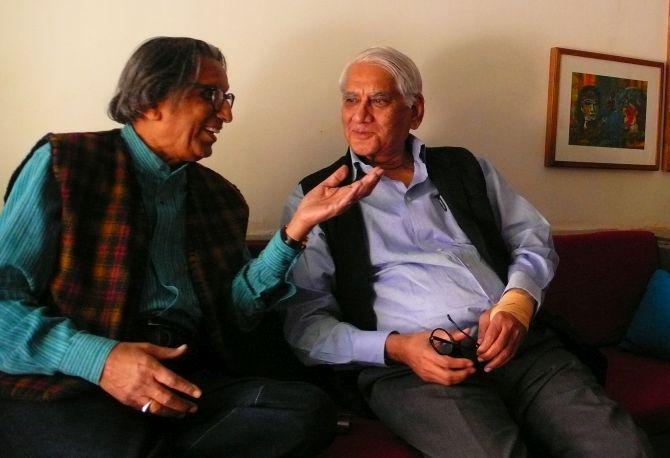 Taking a trip down memory lane, Doshi said environment had always been an important factor in his designs.
He said, "The last 60-70 years have been a constant discovery for me.
"Since I have been doing various projects and resolving issues connected to cities, urbanisation, living space, my concerns have always been how do we upgrade lifestyle, upgrade quality for life, really become helpful, and assist people who don't have much resources. How would you empower them so they can be better off over time?
"Second, I look at environment, as to how one creates an environment where people like to go again and again, where they would notice the seasons, see animals and birds around them."
Doshi said he looked at design as an integration of climate, earth elements, and movement of shadows: "I'd see how light filters around when the sun light comes, and how the wind blows in so that you feel comfortable.
"Then comes the earth: how do you relate with the earth, the way you plant trees.
"I look at all cosmic forces connected to the habitation in which humans beings who are sensitive dwell happily."
Doshi's architectural designs are also defined by traditions.
He elaborated, "My buildings, whether low-cost or expensive, use elements which we have been using long long ago in our traditions. All our old houses were like that. They were designed on the basis of the activities and our lifestyle.
"I first plan activities, then I see what kind of lifestyle it will induce and benefit, and then I go beyond those activities.
"And then I plan the structure, which must have proper volume, proper light, it must be cool in summer, pleasant in winter."
Doshi rued the rapid, unplanned urbanisation, pointing out that what is being talked about is creation of buildings without any sense, or "circumstantial development" as against "planned development."
He added, "Today, we are not talking of urbanisation, not even hybridisation, but creating buildings without any sense. We are doing is circumstantial development, not planned development."
A "smart city," for Doshi, should be a space as smart as the dwellers themselves, reflecting their aspirations and human qualities, because, after all, human beings are smart.
"They know not only how to survive but also how to rejoice," he said. "Smart cities should be holistic, and take all the factors into account: the land, the place where people will stay, where they will work, how they rejoice the place, what should they do in holidays, what kind of life would they have. Do they would they have playgrounds, open spaces, recreation, something to do with health?"
He lamented that developers have adversely affected the spirit of architecture, as they seek their "own pound of flesh" for the job they offer to new breed of architectures.
"When you are hunting for work, you are going to developers, and developers want their pound of flesh. And this is the fate we have.
"For example, the other half we are talking about here: slums and people [living] on footpaths. We are isolating from these issues and trying to create buildings and call them architecture."
Doshi said anything "smart" for him is "integral, efficient, uses less energy, gives more choices, is more and more independent and self-sustainable."
"When a building celebrates life, then it is called architecture. Architecture is not a product. It is made to suit the conditions or styles or predilections of the users. When we talk about that, the whole question is: is the user comfortable, or is he going to really be very happy? Would you like to go back to the place?"