About 13 million kg of marine debris have been collected over 127 weeks by him and thousands of volunteers.
Sadiya Upade finds out more about the man and the mission after his efforts led to the vulnerable Olive Ridleys returning to the city's shoreline after 20 years!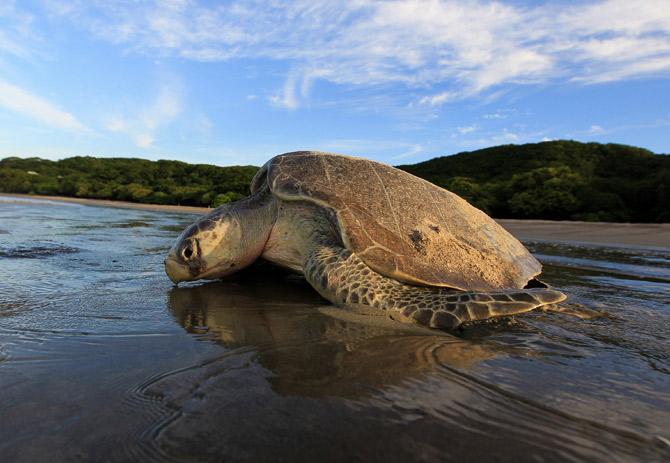 A bunch of tiny creatures brought happy tidings to Mumbai's Versova beach last month.
Some 87 Olive Ridley turtles hatched out of their shells and slowly made their way to the sea, marking a return of the turtles to Mumbai's shoreline after 20 years.
"Two months ago, we were informed about a turtle sighting and were on the lookout for any activity," says Afroz Shah, lawyer and social activist, who has been leading the Versova beach cleanup since 2015.
Olive Ridleys are the smallest and most abundant of all sea turtles, yet are listed as "vulnerable" because their population has been declining rapidly.
As experts partly credited the cleaner environment for their return, Shah called it "the best day of his clean-up journey".
But it's been a long road.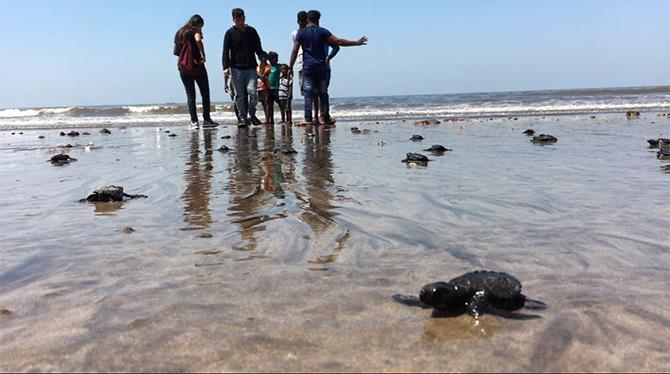 Appalled by the mountains of garbage along Versova beach, Shah and his neighbour Harbansh Mathur started cleaning it themselves, tackling one piece of rubbish at a time.
"We can't keep blaming the government or wait for courts to take action, the balance must tilt towards citizens now. We are the ones who are littering the ocean, we must be held responsible," says Shah, who has been devoting a few hours every weekend to the clean-up.
The result: About 13 million kg of marine debris have been collected over 127 weeks by Shah and thousands of volunteers.
Initially, he says, the idea was simply to clean the beach and spread awareness about marine debris.
As weeks went by and more volunteers joined -- through word of mouth and social media -- they started approaching fishermen's colonies, educating them about waste segregation.
"After Sagar Kutir wadi, we are working at Siddharth Nagar near the creek, teaching people how to separate plastic and not throw it into the ocean. There are nine creeks from Versova to Malad and we hope to sensitise people living in these areas over time," says Shah, who was named one of the "Champions of Earth" by the UN Environment Programme in 2016.
To tackle open defecation, the group then started cleaning public toilets along the beach, against the backdrop of municipal corporation lethargy.
Recently, they also began working with the mangrove cell.
A large part of their awareness campaign is directed at school and college students.
"About 40,000 kids are working with us on a roster basis. We take them to slums and fishermen's colonies for interaction. To have a 10-year-old asking an old man how they can work together to make a difference is simply fantastic," says Shah.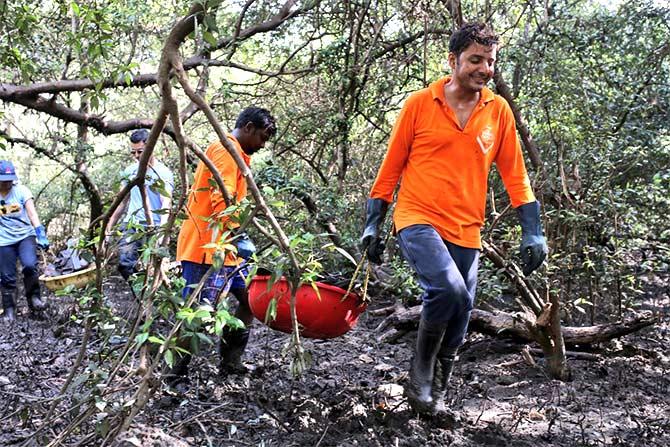 He's not entirely convinced by the recent ban on plastics, though.
"It's the failure in promoting recycling that has resulted in the ban," he says. "Yes, single-use plastics such as bags, straws, styrofoam plates need to be done away with. But what's more important is to get people to recycle so plastic doesn't find its way to the ocean."
A World Economic Forum report in 2016 predicted that, by 2050, oceans could contain more plastic than fish.
"Marine debris is a problem for all coastal cities, which can only be handled through awareness and collaboration. You can't say I have paid my taxes and rely on the government to do the job. You need to clean up the surroundings near you. Not a walkathon or thinkathon, but something routine that becomes part of our lives."
Shah's routine actions have certainly borne fruit.
"A species coming back indicates that the ecosystem is regenerating. It's a good sign."