Zara co-founder Amancio Ortega has toppled Microsoft's Bill Gates to become the world's richest person for brief stretches multiple times, including twice this week.
A peek into the life of the 81 year old even Amazon's Jeff Bezos can't keep up with!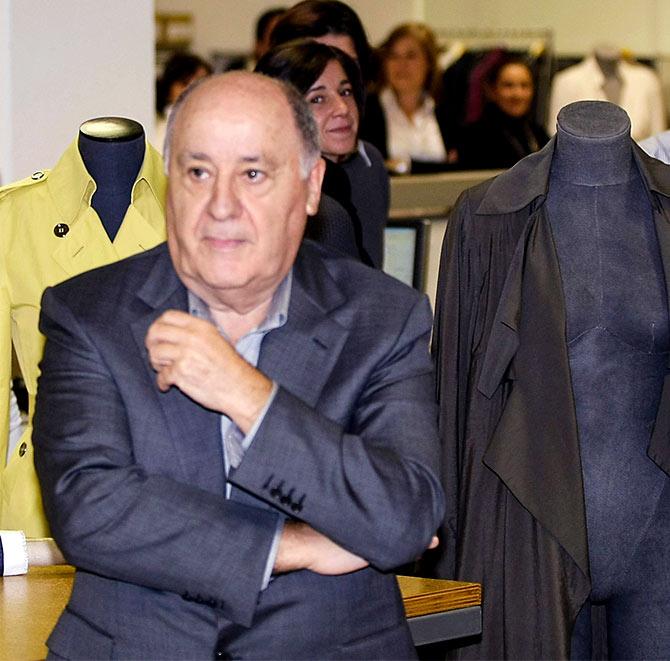 Amancio Ortega at the Inditex factory in Coruna, Spain.
Photograph: Miguel Vidal/Reuters.
Amancio Ortega -- or the elusive billionaire the world better knows as the co-founder of the popular fast-fashion brand Zara -- could soon topple Bill Gates's as the world's richest person. He has done it at least four times, including twice this week alone!
On August 29, the Spanish retail tycoon and the Microsoft founder Ortega 'were separated by only a few million dollars and were switching back and forth as the world's richest person,' Forbes reported.
'As of 1.45 pm [EST], Gates was back in the No 1 spot. At 2 pm, he had a net worth of $84.722 billion vs $84.72 billion for Ortega. Then, as of 2.30 pm, Gates' net worth dropped $7 million, landing him in the No 2 spot,' Forbes added.
Gates regained his top spot as the world's richest person by the end of the day.
The next day too, Ortega's $85 billion fortune surpassed Gates' $84.9 billion, once again making him the world's richest person briefly.
Forbes noted 'Gates has held the spot as the world's richest person for 18 of the past 23 years on Forbes' annual Billionaires List... In between lists, however, Gates has been passed up.' Once by Amazon founder Jeff Bezos in July 2017. And four times by Ortega, starting 2015.
It added, 'Ortega, who founded clothing chain Zara's parent company Inditex first surpassed Gates in October 2015 for less than a day. At the time, he had a net worth of $80 billion. Then, nearly a year later, he took the top spot for two days in September 2016.'
Despite Ortega's vast empire -- the holding company Inditex, also owns clothing brands like Stradivarius, Pull and Bear, Uterqüe, Massimo Dutti, and Oysho; and he also has a presence in the real estate sector through Pontegadea Inmobiliaria-- most people have never heard of him.
Here's everything you need to know about the richest man in the fashion business.
Poverty made him drop out of school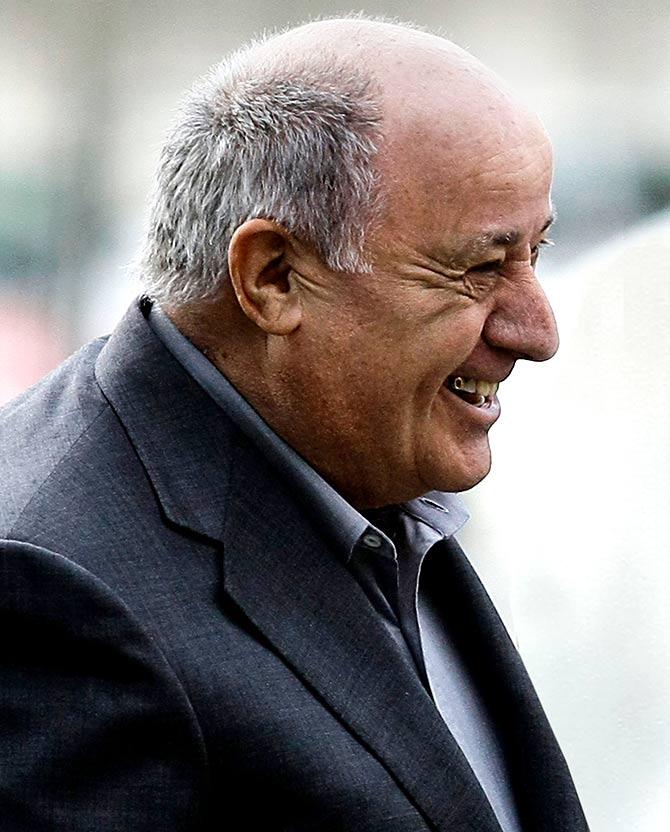 Amancio Ortega dropped out of school as a teenager to help his family.
Photograph: Miguel Vidal/Reuters.
Ortega, the son of a railway worker, quit school at age 14 after a particularly humiliating incident.
Covadonga O'Shea, author of a biography of the Zara founder, told BBC, 'One day [he and] his mother went to pick up some groceries. From below the counter, he heard someone tell his mother, "Senora… we can't give you any more credit."'
O'Shea said, 'When Amancio was telling me this, he was terribly emotional. And he said to me: "I was deeply hurt and humiliated."'
Vowing never to let his family suffer this way again, Ortega quit school and began working in a garment store.
How he became the Zara founder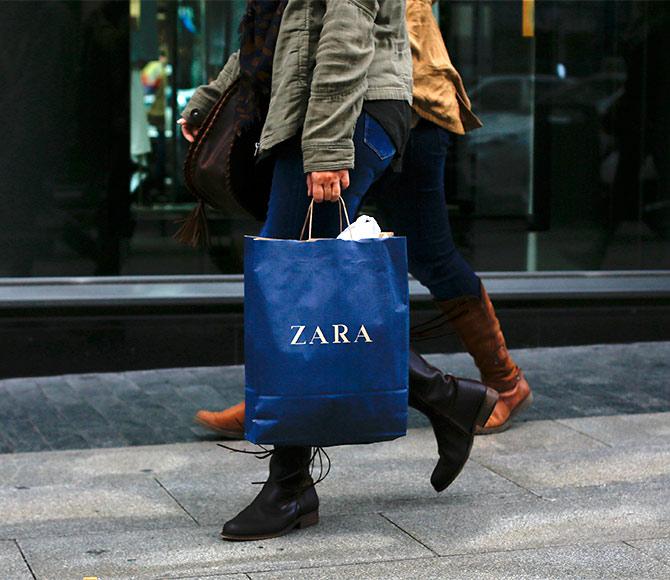 Outside the Zara store in Madrid.
Photograph: Sergio Perez/Reuters.
By the early 1960s, Ortega felt he had gathered enough experience to set up his own business. Along with members of his family and his future wife, Rosalia Mera, he first launched a textile manufacturing company.
They started with making bathrobes, and then lingerie. When that did well, they expanded and opened the first Zara store in 1975.
When Ortega became the world's richest person briefly in 2016, the BBC had noted, 'What gave him the edge, and made Zara and its parent company Inditex such a success, was one particular insight. Shops were taking too long to bring people the fashions they craved. By the time a product arrived, fashion-conscious shoppers wanted something different. He decided he would radically shorten that turnaround time.'
Ortega did something unique.
Michelle Wilson, retail analyst at Berenberg, told BBC, 'A lot of retail is [the company] deciding what they'll want, manufacturing it and pushing it on the consumer... [But Zara has] a pull model from the consumer rather than pushing the product onto the consumer.'
BBC added, 'At Zara and sister brands, the company listens to what its shop managers tell them -- asking what are customers saying, what are they buying... [and] react quickly, ordering more of popular products or changing styles.'
He built a system that allows Zara to turn designs into merchandise withing 10 days and restock any store in 48 hours.
To this day, every Zara store follows this policy.
He is a great boss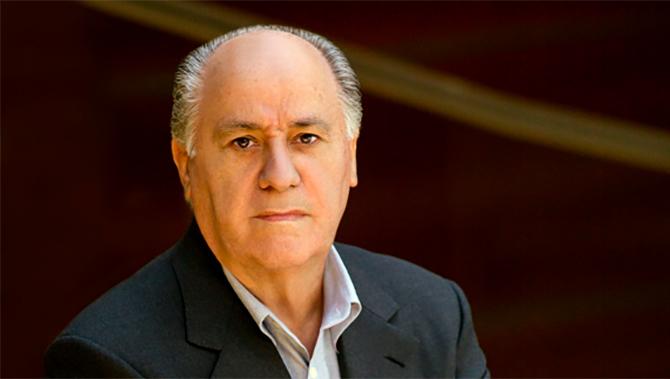 Amancio Ortega prefers face-to-face interactions with his staff at all levels.
Photograph: Inditex.com.
Ortega famously got his first computer in 1976 to track sales.
Yet, as The Economist discovered, he 'never had his own office, desk or desktop computer, preferring to direct his firm while standing with colleagues in a design room of Zara Woman, the flagship line.'
He famously went 25 years without a vacation. And though he stepped back as Inditex's chairman in 2012, he still remains hands-on.
He travels to the headquarters nearly every day. And, according to CNBC, 'To this day, Inditex stores report to Ortega daily.'
How wealthy is Amancio Ortega?
Zara is only one of the many Inditex brands.
Photographs: Reuters.
Apart from toppling Gates as the world's richest person at regular intervals, Ortega has held the spot of the richest man in Europe and the wealthiest retailer in the world for years.
Ortega's net worth, according to Forbes, hovers at the $85 billion mark depending on market forces.
So, how much does Ortega make in a year? According to Forbes, 'He typically earns more than $400 million in dividends a year.'
His business interests are spread across gas, banking, real estate and tourism.
Which brands does Ortega wear?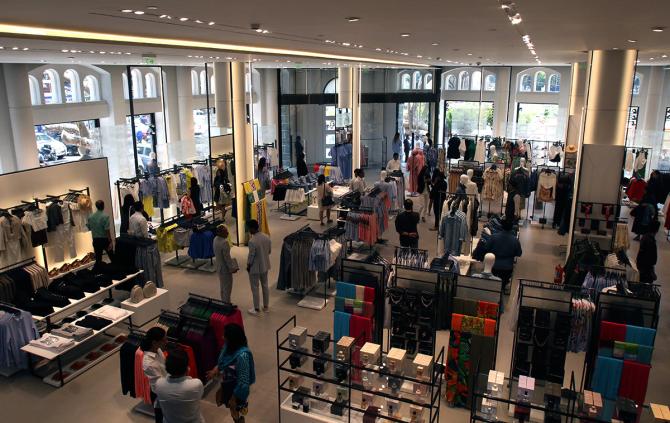 Inside Zara's massive, multi-level store in Mumbai.
Photograph: Rajesh Karkera/Reuters.
When it comes to himself, Ortega has no brand fixation. Not even his own.
He is known for dressing modestly, and NOT in Zara products!
He owns a Bombardier jet, but...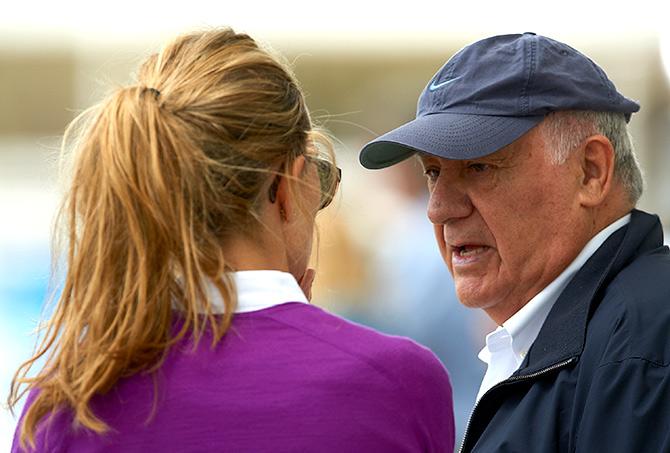 Amancio Ortega at the Global Champions Tour in 2011. Horses are his one big indulgence.
Photograph: Xaume Olleros/Getty Images.
Ortega is not your typical rich man with a penchant for expensive toys.
He owns a Global Express BD-700 private jet designed by Bombardier, worth $45 million, but rarely jets off anywhere.
He drives an Audi A8 luxury sedan, which 'is said to be more about comfort than luxury.'
And despite owning buildings in major cities around the world, he lives in a discreet apartment building with his wife.
He is humble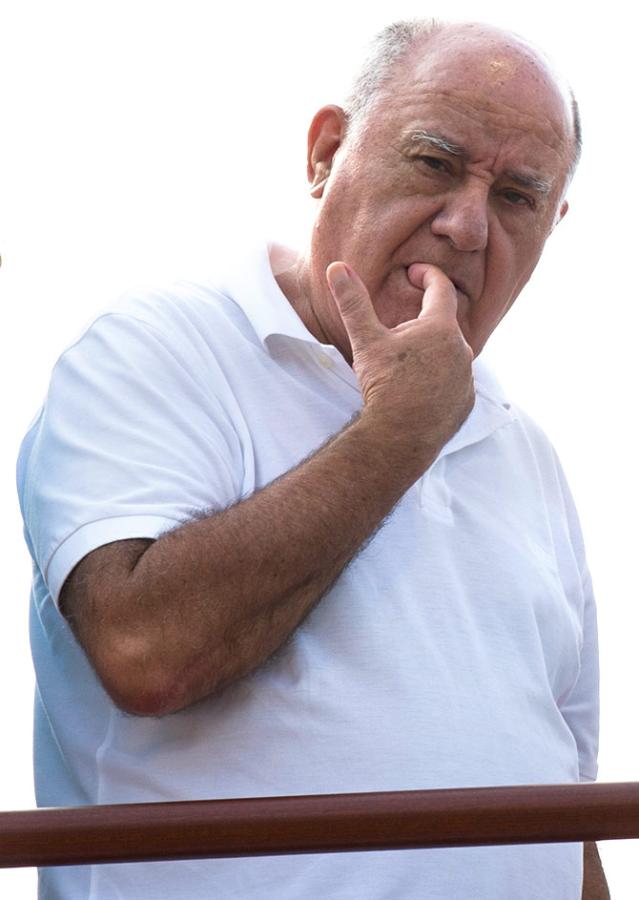 Amancio Ortega remains close and true to his roots.
Photograph: Pascal Le Segretain/Getty Images.
Despite Ortega's extraordinary wealth, 'much about his life has remained remarkably unchanged,' The Telegraph noted in a profile on him in 2015, the first time he became the world's richest person.
The British newspaper added, 'The tycoon reportedly visits the same coffee shop every day in La Coruña... where he has spent most of his life, and is often spotted ambling across its Plaza Maria Pita...
'The boss eats lunch with his employees in the company cafeteria, and instead of disappearing into an office, is usually found sharing a table on the factory floor, with some of the designers, fabric experts and buyers.'
He loves goats, chickens and horses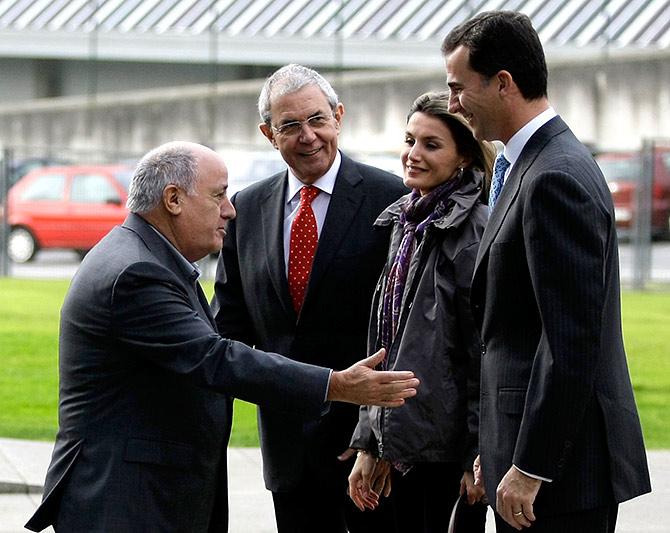 Amancio Ortega (left) with (from right) then Spain's Crown Prince Felipe and Princess Letizia and Galician President Emilio Perez Tourino at the Inditex factory in Coruna.
Photograph: Miguel Vidal/Reuters.
Though Spain's King Felipe and Queen Letiza, and Britain's Duchess of Cambridge Kate Middleton are fans, 'on the weekends, Ortega reportedly raises goats and chickens at his country home,' says SCMP.com.
Ortega is passionate about horse riding and owns an equestrian center.
He is publicity shy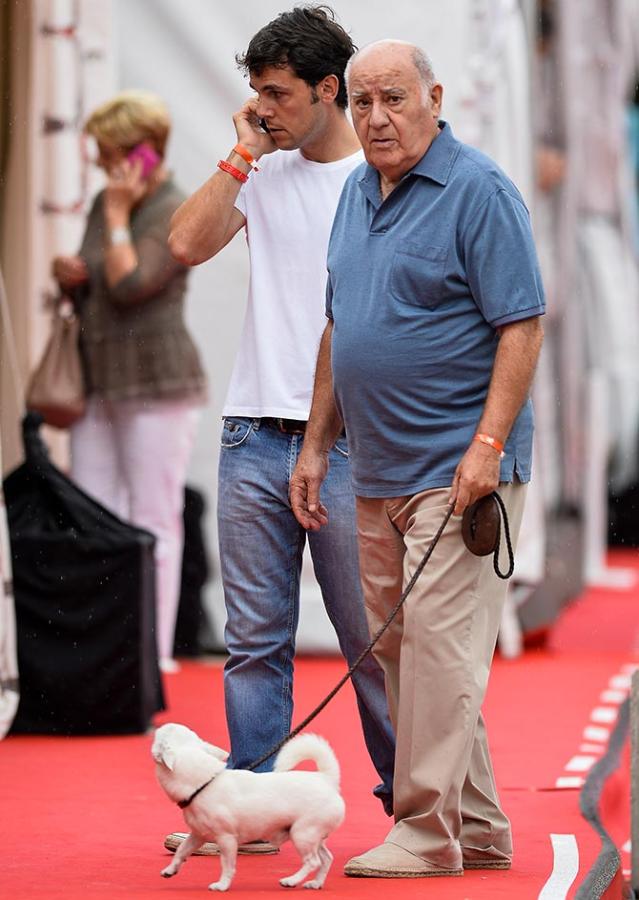 Amancio Ortega with his son-i-law, showjumping champion Sergio Alvarez Moya, at the International Monte-Carlo Jumping in Monaco.
Photograph: Pascal Le Segretain/Getty Images.
Ortega is incredibly private and rarely seen in public.
In 2012, Bloomberg reported that he had only ever granted interviews to three journalists.
And till a few years ago there were such few photos of him in the media that, according to The Economist, investors often 'awkwardly confused him with other staff.'
Even in the age of snap-happy smartphone owners, most photos of him have been shot when he turned up to support his daughter Marta and son-in-law Sergio Alvarez Moya at show jumping competitions.
What's the Ortega family like?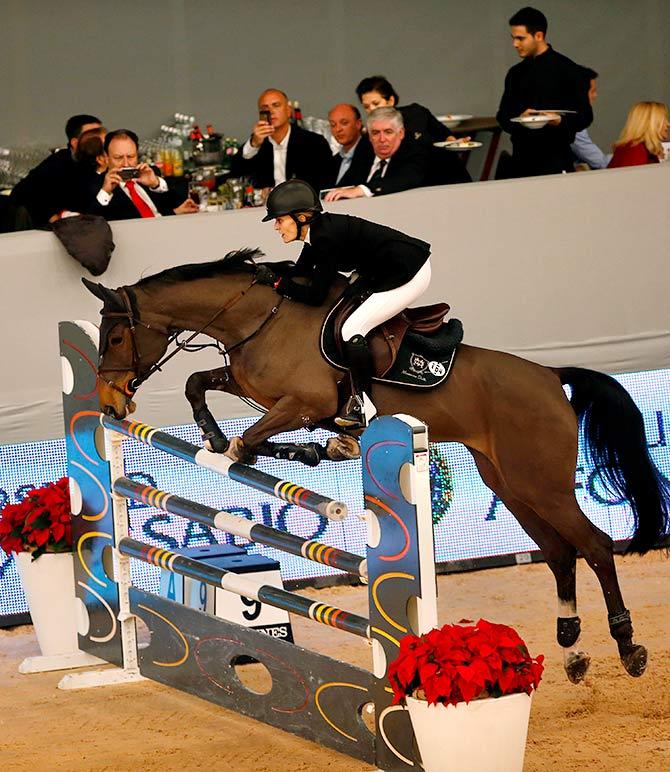 Marta Ortega, daughter of Amancio Ortega, competes at the Madrid Horse Week in 2014.
Photograph: Susana Vera/Reuters.
Ortega married Zara co-founder Rosalia Mera in 1966, and they got divorced in 1986. Merla was Spain's richest woman when she died in August 2013.
Ortega got married again in 2001 to Flora Perez Marcote.
He has three children -- daughter Sandra, who is now Spain's richest woman, and a son, Marcos with Rosalia, and Marta with Flora.
Recommended for you: The super rich, super cool life of Jeff Bezos