Have you heard of Budhia Singh, the world's youngest marathon runner? At five, the young boy has completed 48 marathons already.
A biopic on the five-year-old wonderboy is about to release in the theatres August 5.
We republish a feature that takes a look at prodigies like Budhia Singh who have made India proud. Take a look.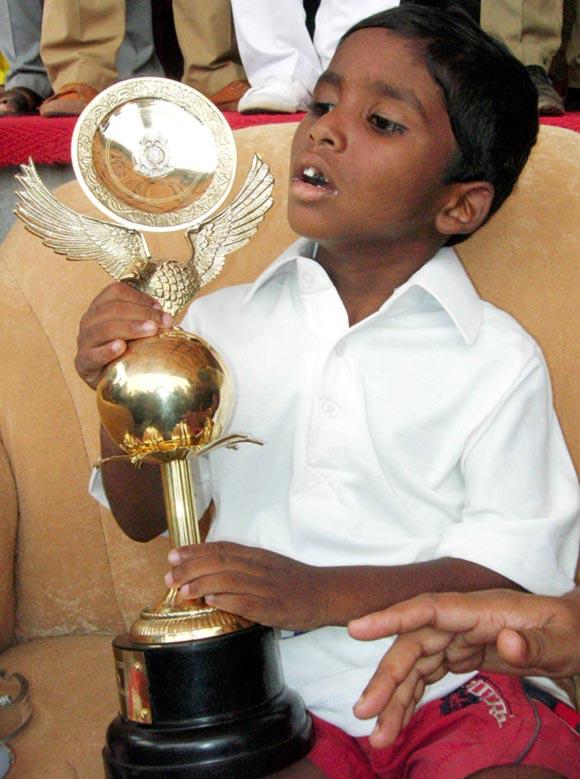 IMAGE: Budhia Singh,

a four-year-old child, holds his trophy after a marathon in the eastern Indian city of Bhubaneswar.

Photograph: Sanjib Mukherjee/Reuters
Budhia Singh is world's youngest marathon runner.

Born in poverty-stricken family in Orissa, Budhia was sold off to a peddler by his mother for Rs 800.

He was rescued by Biranchi Das, a Judo coach, who took him under his wings and started training him to be an Olympic marathon runner.

By the age of four, Budhia had completed as many as 48 marathons.

But India's wonder kid grabbed headlines when he completed the historic run of 65 km from Puri to Bhubaneswar in seven hours and two minutes flat.

In fact, Budhia earned a place in Limca Book of Records for the same achievement.

In 2011, a feature documentary made by HBO on Budhia's life was released.

Titled Marathon Boy, the documentary was directed by Gemma Atwal and it ended up getting nominated for an EMMY.

And now a biopic on the Indian protégé is all set to hit the theatres.

Starring Manoj Bajpayee and Mayur Patole in the lead, Budhia Singh: Born To Run is directed by Soumendra Padhi and is releasing worldwide on August 5.

Initially titled Duronto, the film was declared as the Best Children's Film at the 63rd National Film Awards.

Budhia, who is now in class 9, no longer runs marathons.
ALSO SEE: A Sneak Peek of Budhia Singh - Born to Run!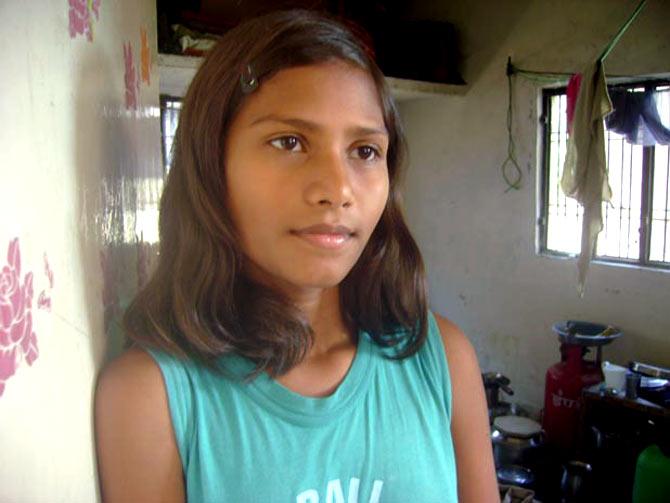 IMAGE:

Sushma Verma was 13 when she enrolled for a Master's degree in Microbiology.

Photograph: Sharat Pradhan/Rediff.com
Sushma Verma from Lucknow completed her graduation and is pursuing a Master's degree in Microbiology.
At age seven, she breezed through the state high school examination, competing with students twice her age. In the process, she beat the record of her brother, Shailendra, who is currently pursuing a master's course in computer applications in Bengaluru.
Sushma wanted to become a doctor. She had completed Class 12 and taken the Combined Pre-Medical Test for admission to the MBBS course. But she does not know how she fared... the authorities refused to release her results as she was underage.
Prevented from pursuing medicine, Sushma decided to study microbiology.
She graduated at the age of 13 and is now doing her master's degree.
What makes the teenager's story even more inspiring is her family background. Her father is a Class 8 dropout and her mother never went to school. Both parents work as daily wage labourers and struggle to make ends meet.
Her educational expenses are being borne by Sulabh International, an Indian NGO that works for the impoverished.
Read her inspiring story here!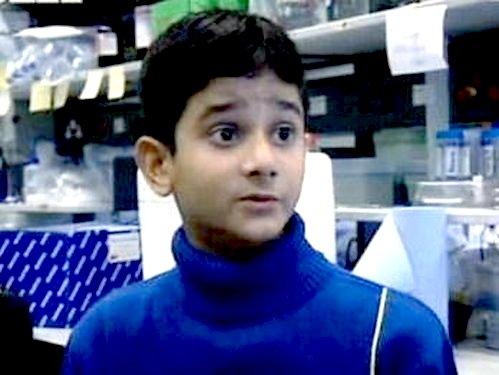 IMAGE: Akrit Jaswal performed a surgery when he was seven. Photograph:

Courtesy Akrit Jaswal's Facebook page
India's answer to Doogie Howser, Akrit Jaswal hit the headlines when, at the tender age of seven, he performed a surgery on the daughter of a neighbour who couldn't afford medical fees.
Though he wasn't a qualified doctor, the family requested him to separate their daughter's fused burnt fingers, which he did.
Akrit, who has an IQ of 146 (80-100 is considered to the average IQ range), began walking and speaking when he was about 10 months old.
He began studying medicine at the age of 12. At 17, he signed up for his master's course in applied chemistry, vowing to finding a cure for cancer.
Akrit, who has also appeared on The Oprah Winfrey show is 23 today.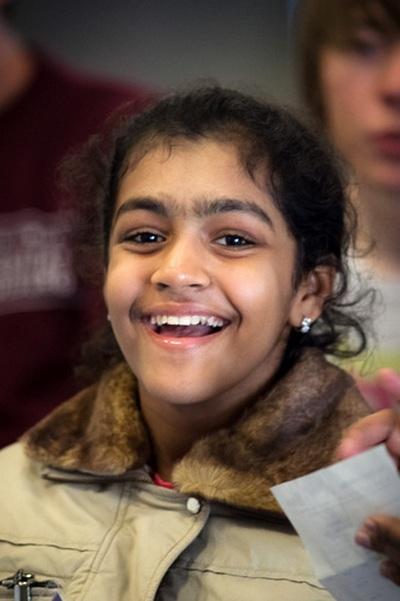 IMAGE:

Priyanshi Somani stunned people with her mental maths abilities at the age of six.

Photograph:

Courtesy Priyanshi Somani's Twitter page
If you hate maths, you should probably skip this page.
All of 15, Priyanshi Somani is a maths whiz who stunned people with her mental maths abilities at the tender age of six.
Despite being the youngest participant at the Mental Calculation World Cup in 2010, she went on to win the title, beating 37 competitors from 16 countries.
To win, she had to calculate the square root of 10 six-digit numbers in 2 minutes and 43 seconds... which she did!
Priyanshi was the only participant to have scored 100 per cent accuracy in addition, multiplication and square root across all Mental Calculation World Cups.
The pretty teenager loves to play chess and table tennis and -- why is it not surprising! -- excels at both games.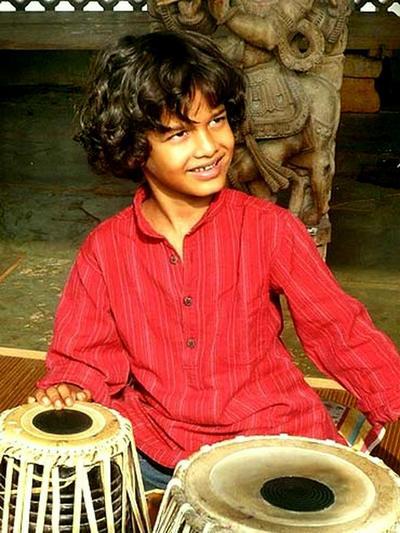 IMAGE:

Keshava's first solo performance was at the 2010 Commonwealth Games.

Photograph: Kind Courtesy Keshava
Spotted by filmmaker Bharat Bala, tabla prodigy Keshava wowed the world when he performed live at the opening ceremony of the 2010 Commonwealth Games in New Delhi.
Born in Auroville, Keshava began learning the tabla from the age of two; he was seven when he performed at the ceremony.
Keshava's talent was discovered by his grandmother, Prafulla Dahanukar, a painter, when he followed the beat cycles she played on the dining table perfectly. His tabla lessons started soon after.
His family believes he learnt the nuances of playing the instrument by watching Ganesh Basavaraju, who would accompany his mother, a dancer, on the tabla.
His performance at the Commonwealth Games -- it happened to be his first solo act -- went off flawlessly and garnered worldwide attention.
Thanks to his incredible talent and his curly locks, there have been several comparisons between him and tabla maestro Zakir Hussain, also a child prodigy.
Soon after the Commonwealth Games performance, Keshava returned to a quiet life in Auroville, away from the media attention.
He lives like most other kids his age -- cycling, climbing trees and reading fairy tales.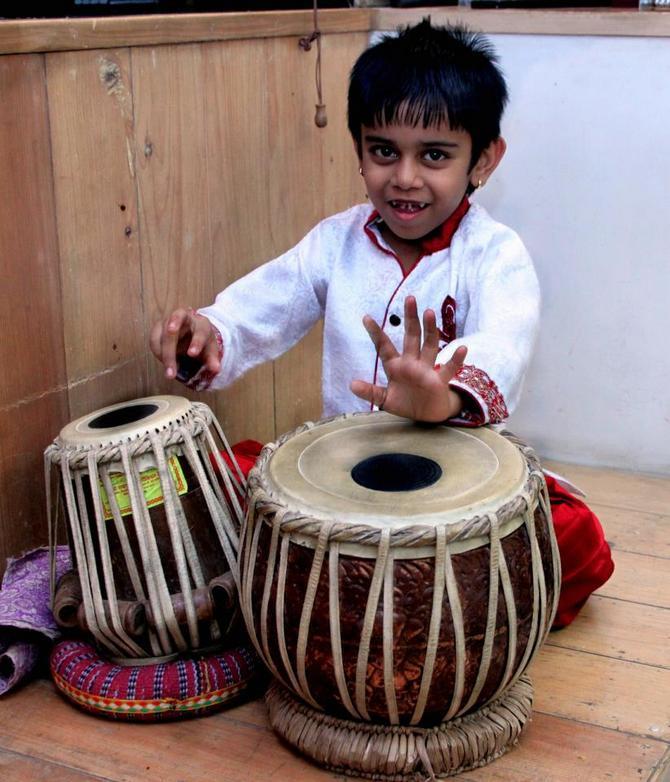 IMAGE:

Truptraj Pandya is the world's youngest tabla player.

Photograph:

Courtesy Truptraj Pandya's Facebook page
Keshava may have had a much larger audience listening to him during the Commonwealth Games, but the distinction of being the youngest tabla player goes to Truptraj Pandya, who has received a certificate from the Guinness Book of World Records.
The six-year-old Mumbai boy gave his first public performance when he was just two years old.
He played live at the All India Radio when he was barely three.
Truptraj's love for the tabla began when he was a toddling year-and-a-half; he would accompany his grandmother on a pair of aluminium boxes as she sang devotional songs.
It didn't take long for his parents to realise their son was gifted and began his training.
The Limca Book of Records is yet to accept his application since he isn't 12 years old.
Since then, Truptraj has played at over 50 public concerts.
Meanwhile, his training continues. He hopes to become a professional tabla player when he grows up.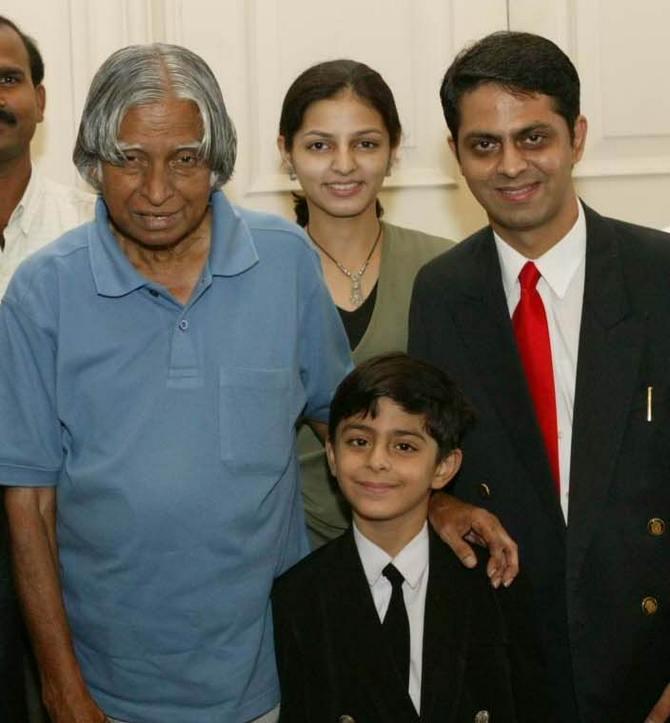 IMAGE:

Ajay Puri designed his own webpage at the age of four.

Photograph:

Courtesy Ajay Puri's official website
At 18 months, when the rest of us were still in our nappies, Ajay Puri was already operating a computer.
Long before many of us could learn to operate pullback toy cars, Ajay was operating several Microsoft products including MS Word, Excel, PowerPoint, FrontPage and Access Database.
At the age of four, he became the youngest person in the world to design his own webpage.
Now 17, Ajay is something of a celebrity. He's met everyone who's anyone -- from Dr APJ Abdul Kalam to Atal Bihari Vajpayee to Dr Manmohan Singh to Bill Gates -- and is invited to speak at various conferences around the world.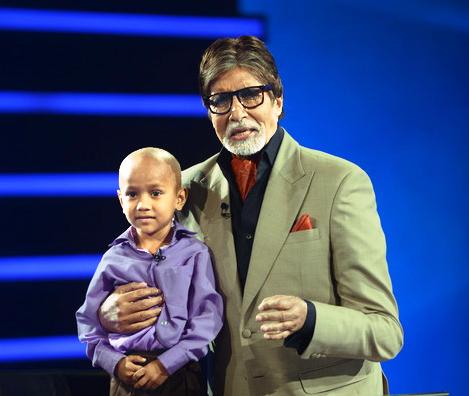 IMAGE:

Kautilya Pandit is believed to have an IQ of 130 points.

Photograph: Kind Courtesy Kaun Banega Crorepati.

Kautilya Pandit has often been called a mini-encyclopaedia, and justifiably so.
Ask him a question and there are good chances he will have an answer.
Kids his age are trying to learn the basics of reading and writing; he's rattling off statistics about GDPs, economies, geographies and the per capita incomes of over 213 countries from around the world.
The six-year-old prodigy, who& hails from a small village in Haryana and has been featured in several television channels around the country, is believed to have an IQ of 130 points.
You may have recently spotted him on Kaun Banega Crorepati.
ALSO SEE