"With the help of the police and high court judgement, we successfully rescued 36 children from that area.
"When they came out, they were jumping like frogs rescued from a box.
"That day, I felt that I am not freeing those children, I am freeing myself."
At the 53rd annual convocation ceremony of the IIT-Bombay, Nobel laureate Kailash Satyarthi shared stories of his struggle and victories while urging young graduates to have a bigger goal for their country and the world at large.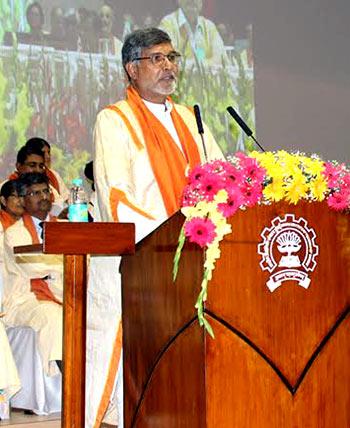 Kailash Satyarthi gave up his career as an electrical engineer to pursue his heart -- to free every child from slavery and empower them to lead a better life, a mission he continues to pursue even today.
In his convocation address, the founder of Bachpan Bachao Andolan advised the class of 2015 to have a three-fold mission -- to dream bigger, to discover new opportunities and to find the courage to do things.
Presenting the transcript for you to read and be inspired…
---
Dear parents, students and faculty members and friends in the media,
I feel humbled and honoured to be with you.
But I also feel at home.
Whenever and wherever I get the opportunity to visit any institute, I feel at home because I have seen hardships in my own engineering course in the 70s.
I also feel privileged to be among the brightest brains in the country today.
You're the future of the country.
You're the champions, you are the changemakers.
You are going to create a new history in technology, corporate, humanities and other disciplines of life.
You have acquired the knowledge which one can call global excellence or global knowledge.
But if I may ask, have you become global citizens? Did you also acquire the value of global citizenship?
It is not just with this institute.
Normally when students complete professional courses, they feel they are in tough competition with the rest of the world.
Sometimes that competitiveness makes our minds very narrow. And we lose our self confidence.
***
Dear friends, you all have big dreams for yourselves.
When I visit universities and colleges, and I ask students where they see themselves five years down the line.
They want to become CEOs of the company or the inventor of a new technology.
When I ask them their dream for India in the next 10 years, they sometimes fail to answer.
They give vague answers and have no concrete thoughts about what they want for India.
When I ask students 'What dream do you have for the world in next 10 yrs and what would be your contribution?', again most of them have failed to answer.
This is a serious question.
Let us start thinking with a different level of self confidence.
Let us also start dreaming for our country and then for the entire world.
I am not a preacher and not here to preach you.
I am here to share some of the principles or practices I have lived on and experimented in my own life.
'Follow your heart and the mind will follow you'
When I gave up the career of electrical engineering, there were very few engineers, at least in my home state Madhya Pradesh.
But I followed my heart and I believe that if you follow the heart, the mind will follow you.
The very first day of my own schooling was the beginning of a spark.
I saw the son of a cobbler at my school gate. I noticed him working along with his father. All my friends and I were going to school with new aspirations and the boy was looking at me. I kept thinking about the boy.
Sitting in my classroom I asked my teacher, the very first question in my life.
Sometimes we don't ask questions, we begin our life with answers.
We must question our surroundings and try to find answers, instead of having blind faith on anything and anyone.
So I asked my teacher, 'Why is that boy working outside and not studying in a school like all of us?'
The teacher said, "Calm down, it's not uncommon, poor children work."
I wasn't happy with the answer and I asked the same question to my head master, my friends, parents.
Everyone tried to convince me that he was a poor child.
I could not understand why he was poor.
I was five years old and that boy was also about the same age as I was.
One day, I went straight to the cobbler and asked the father, 'Babuji, why don't you send your son to school?'
He was surprised and said, "Son, I never thought about it. Ever since I had the knowledge I have known that my forefathers including my grandfather and my own father have been working so will my son follow that."
He said, "Humlog toh kaam karne ke liye hi paida hote hai (We are born to work)."
I refused to accept that some people are forced to work at the cost of their freedom which is one of the fundamental rights we are born with.
I refused to accept that some children are born to work at the cost of education, which is the second most important birthright.
God has given us two divine rights -- that of freedom and the right to learn.
Even now I refuse to accept that millions of children are born to do something else.
I started looking at the world with a different eye.
My father was a simple police constable and my mother was illiterate.
Those days, girls did not go to school. But my parents wanted the best for me and my sister and educated us. My sister recently retired as the principal of a girls' college. It makes us proud.
When I decided to give up my career much against the aspirations of my parents, my mother was crying.
Some of my friends had graduated by then. I did not have the money, but I had the courage to challenge and change the ways.
The people in power were very notorious. They used to buy and sell the boys and girls for lesser price than animals.
They benefited out of it. I was very worried by this.
I started working with a magazine which was devoted to the cause of child rights.
In 1981, a desperate father, Wasal Khan knocked on my door.
He, like many others was lured away from his native village in Chandigarh with the promise of labour.
Once they became slaves, they were never allowed to go back.
Today, he was desperate and had come to me, because his 15-yr-old daughter Saabo, like many other girls, who had grown up in slavery was now to be sold to a brothel by the brick kiln mafia.
When I was writing this story, I could not believe that in the India we so respect and the democracy we are so proud of -- how could slavery exist?
I thought -- if the girl was my own daughter or sister, what would I do?
Would I be just writing the story or would I do something immediately?
I realised that I would have turned the whole world upside down to protect my family.
I decide to go and rescue her.
We hired a truck and a group of us from the village went to rescue the girls.
When we reached there, we were beaten and thrown away from the area.
We came back injured and empty handed.
After returning, I spoke to some of my lawyer friends.
One of them suggested that I go to court and file habeas corpus petition, which I did.
At that time judiciary was very sensitive to these cases.
With the help of the police and High court judgement, we successfully rescued 36 children from that area.
When they came out, they were jumping like frogs rescued from a box.
I remembered reading about India's freedom struggle and I used to feel proud about our heroes -- Mahatma Gandhi, Subhash Chandra Bose, Bhagat Singh and Chandrashekar Azad.
That day, I felt that I am not freeing those children, I am freeing myself.
I realised that every single child mattered.
Since then when I see the first smile of freedom on a child, I see the glimpse of God in them.
I am so fortunate to witness this happen -- not once, but 80,000 times, and every single time we rescued a child.
When I look back, I can say that I followed my heart and my mind followed me.
'Be the excellent version of you'
Another principle I would like to share is try to be the excellent version of yourself, because there is always a reason to improve.
Technology and science has advanced because there was always scope for improvement and the same holds true for us.
I did not stop there.
I realised that this is a global problem.
I organised a worldwide march in 1998 against child slavery and worst forms of child labour and for education.
The march went on for six months crossing 80,000 kilometres across 103 countries which was perhaps larger than the periphery of the earth.
Back then, we were building global awareness.
You'd be surprised to know that until that time, there wasn't a single international convention or law against child slavery, child prostitution or child bondage in the whole world.
We demanded the global community which claims itself so advanced -- remember we had conquered the Moon several decades ago -- to implement a simple law that children will not be dragged into prostitution and slavery.
I got the support from nearly 80 Presidents and the same year, an international law was adopted by the United Nations.
So there is always room to go bigger and bigger and higher and higher in your goal.
When I won the Nobel prize, a lot of them came to me and said, 'Congratulations Sir, now you're a celebrity'.
I said 'Thank you.'
Some of the journalists told me and this is interesting -- 'Sir, you're the only Nobel Peace Prize winner who is an engineer.'
I feel privileged and humbled.
As of 1998, the number of child labourers in the world has fallen from 260 million to 168 million -- almost 100 million children were benefitted out of this law.
But I realised that this was not enough to solve the problem, unless and until we created a big momentum for education, more spending and investment on education.
Today also, only 22 billion dollars are required annually, additionally to educate every single child on earth.
And this figure is just 4.5 percent of the global military expenditure.
Back then this was just 3.5 percent of the global military expenditure.
So we built another movement 'Global Campaign for Education'.
And the result was, since 2010, the number of 'out of school' children has decreased from 130 million to 58 million.
So, believe in yourself.
When you are going for par excellence and for a bigger goal beyond yourself, the victory is certain.
I am still an ordinary person. The only difference is today, I can directly call up the Prime Ministers and Presidents and listen and talk to them.
I wanted to prove that every common man has tremendous potential inside.
And if it is harnessed, channelized, we can make a huge difference in the world.
My area was 'freedom for children'.
I was able to humbly contribute to it.
'Obstacles are the best time to explore opportunities'
In our country, we are taught to be successful all the time.
So, sometimes when we fail, we are very frustrated; so much that it is devastating for some of us.
Some young people even commit suicide.
It is because we cannot digest failure.
But what I learned from my own failures was that obstacles are best time to explore opportunities.
When you fail, you will have to see how to go beyond that obstacle and do much more.
I would like to share another story which happened in Mirzapur in the year 1988.
In Mirzapur area, you'll see that carpets are made and sold in the local markets.
I was waiting at the railway station at 1 am for my train and when a train arrived, I saw a group of young boys and girls being dragged out of a compartment.
I started arguing with the guy who was involved in the trafficking.
Two policemen came to the scene and the other person complained to him that I was creating problems.
The policemen shook hands with the guy and took me away.
They put me in a cage-like enclosure where I spent the entire night.
It was winter and I was shivering. I did not have any warm clothes.
I was angry and said to myself that this was a huge obstacle.
I have freed tens of children and here I was sitting helpless.
I thought, 'why couldn't we go to the corporates and consumers for help?'
The first idea that came to my mind was to demand a 'boycott carpet' campaign.
I knew that a good number of corporates have a heart and soul.
I started talking to them. Slowly they came around.
I launched a campaign in Germany and America and the consumers came in large numbers to demand a rug that would be free from child labour.
That was the toughest phase. Somehow my engineering brain worked.
We were able to develop a full fledged monitoring and labelling mechanism through Rugmark International known as 'Good weave'.
The result of this was that since mid 90s, the number of child labour in South Asian countries that was involved in carpet making -- India, Nepal and Pakistan in particular -- has fallen from 1 million to 2 lakh.
And the production did not go down, it went up, which means we were able to find jobs for about 8 lakh able bodied people.
You must understand what I mean when I talk of education.
We live in the age of knowledge economy.
An economy cannot survive, nor can sustainability be maintained without advanced knowledge and education.
A study has concluded that by providing basic primary education in a country, it can help improve the GDP by 0.73 per cent.
With secondary education, the GDP growth would be 1 per cent.
If you look at the figures, about 40 per cent people in the world are not educated.
We have 168 million child labourers and 200 million youngsters do not have jobs.
Fifty eight million children have never been to school and 120 million children don't go beyond primary education.
We cannot solve the problem of unemployment without addressing the problem of child labour and literacy and vice versa.
You're entering as the leaders of your field. You represent an institution par excellence.
Even taking admission in such an institute is not an easy job.
Those who go out from here should set the precedent of confidence and courage.
Leaders are not born, they are inside you. Why are you looking for fake heroes outside when you have a hero inside you?
Each one of you has a hero inside you. Take it out and use it for the betterment of your fraternity, country and the whole world.
When I go to institutes, I tell students, let us receive our degrees with a three-dimensional goal.
First aim is Dream. Dream big, bigger, biggest.
If you dream for yourself, not for your friends or country, you will never be satisfied in your life.
You can never live in peace, you can never be the happiest person or enjoy that happiness.
Even if you fulfil your dreams, you can't be happy.
Break that narrow shell and dream for others, dream for the world.
Dream big and dream for a better world.
The second D is Discover. Discover the enormous potential of your heart, mind, soul and body.
Discover the opportunities surrounding you. We are not just poor and illiterate.
We belong to a country that has produced big leaders.
India has all the ingredients, it is in our DNA to become and lead the world from a moral field.
We have given Mahatma, Buddha, Mahavir and Guru Nanak Dev to the world.
We are the land of these great people.
We have all the ingredients in our soil, water and our behaviour that we can rule the world.
Wherever you go, remember that you come from a country that has great values.
Learn and see the global opportunities.
The third D is Do.
If you keep dreaming and don't act, it won't help.
So, dream, discover and do. All of you can discover and do big things and one day, we restore our pride which we have preserved since thousands of years and we can bring enlightenment and prosperity to the whole world.
Thank you so much.
---
Lead image: Kind courtesy IIT-Bombay
ALSO SEE
Move from jugaad to jhakaas: Anand Mahindra at IIT-B