They believe that success is a journey, not the destination.
The Forbes' list of women trailblazers feature some amazing talent from across the country.
Some of these women who are past 50, have cut through glass ceilings, risked mistakes, challenged the norms and emerged successful.
Take a look at these women who prove that age is just a number.
Adhuna Bhabani
Age: 50
Founder-director, BBlunt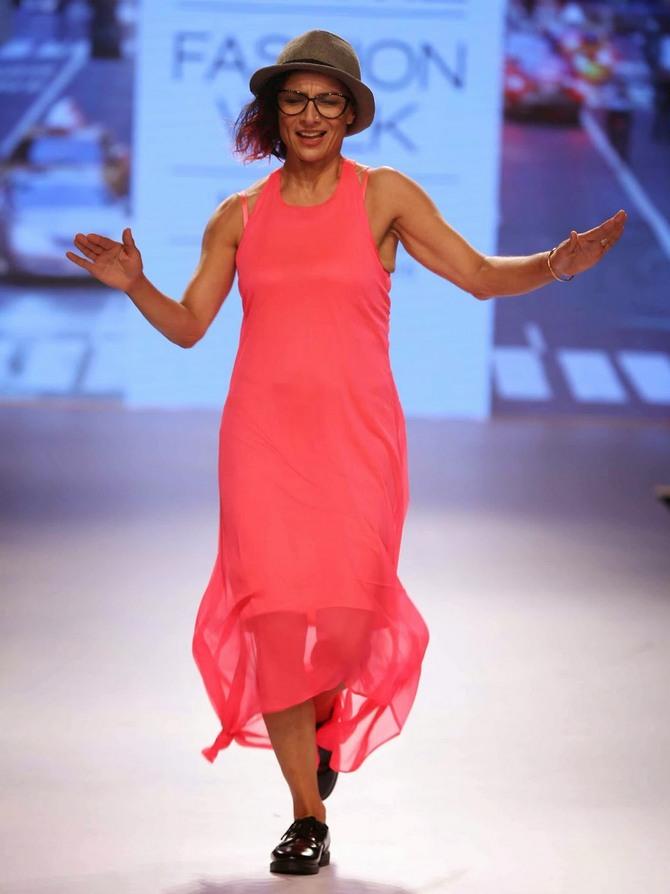 Adhuna Akhtar leads the ramp at Lakme Fashion Week.
Photograph: Kind courtesy Lakme Fashion Week
Adhuna set up her first salon in Mumbai in 1998. Back then they worked with friends and offered free service.
Over the years, they didn't make money and couldn't pay the rent.
After learning from her mistakes, Adhuna along with her brother Ashoke, collaborated with Godrej Consumer Products Limited (GCPL).
Today, they have 20 salons (eight self-owned) in 10 states across India.
They offer a range of hair care products and work on commercial and ad films.
According to Sunil Kataria, business head, India and Saarc, GCPL, the brand has "grown by 100 percent year-on-year since 2014."
---
Padmaja Ruparel
Age: 55
President, Indian Angel Network; Managing partner, IAN Fund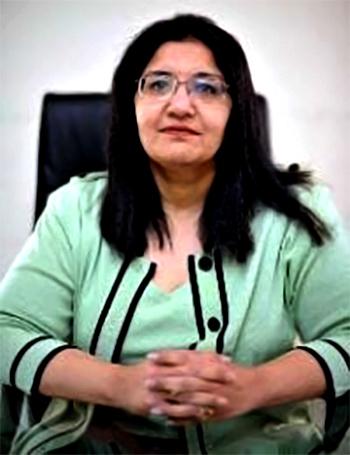 Padmaja started her career with a real estate business in Kolkata.
She developed a 25,000 sq ft commercial space when she was 24.
Post her marriage, she moved to Delhi handling corporate communications and corporate social responsibility.
Alongside managing a full time job, she co-founded the Indian Angel Network (IAN), one of India's largest angel funds, with Raman Roy and Saurabh Srivastava.
Today she is president of IAN.
"Padmaja is confident about her ability to do things," Ruparel's mentor Srivastava told Forbes.
"She is never in doubt. She also has the ability to anticipate things and plan them in advance.
"I don't think we have seen the best of her as yet and my belief is that she is one of the very few who understands the angel investing space well. She knows every single element of investment."
Ruparel's dream is to build a company that can fund 500 start-ups and create over 30,000 jobs in the next ten years.
Image: Kind courtesy Padmaja Ruparel/Yourstory.com
---
Dina Wadia, 58 and Shivpriya Nanda, 54
Joint Managing Partners, J Sagar Associates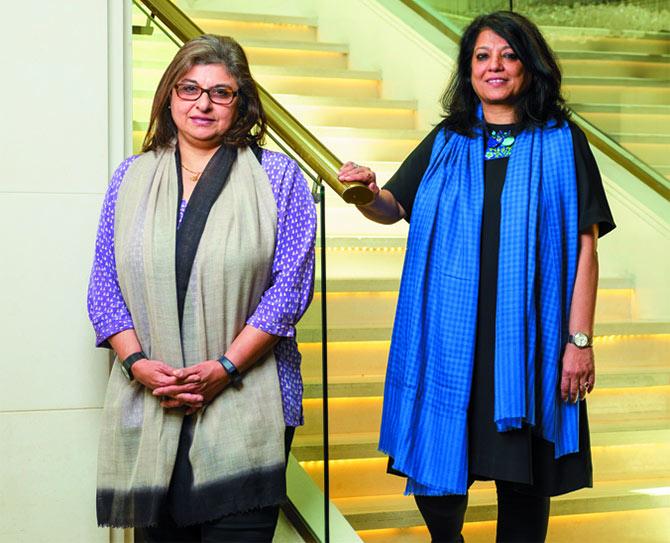 When Dina, (left, above) and Shivpriya were elected as joint managing partners of the law firm, they kind of proved that there is no glass ceiling.
According to Nanda, "it's not a gender issue; it's about how competent you are" she told Forbes.
"They were elected unopposed. Both of them are respected for their integrity,"Berjis Desai, who retired as managing partner of JSA in April 2017 told Forbes.
Nanda holds a law degree from the Campus Law Centre in Delhi.
Wadia did her LLM from Gonville and Caius College, University of Cambridge in the UK.
And there is no competition between them.
"She has her strengths; I have mine. We complement each other, we are not competing," Wadia assured Forbes.
---
Hemalatha Annamalai
Age: 50-plus
Founder & CEO, Ampere Vehicles Pvt Ltd
Based out of Coimbatore, Tamil Nadu, Hemalatha Annamalai's entry into entrepreneurship was quite an emotional choice.
"I wanted freedom to do my own thing, hence I became an entrepreneur," Annamalai once shared in an interview.
She was 27 when she quit her cushy job at Wipro to venture into unknown waters.
She set up Ampere Vehicles to provide affordable transportation to India's middle class.
"I thought that if China could consume 35 million electric vehicles in a year, so could India. This was the starting point to set up Ampere," she revealed.
Her advice to young women is simple: "Identify mentors early. Integrate yoga and meditation into your lifestyle. Just keep moving with your goals."
Image: Kind courtesy Hemalatha Anna/Twitter