This is the story of a Bangalore-based startup that has been recycling e-waste.
And why you should think twice before you throw away any of your electronic gadgets.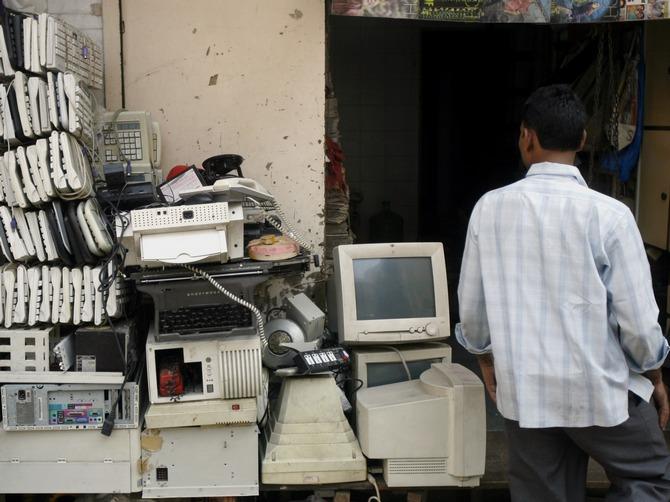 With e-commerce evolving, buying an electronic gadget is only a click away at any time.
All you have to do is select the preferred product and order; and the product is at your door step within no time.
But have you wondered about the disposal of that same electronic gadget?
More than 90 per cent of e-waste ends up in land fillings.
Bangalore generates around 86,000 tonnes of e-waste and 15 per cent is generated from homes.
We make sure we dispose off all other wastes, but not knowing what to do about e-wastes, we generally tend to hoard it or simply give it to scrap dealers.
Though giving e-waste to scrap dealers is easiest, we should know that they are not equipped enough to dispose it off appropriately.
Achitra Borgohain, Founder of BinBag, provides a solution to manage your e-waste in the best possible way.
After completing his schooling from Sainik School in Assam, Borgohain did his engineering and MBA from Gujarat University.
He worked with an infrastructure advisory group in Bangalore and also spent a few years with a venture capital firm in Ahmedabad.
"May be the Gujarati entrepreneurial nature rubbed onto me," says Borgohain, explaining how BinBag was born
"I could not find a quick and safe disposal mechanism for my e-waste.
"And when I looked at the problem in the larger context, everyone was struggling to dispose off household e-waste," he explains.
The two-month-old startup is incubated at NS Raghavan Centre for Entrepreneurial Learning (NSRCEL), IIM Bangalore.
BinBag picks household e-waste from people's doorstep and sends it to authorized recyclers.
At the backend, BinBag works with certified recyclers.
The startup also rewards and recognises those who dispose-off their e-waste responsibly.
Borgohain aims to create a frictionless disposal mechanism through which customers can request pick-up on call or even email or walk-in into partner outlets to drop their e-waste.
Recently, the startup experienced a happy day when a Bangalore resident drove from one corner of the city to the BinBag office to upload his e-waste for authorised recycling.
"Our differentiation is that we are a focused e-waste company and are addressing a segment of the market which has been completely ignored by recyclers. We also reward people for responsible disposal," adds Borgohain.
Within a few days of operation, the company has helped in recycling more than half a tonne of e-waste.
The company was also awarded at the UnconventionaL, an initiative by Villgro.
Under the current model, BinBag works with individuals -- apartments and communities; institutions -- schools, colleges, and NGOs; and micro enterprises.
Borgohain is solely handling and managing the company, but he plans to build a team.
Customers reach out to the company via telephone calls, email or social media.
The received order is then aggregated for a week or so and vehicles are scheduled for picking up the e-waste.
"We award green points to customers who dispose off their e-waste with us, we reward out customers with 'green points' which could be redeemed with our shopping partners," says Borgohain.
"We are also placing bins across various outlets in Bangalore and people can dispose their e-waste there; we pick them up on a regular basis," adds Borgohain.
The startup is also evolving a model with NGOs where they conduct a joint program and part of the proceed goes back to the respective NGOs.
The founder has faith in using word of mouth to create awareness.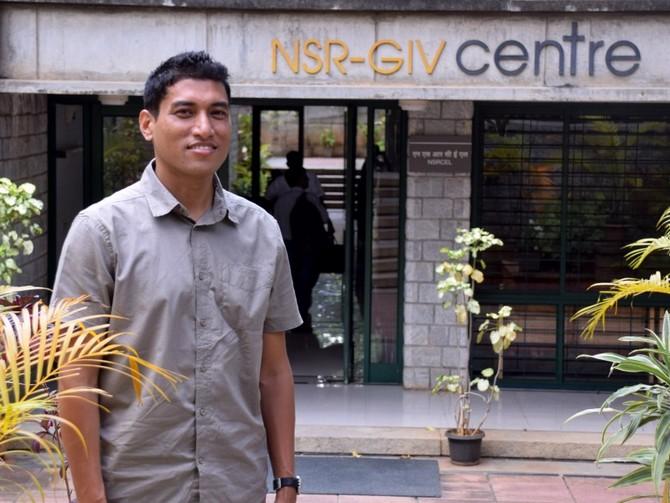 "We have recycled 500 kg of e-waste in the last two months without spending a single marketing dollar," says Borgohain.
The company's revenue model known as 'green point' follows the concept of a credit card.
Under the green point model, customers are linked to green and sustainable brands.
Institutions can redeem the green points for something interesting.
"Credit card has been the single biggest innovation in financial services since World War II.
'It linked consumers and merchants. Our green point model follows a similar strategy," Borgohain explains.
He is optimistic about the future and wishes to scale the model pan-India by leveraging technology and building a professional team.
He aspires to bring in people from the informal sector and providing them with a better standard of living by training and deploying them.
Borgohain's not the only one desiring an anti-e-waste earth, there are other players in the sector too.
Eco Recycling Ltd, Attero Recycling and Karma Recycling are a few front runners in this field.
Lead image used for representational purposes only.
Photograph: Arko Dutta/Reuters