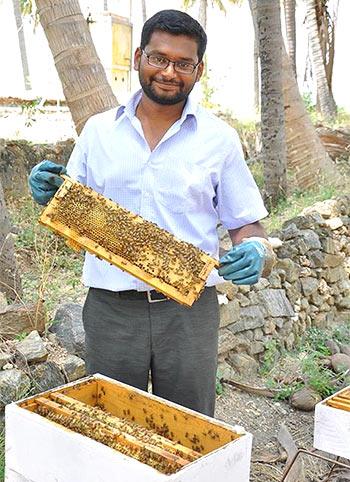 "When I decided to quit, I knew my parents would not understand. That was in the year 2009, when many IT professionals were being laid off their jobs. I used this as an excuse to lie to my parents that I too had lost my job. My father offered to get me a job at the Karur Vysya Bank in Karur, but I refused."
For someone with a will to succeed, the possibilities are endless. All it takes is hard work and perseverance.
30-year-old Krishnamurthy, founder, Honey Kart, quit his job as a technical programmer at Wipro, and borrowed money from friends to become a beekeeper. Today he is not only debt-free but also processes 500 kilograms of honey every month that sells for Rs 716 per kg.
This, at a time, when he was offered a promotion with an option to travel to the United States for an onsite project.
It was a bold decision for someone with no clear idea of what he wanted to do.
But his determination has paid off, and today this scientific beekeeper has over 800 regular customers and processes half a ton of pure honey every month.
No joy in working in the city
I was born in a small village in Karur district of Tamil Nadu. My father is a farmer. When I was in Std II, he decided that I was not doing well at the village school. He sent me to Fairlawns Home School in Yercaud. Since then, I have always been away from home in hostels. Later I joined the Kongu Engineering College, Perundurai, Erode, and graduated in Communications.
There was no particular reason for this choice. I guess I just chose the course that was trending that year.
I did quite well in college. A campus interview got me placed at Wipro. I completed my training in Bangalore and moved to Wipro, Chennai. Everything was exciting at first, a new job in a new city and plenty of friends. But life soon settled into a machine-like existence. I woke up in the morning, took the bus to my office, where I spent the entire day and at times worked well into the night. It was not that I did not enjoy my work, but slowly a sense of dissatisfaction crept in. I felt no sense of accomplishment. City life lost its appeal. The novelty and excitement of the early days had worn off.
About two years into my job, I was offered a promotion. I was given an opportunity to move to United States for a project.
But by then, I was seriously thinking about quitting.
I felt that this was the right time to make a decision.
Do I take the onsite project and see where life takes me, or pursue something that would make me happy. After much thought, I decided to quit.
Finding myself a new career
It took me almost two years to decide, what I eventually wanted to do with my life. I would not call this a period of struggle, it was a period of learning, understanding myself, and understanding society.
When I decided to quit, I knew my parents would not understand. That was in the year 2009, when many IT professionals were being laid off their jobs. I used this as an excuse to lie to my parents that I too had lost my job. My father offered to get me a job at the Karur Vysya Bank in Karur, but I refused.
I moved in with some friends at Tiruppur. I was looking for some low-investment ventures. I first entered into share trading. Within a year, I lost one lakh and decided to quit.
Export was the next option. I stayed for a few weeks with another friend near Ernakulam in Kerala studying cuttlefish bone export; then researched turmeric, coir fibre and even some handicrafts.
I was looking into the export of honey, when I realised there is huge market for honey in our country. The more I learned about it, the more intrigued I became. I knew this was something I would enjoy doing.
The scientific beekeeper
By then, however, I had exhausted all my savings. I borrowed RS 300,000 from my friends and moved to Aravakuruchi, about 30 km from my village.
I purchased all the equipment I needed. There was plenty of bee flora in the area and farmers in the district were more than happy to let me place my hives in their farms. Pollination of bees actually helps boost crop yield by about 30 per cent with no additional labour or cost.
Unfortunately, within weeks I encountered my first major problem. My bees were struck by some disease and this was slowly destroying the entire hive and spreading to other colonies.
I contacted many professional beekeepers, both traditional and those using the latest technology. All of them suggested the use of antibiotics.
I believe that natural honey should not contain any antibiotics. Prolonged use of antibiotics for controlling or preventing the spread of disease in bees often results in accumulation of antibiotic residue in the honey produced.
I was looking for a solution without the use of antibiotics. I started a more comprehensive study on beekeeping. I researched on the problems faced by the beekeepers in our country, the pests and diseases that affect the bees and the reasons behind it.
I understood that natural beehives are never infected by disease. It was only when man started to control it that these problems cropped up. We now needed to go back to the fundamentals; we needed to reverse everything that man did and mimic the natural environment that bees thrived in.
I slowly began to create the ideal environment for my bees -- well-aerated pollution free surroundings with a good water source. It took nearly a year for me to understand all the finer nuances of beekeeping. I had lost more than 65 per cent of my bees to disease, but steadily the numbers improved and I recovered them all.
Today, I have disease free colonies producing high quality honey without the use of any antibiotics. If stored in glass bottles at room temperature, my honey has a shelf life of five years.
Over a period, I began to specialise in uni-floral honey. During the flowering season, I direct my bees to a particular flora, namely coriander, drumstick, glory lily, mango, jamun or sunflower. The honey thus collected retains the special flavours and qualities of that particular flora. The taste, smell and colour of every uni-floral honey are unique. Mango honey will be sweeter while coriander is better known for its health benefits.
We have recently introduced a special honey for babies and pregnant women. This is processed from the season's first harvest ensuring that there are no allergies.
A lot of research went into picking the right flora, identifying its medicinal properties and learning how it can enhance the goodness of honey. This earned me the title of a scientific beekeeper.
Perseverance: The key to success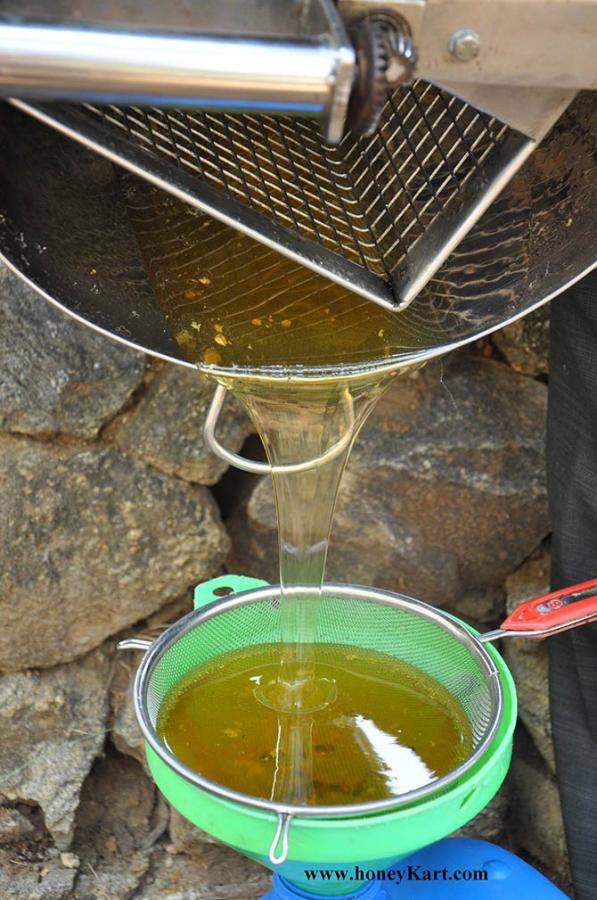 The local market did not understand the quality of my honey or the efforts I put in. So I started my own website and a Facebook page. I do most of my business online. Initially it was all about trying to survive, but today, I have more than 800 regular customers, mostly from the Southern States. I process about half a ton of honey every month, selling it at Rs 716 per kg.
A year ago, I repaid all my loans. Now I have plans to expand. With the diverse flora available in our country, the possibilities are limitless. Though I have done well for myself, I still feel that my parents don't approve. They would rather have their son in a white-collar job in the city.
But I did not want to live my life as an IT engineer. I wanted to prove that I could be just as successful in my hometown.
I do not regret any of my decisions. The four years of my education, two years at Wipro and the subsequent years of uncertainty, everything has moulded me to what I am today. We have but one life to live and I don't believe in living a life of regrets.
In the end, success is all about making the best use of your resources and perseverance. Instead of waiting until your old age to grieve about all that could have been, be bold enough to follow your heart. Find out what makes you happy and never give up.
Photographs: HoneyKart/Facebook