India's freedom fighter's interest in arts led to setting up several institutions of learning in independent India.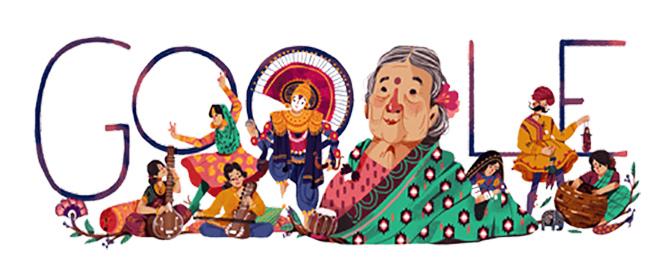 Google on Tuesday dedicated its doodle to mark the 115th birth anniversary of India's social reformer and freedom fighter Kamaladevi Chattopadhyay.
Chattopadhyay was born April 3, 1903 in Mangalore, Karnataka.
From an early age, she was introduced to freedom fighters through her parents.
Post the demise of her parents, Chattopadhyay took keen interest in arts and supported India's freedom struggle.
Besides her contribution in India's freedom movement, she was also the driving force behind the renaissance of Indian handicrafts, handlooms and theatre in independent India.
She worked relentlessly for the upliftment of the socio-economic standard of the Indian women by pioneering the swadeshi and co-operative movement.
Through her career, she broke many stereotypes -- she questioned aristocracy and set an example by mingling with the downtrodden.
She acted in films and also raised eyebrows when she divorced her husband Harindranath Chattopadhyay, a decision that was unthinkable for women in that era.
Kamaladevi Chhatopadhyay is the visionary behind the famous New Delhi-based theatre institute National School of Drama, Sangeet Natak Akademi, Central Cottage Industries Emporium, and the Crafts Council of India.
She is also the recipient of Sangeet Natak Akademi Fellowship, the highest honour conferred by the Sangeet Natak Akademi, India's National Academy of Music, Dance & Drama.
Chattopadhyay has also authored several books dealing with the international relations including Japan-its weakness and strengths (1943), Uncle Sam's Empire (1944) and In War-torn China (1944).
With inputs from A