Lavanya Shanbhogue, a Commonwealth short story prize winner, quit her career in financial services to pursue her passion for writing.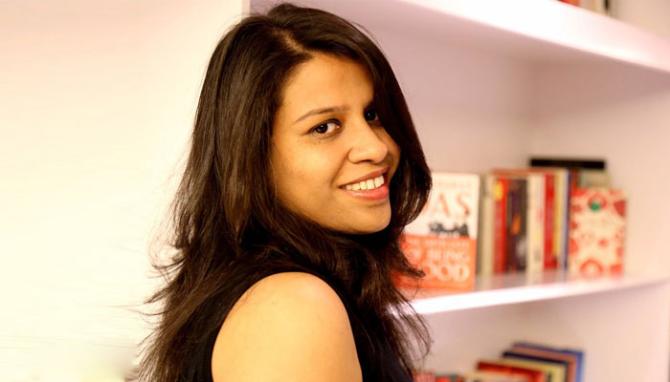 All photographs: Kind courtesy Your Story
We often hear of people leaving behind flourishing careers in the pursuit of their dreams.
For example, the software engineer who quit his job to go back to his hometown and start farming, or the chartered accountant, who gave up a plum job to become a music sensation.
But one often fails to consider the years of hard work it takes to attain glory and success.
Take Mumbai-based Lavanya Shanbhogue, for instance.
She is somebody who turned her back on a career in banking and financial services to become a published novelist and Commonwealth Short Story Special Prize winner, but all this did not happen overnight.
Brought up by her maternal grandmother, who was an English teacher, Lavanya was a voracious reader since childhood.
But an MBA in Finance set her on the path to a successful corporate career.
She reached a crossroads after the birth of her son in 2011.
Her choice was influenced by not just a desire to get out of the stressful corporate rat race, with its demanding long hours, but also the desire to do something that she loved and enjoyed.
Lavanya says, "To be honest, it's not that my academic pursuits and writing work have not been demanding.
"But there is so much satisfaction that I derive from it that it doesn't bog me down and allows me to have unblemished quality time with my son as well."
Lavanya did a life-changing master's in Creative Writing from the City University of Hong Kong in 2013, part of which could be completed long distance from Mumbai.
Bitten by the academic bug, she then went on to do an MA in Women's Studies, and is currently pursuing an Integrated MPhil PhD programme from Tata Institute of Social Science, Mumbai.
Lavanya's MA course coincided with her son starting school, which gave her the time to attend regular classes.
Now 35, she was already in her early 30s then, and one of the oldest in a class of 20-somethings.
But once she got over her inhibitions, she enjoyed the experience of going back to college.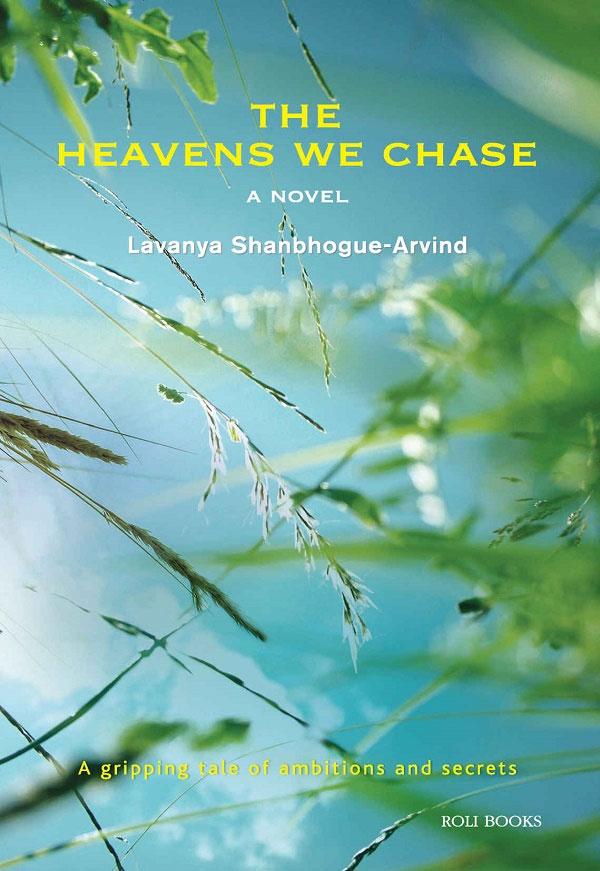 The Heavens We chase was Lavanya's debut novel.
Life is but choices made at crosswords
Lavanya's first literary achievement was when she was chosen as the winner of the Commonwealth Short Story Special Prize in 2011 for the theme 'Women as Agents of Change'.
Her winning short story, The Crystal Snuff Box and the Pappudum was also adapted for radio by the Commonwealth Broadcasting Association.
Her debut novel, The Heavens We Chase is set in pre-partition India and the paperback edition was published by Roli Books in 2016.
The novel traces a fragile and turbulent relationship between a father and daughter.
Lavanya admits that she is still honing her craft and has a long way to go.
An admirer of writers like Amrita Pritam, Kamala Das, Mahasweta Devi, Amitav Ghosh, Jeet Thayil and Amit Chaudhuri, to name a few, Lavanya's ambition is to produce quality literature and not to churn out potboilers.
Novelist or journalist? Academician or creator of fiction?
Lavanya enjoys dabbling in different writing genres.
She says, "The academic space demands a very different kind of writing and I enjoy academic writing as much as I enjoy creative writing in the literary fiction genre."
Lavanya's short stories have been published in both Indian and international presses, including the Griffith Review, Australia, Blink (the year-end fiction edition of the Hindu Business Line) and New Asian Short Stories (an anthology published by Silverfish Books, Malaysia).
She has written for Huffington Post, Hindu Business Line and Daily O.
Lavanya also writes on gender, sexuality, feminist economics, and women's engagement with the law.
Fiction and non-fiction are both equally in her comfort zone.
She says, "I consider myself a fairly disciplined writer.
"I set small but realisable writing goals for myself such as writing anywhere between 300-1,000 words at least three or four times a week."
Unapologetically feminist, she loves delving into subjects that explore the structural gender inequalities.
Lavanya says, "Those who say they believe women are equal to men but wouldn't describe themselves as feminist sound as ridiculous as somebody who treats skin conditions but wouldn't describe themselves as a dermatologist!"
Lavanya feels that once people realise how feminism recognises that men are victims of patriarchy as well, the term will stop being maligned.
"The thinking that it is demeaning for a man to be a stay-at-home husband, that men should not cry, that men have to be taller in romantic relationships and earn more than their wives are all the result of patriarchy making unfair demands on men."
Lavanya is motivated by the process of creation and also takes pleasure in seeing her name in print.
She feels happy when she can initiate a debate on issues she feels strongly about.
For instance, her recent piece on Cultural Connotations of Virginity of Women explored how there is still no medical test to ascertain male virginity while there is a hymen replacement surgery for women.
This is because developments in science and technology is highly influenced by cultural factors.
This piece was well-received and shared over 4,000 times on social media.
Here's an excerpt from Lavanya's short story Blueprint:
"You think about him. He never gave you his heart, only its blueprint. You saw the empty spaces there and made grandiose plans for moving day.
"From here, he will love you like this.
"From there, he will love you like that.
"But all those spaces, all of those were already filled much before by something else, other dark things.
"A blueprint is not certainty. Only certainty is certainty."
The hallmark of a good writer is coming up with lines that stay with the reader long after the book is closed, and Lavanya certainly manages to do that.