Ketholeno has come a long way from her humble beginnings, but she is still rooted to her culture.
Photograph: Kind courtesy Amit Aggarwal Official/Instagram
Graceful, humble and charming!
Meet supermodel, Ketholeno Kense Vihienuo, who belongs to one of Nagaland's biggest tribes, the Angami community.
Ketholeno first took up modelling only as a hobby, but when she got her first breakthrough in the industry by winning the Kingfisher Calendar Girl in 2014, things turned around and there was no holding her back.
Since then, she has been steadily rising in the industry.
She achieved one of the country's premiere fashion and lifestyle magazines, Vogue India's Women of the Year Award 2017, under the category of Vogue and Colours Infinity Young Achievers.
"They were actually so kind that they chose me.
"I was very excited! But this excitement was not only for myself and for me achieving this award.
"I felt that now at the national level, our people from the northeast region will also be able to come forward.
"I was overwhelmed with that thought.
"For a magazine that keeps on shooting Bollywood celebrities, for them to acknowledge a northeastern girl, it's really amazing," says Ketholeno Kense Vihienuo, a model from Nagaland.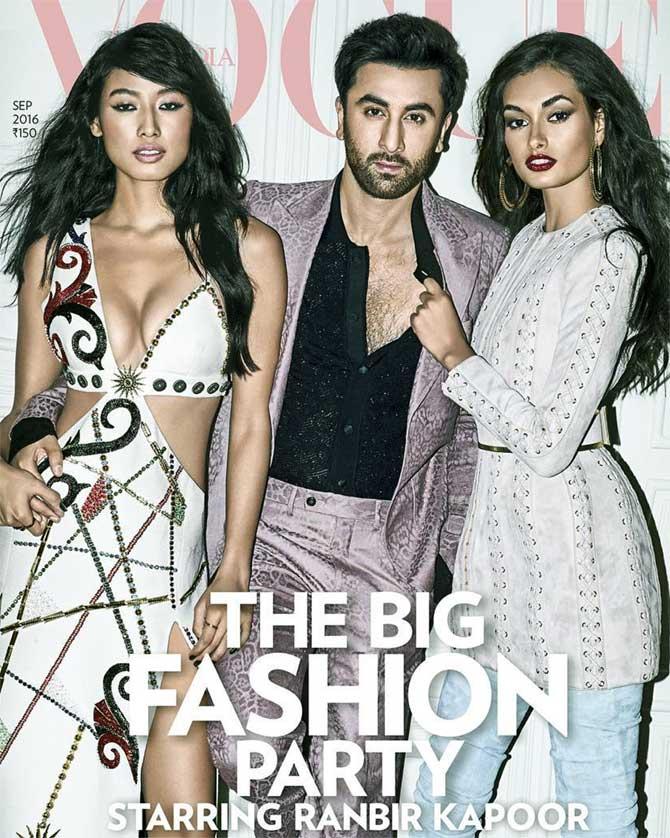 Born and raised in Dimapur, Leno did not give modelling a serious thought until she shifted to Delhi. Since then it has been an upward climb for her. She was the first oriental-featured model to win the Kingfisher Calendar Hunt in 2014.
Apart from walking the ramp for top-notch designers, Ketholeno has landed a couple of fashion magazine editorials and covers too, including the Vogue September cover with Ranbir Kapoor.

Photograph: Vogue September 2016 cover

Ketholeno appeared on the Vogue magazine cover, above, alongside Bollywood heart throb Ranbir Kapoor for its September 2016 edition.
Moreover, she was also featured in Harper's Bazaar Bride India's June/July 2016 edition, and (has graced the covers of) many others glam magazines including ELLE.
Being the eldest of six siblings has taught her to be more responsible and focused, and now these enigmatic traits are helping her professionally -- be it walking the ramp, photo shoots or even while interacting with upcoming models.
Though she comes from a place where people of the region are mostly food lovers, Ketholeno eats a very restricted diet and does a regimented workout to keep herself in shape.
She says, "We all know that people from the hills hardly exercise and eat a lot of rice.
"For me to become a model, that was the difficult part. To eat a lot of rice was definitely hard, but over the years I have realised that you just need to push yourself, eat whatever you want and exercise a lot.
"Of course (you need to) try to eat healthy, because there are a lot of healthy options that we can eat.
"So now, my focus is on eating healthy and exercising a lot."
When asked on how she manages the last minute rush before takes on the stage, Ketholeno confesses that (she does it) by focusing on the music flow.
It helps her walk the ramp confidently and the rest is history.
Married to Rokovor Vihienuo, a photographer, Ketholeno spends her free time gardening or catching up with friends.
"My family has been really supportive since the beginning.
"That's why I started and I started very peacefully.
"There was no resistance from anybody, so it was amazing.
"Now my husband is also very supportive and he is really amazing.
"I don't think I would ever be here today if it is not for his support after our marriage."
Ketholeno's better half, Rokovor Vihienuo adds, "I want her to push herself towards her dream, because later she might not get (a chance).
"I'm also very proud of my wife for her achievements and awards. It feels really good as a husband.
"I wish I could be with her (during) her shoots or for an awards (function), but I am not able to join her all the time because of my work."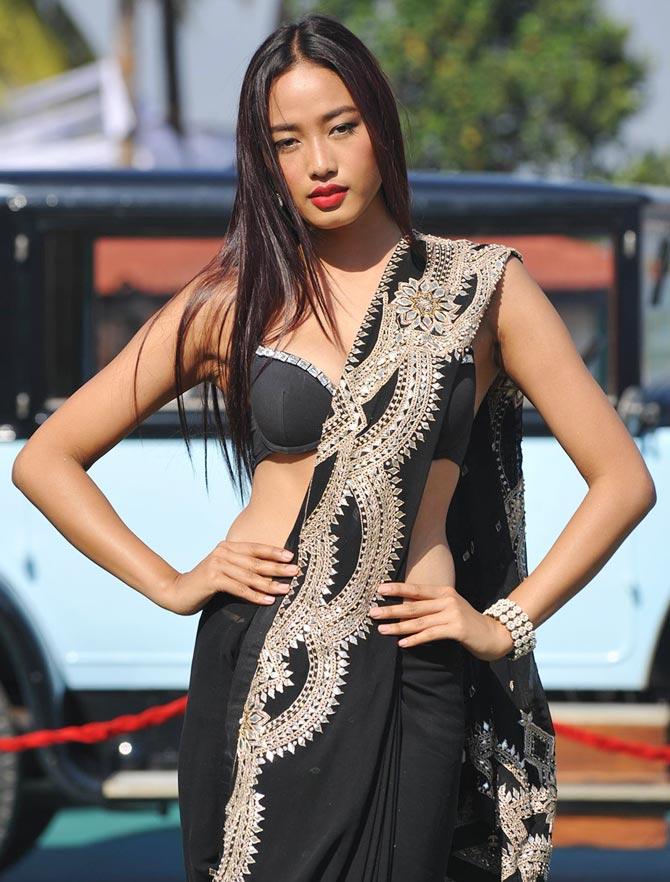 This model loves to keep it simple and basic.
Photograph: Pradeep Bandekar
Ketholeno has come a long way from her humble beginnings, but (she is) still rooted to her culture.
This young Naga girl is striving to promote the northeast region with all her daring and might.
With her hard work, achievements and recognition, she is an inspiration for many, especially the youngsters from the region.
"Definitely, modelling is a very short-term career.
"I really want to promote the northeast stuff in particular. I am sure there are a lot of people who have already started up, but I definitely want to do something to promote the northeast traditional items, textiles, etc. I feel it will generate more income," adds Ketholeno.
Like anyone of us Ketholeno also has a wish list, and in the years down the lane, she wants to walk down the ramp for Chanel.