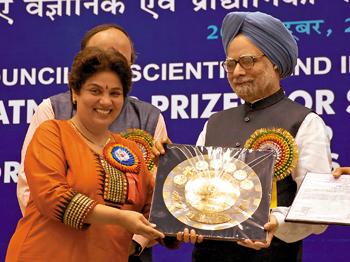 Shanti Swarup Bhatnagar awardee, Dr Shubha Tole tells us what it takes to be successful.

October 20 was a special day for Dr Shubha Tole. The associate professor's research at the TIFR's biological department was honoured at the national level.

Years of hard work had culminated in the form of two research papers on genetic mechanisms that control the development of the brain, published in journals Science and Nature Neuroscience, respectively.

Belonging to a family of habitual achievers in the field of science, this award could be the first of many milestones for her.

Motivators and shakers

Her mother, Dr Aruna P Tole, an occupational therapist, who designed many low-cost innovative products -- washable breast prostheses and flexible artificial limbs among others -- is Dr Shubha's role model.

In fact, she adopted her mother's motto: 'One shouldn't let one's job description limit the creativity you bring to your work'.

It's pretty evident during an interaction with Dr Shubha Tole that such wisdom will be handed down as a family heirloom.

Her scientist father's decisions based on logic and her mother's creativity, her exceptional dance choreography skills included, are a powerful combination. "It set the stage for me," says the 42-year-old achiever.

Motivation came from school, too.

Tole's science teacher Jennifer Naronha in class six was instrumental in getting her think logically.

A student of St Xavier's College, Mumbai, she loved both Physics and Biology equally. But an exhibition by the Life Sciences Department of St. Xavier's steered her towards the Biological Sciences.

A career in biology

Six years of pursuing an MS-PhD at Caltech, USA and five years of postdoctoral research at University of Chicago, followed a BSc in Life Sciences and Biochemistry at St Xavier's.

To make a career in biology one must obtain a degree in basic sciences, medicine or engineering. You can then apply to TIFR for a PhD or an Integrated MS-PhD programme.

"Biology is a young field and you can pick up the background in a few months," she says. "So students should feel free to switch from other fields to biology," says the veteran who highlights diversity a s a good thing.

Occupational hazards

The professional challenges were and are, no less daunting, and no different than what is faced by other researchers in India.

Tole rues the absence of basic infrastructure framework and lack of unhindered electricity supply. For instance, blackouts can wipe out years of research work.

"Some biological samples need to be preserved at cold temperatures and breakdown of air conditioners can cause freezers to operate inefficiently, have malfunctions, and cause samples stored at minus 80 degree temperature to perish," she elaborates.

One freezer breakdown can destroy two years of research! "By that time, your competitor from the USA would have got ahead of you and already published a paper!" she points out.

Then there are import hassles on which our country is heavily dependent, says Dr. Tole.

The reagents imported are perishable and therefore shipments are imported on dry ice (ie, solid CO2, which is very cold, and therefore preserves biological reagents, enzymes etc).

If shipments aren't cleared from customs the same day, the risk of samples getting thawed and degraded is very high.

"There is loss of huge sums of money as well as time because we have to re-order them," she says.

Award-winning work

Tole's award-winning research work dwelt on how the signals that stimulate the growth and development of the hippocampus (the memory-maker) are controlled in the embryonic brain.

This work provides a framework for future studies to understand what exactly happens when things go wrong during the intricate process of building the brain, causing disorders such as autism or schizophrenia, which was covered in the second paper.

One can't help but notice the lucid language in which complex biological functions are explained in the Tole's articles.

A blend of science and art

Science is a creative profession, says the scientist, who is also a Kathak dancer.

She began learning Kathak during her PhD in Los Angeles, from Guru Anjani Ambegaokar, and continues to learn it today from Guru Sanjukta Wagh.

"I find Kathak as absorbing as designing a scientific experiment," she shares. Her physicist husband, a 2005 Shanti Swarup Bhatnagar awardee, is very supportive and her best friend.

With two kids, Abhay and Nikhil, aged eight and five, one needs time management skills, priortising and planning, which she does efficiently.

"A monochrome life is not worth it," she says. "My older son and I learn Kathak, and my husband and both sons learn the tabla," Tole adds.

When science and art lend music to life, the outcome is spectacular!