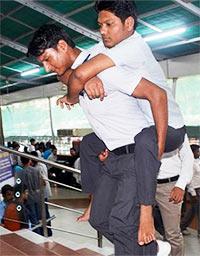 The credit goes to his brother who carried him on his shoulders to school and later to the coaching classes.

It's a tale of a 19-year-old Krishan Kumar Pandit who overcame his disability to clear the IIT entrance test, beating all odds.
Kudos to his determination and to his brother Basant Kumar Pandit for taking him one step closer to attaining his dream.
Here's his story.
IMAGE: Basant Kumar Pandit carrying his polio-stricken brother Krishan. Photograph: Kind Courtesy YourStory
The journey of polio-stricken Krishan and his younger sibling Basant -- who hail from a poor family in Bihar -- has been arduous and inspirational.
For many years, Basant Kumar Pandit (18) has been carrying his physically challenged elder brother on his shoulders to school and later to the coaching institute in Kota.
Krishan has landed in IIT with 38th All India Rank in OBC (Other Backward Classes), disabled quota in the JEE (Joint Entrance Examination) advanced results declared recently.
Basant has achieved 3675 rank in OBC category.
Their father Madan Pandit owns five bighas of land in Paroriya village in Samastipur (Bihar) and their mother is a housewife.
Krishan (19) suffered from polio when he was only six months old. Later, Basant took upon himself to take Krishan on his shoulders to school.
Aspiring to be engineers, the brothers reached Kota three years ago and gained admission in a coaching institute to prepare for the IIT entrance test.
Here too, Basant would take his brother on his shoulders to the coaching classes and the two would study together.
"When I left the village for coaching three years ago, people in the village suspected my abilities and whether we would be able to continue like this," Krishan said, adding "we were determined to become engineers".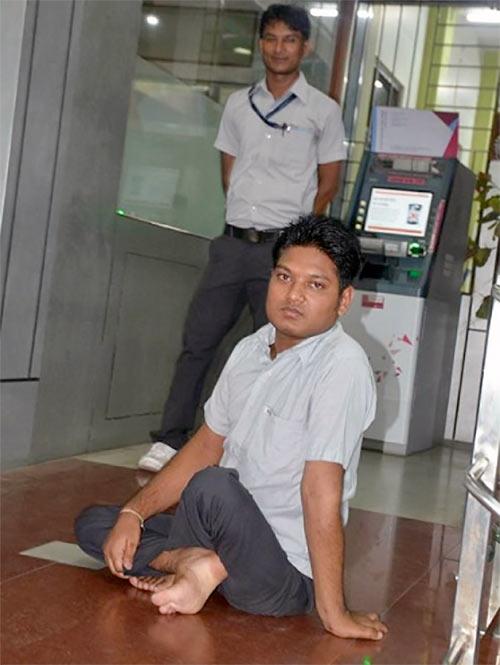 Photograph: Kind Courtesy YourStory
For Krishan, his younger sibling is much more that his 'legs' and he gets emotional talking about him especially as the two brothers, who have been inseparable until now, will have to study in separate colleges.
"Basant does everything for me. He takes me on his shoulders from home or hostel room to classes, serves me food," said Krishan.
"I feel very sad when I think about living without him in the engineering college," he added.
Basant said he is accustomed to doing these things for his brother. "It is very painful to think of living without my elder brother. The taste of success is enjoyable but separation sours it," he said.
Basant recalled their school days. "Once while we were in class five, I participated in a residential camp for the disabled in the village as my brother Krishan could not live there without me," he said.
After failing in their first attempt in IIT entrance exam, their father asked them to return, but their two elder brothers -- who work in a garage in Mumbai -- assured them of financial assistance.
The management of the institute exempted 75 per cent of the fees for them and also granted a scholarship, according to Krishan.
"At the institute, we have been in the same batch and same class," he added.
"Basant aspires to join civil services after completing his engineering, and I want to be a computer engineer," Krishan said.
ALSO SEE
He begged for a living, now owns a Rs 30 crore empire