Anushka Panda has spinal muscular atrophy.
She scored 97.8 per cent and topped CBSE class 10 examination in the differently-abled category.
This is her story.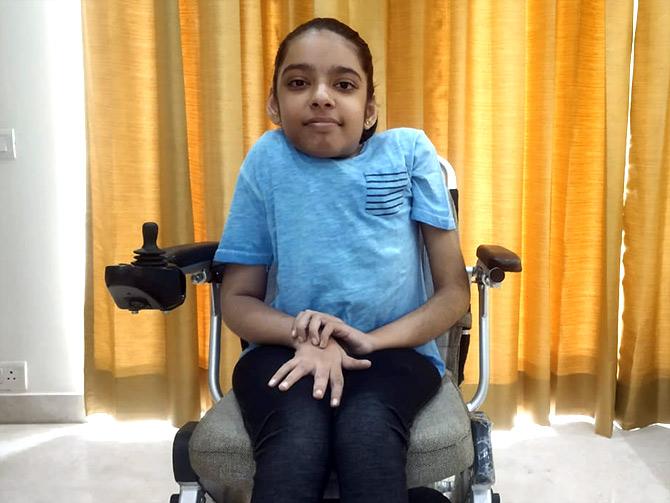 Anushka Panda defines everything a 15-year-old is.
She's chirpy. Likes pav bhaji. Loves to sing, read books and travel.
Since May 30, she's been wanting to have a slice of pizza, but it might be a while since she may eat in peace.
Anushka, a student of Suncity School, Gurgaon scored 97.8 per cent in the CBSE class 10 results announced May 29. She topped the board exam in the differently-abled category.
Anushka has spinal muscular atrophy -- a near-fatal life condition she's been living with since she was 14 months old.
The degenerative condition, Anushka tells me make her muscles weaker. She has difficulty moving and has a mere 7 per cent lung functionality.
"I have to sit with a spinal brace made from Boston," she tells Divya Nair/Rediff.com over the phone from Gurgaon, where her family moved to in 2015.
The Pandas -- Anushka lives with her father Anup who works at Siegwerk in Bhiwadi, Haryana, and mother Archana who works out of home for a US-based auditing firm in Gurgaon now -- previously lived in Vapi, where Anushka studied up to her class 7.
What makes Anushka's success special is her confidence in her abilities, gratitude for the people who stood by her and encouraged her to never give up. And of course, her dream for India.
"I want to do something great for my country,' she says.
Anushka Panda speaks to us about her life journey:
Growing up with spinal muscular atrophy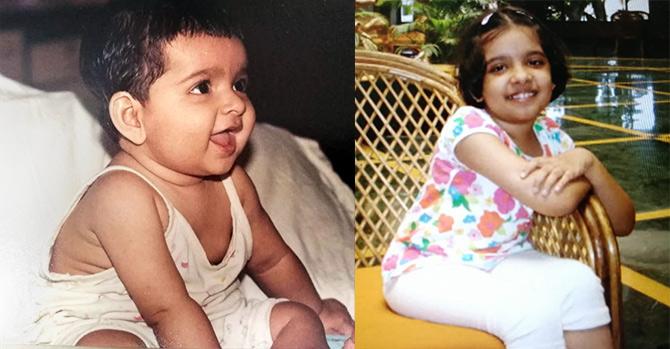 I was diagnosed with the condition when I was 14 months old. I could sit up on my own without much support till I was 10 yrs old.
After that I got scoliosis of the spine and started using a spinal brace so I could sit erect. The one I am using now is specially made from Boston.
It's like a corset -- there are rods to support your spine covered with cloth padding.
It's very uncomfortable to sit wearing it for long. I get bruises from using it. But I don't have a choice.
Thankfully, my schools -- Gyandham School in Vapi, Gujarat (where Anushka studied up to class 7) and Suncity School, Gurgaon -- have been very supportive.
In Gujarat, an attendant would carry me up from the gate to my classroom. There was a special bench for me.
When I reached class 3, I started using a manually-operated wheelchair.
Since class 9, I have been using a motorable one. This is more convenient to use when I have to move around or travel.
In India, disabled people find it very difficult to travel. If I have to, we always fly.
But except for Indigo Airlines, no other airline has disabled-friendly ramps.
It's difficult to use a regular toilet. Public toilets are not disabled-friendly.
Even buses and trains don't have facilities for the wheelchair-bound. So, air travel is preferable.
Love for academics
I always loved to study. When I was 2, I knew the names of all Indian states and their capitals.
I never looked at studies as a burden.
Science, mathematics and English are my favourite subjects.
Preparing for the board examination
I started preparing for the board examination from Day One.
Except for mathematics, I studied all the other subjects on my own.
I'd give 30 minutes for every subject. On weekdays, I'd study 2 to 3 hours.
On weekends, I'd dedicate 5 to 6 hours.
I initially struggled with the social sciences and English. I'd always score between 85 and 90, but never crossed the 90-mark.
After I started solving more mock papers, my performance improved. I scored 98 and 95 in the social sciences and English respectively.
I was expecting to score over 90 per cent, but never thought I'd top the exam.
My parents were like, "Wow. This happened. We are so proud of you."
I wanted to have a pizza and celebrate, but we've been so busy. I get tired too.
All this attention is new for me. But I am also enjoying it. Speaking to so many new, different people, telling my story, hoping it will inspire someone.
Motivation and role model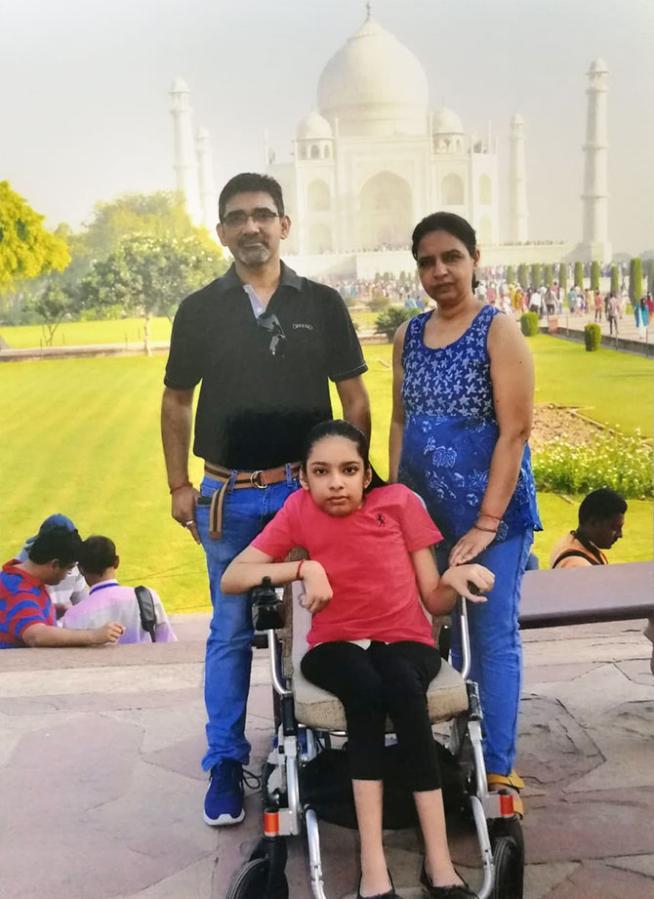 My role models have always been my parents. They never put any pressure on me.
Instead they encouraged me to pursue my interests equally. They have always motivated me to look beyond failures and dream higher.
I also sought inspiration from the life of Helen Keller. How she transformed her disabilities and turned it into her greatest strength is truly inspiring.
Other interests
I love singing. I took training for classical music under Shamal and Gargi Bhatt from Gandharva Mahavidyalaya for more than 10 years.
After moving to Gurgaon, I learn from them through Skype.
I'm also learning western music on my own.
I like to draw, paint, cook (laughs). I don't cook actually, but I'd love to.
I read crime fiction. Sir Arthur Conan Doyle and Agatha Christie are my favourite authors.
What I like about Agatha Christie is the strength of her lead character -- the detective's ability to communicate with people, get to know their psyche and uncover the killer.
Meeting Smriti Irani

Nearly two years ago, my father tweeted to the then HRD minister Smriti Irani to find out if and how a specially-abled person could study at the IITs.
Smriti Mam responded to the tweet and fixed an appointment. In December 2015, my parents and I met her at her residence in Delhi.
She introduced us to Nobel laureate Kailash Satyarthi and (author) Ruskin Bond.
It was an inspiring, informative session.
She was very delightful, a super duper person. Very dynamic and inspiring.
In fact, she inspired me to do work for my country.
I am thankful for her support and encouraging words.
I'd like to pursue software engineering and use technology to create something great for my country.
Message to readers
Don't be afraid of board examination. The syllabus is huge. So be consistent in your preparation. Don't wait till the last minute. Do your best.
Follow your heart. And find love in what you do.
When you put your heart in it, even if it is academics, you'll start enjoying it more.
Finally, never give up. Your grit and determination will help you overcome any problem in life.