But the Aravani Art project is changing perceptions -- one public art work at a time.
Nikita Puri reports.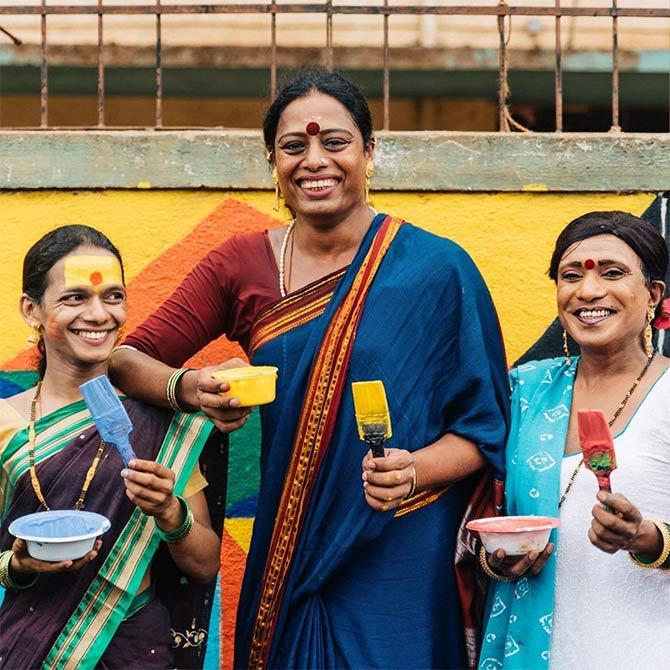 About two years ago, when Shanthi Sonu was on her way for an art project at a Bengaluru government school, she suddenly got jittery about how the children would react to her presence.
"Drop me off anywhere," she told Poornima Sukumar, the Bengaluru-based artist she was riding with.
A transgender woman who once paid for her decision to live as a woman by sleeping on pavements, Sonu says children are often the worst critics a transgender person can encounter.
Still, she went to the school.
In between brushstrokes that came together to form trees, rainbows and flowers, Sonu was overwhelmed when a child approached her.
"The child called me 'Shanthi Ma'am' and wanted my help to paint something. It was one of the happiest moments of my life," says Sonu. "Not even one kid commented on my being a transgender person."
Children don't actually care about such things, she says, "It is society that teaches them that transgender people are bad."
The wall painting was one of the first few initiatives of the Aravani Art Project, a Bengaluru-based initiative that uses public art to create dialogue and foster inclusion.
It was founded in 2016 by Poornima Sukumar, a muralist and illustrator who often uses wall paintings for community engagement.
Sukumar's relationship with India's transgender community was cemented during the time she worked on a project with Tabitha Breese, a London-based documentary filmmaker. Breese had come to India to make a documentary on the lives and rituals of transgender people in South India, and Sukumar helped her with research and making inroads into the community.
Long after the filming was wrapped up, Sukumar drew on her expertise with murals to find a way to bring the transgender community into the public eye.
Two years down the line and with over 15 completed projects across Mumbai, Bengaluru, Jaipur, Pune, Kolkata, Chennai and Colombo, the Aravani Art Project is well on its way in its endeavour to build bridges between the transgender community and conventional society.
"India is a wonderfully busy place, and we have all learned to live together. But there are many people and communities who are struggling to breathe under the weight of mainstream ideas about gender," says Viktor Baskin, an Australian anthropologist, artist and filmmaker who is also one of the five core members of the team.
"Our project is very much about giving a platform to the life stories and the histories of those people and communities," says Baskin.
The name of the project, Aravani, owes to a festival celebrated in Koovagam, in Tamil Nadu's Viluppuram district.
The festival sees thousands of transgender people come together at the Koothandavar temple dedicated to Lord Aravan. Legend has it that to ensure that the Pandavas emerged victorious against the Kauravas in the battle at Kurukshetra, Aravan, son of the Pandava prince Arjuna, offered himself as a sacrifice. His only condition was that he spend one night as a married man.
The belief is that Krishna then took the form of a woman, Mohini, to wed him.
After a ritual where transgender participants are symbolically wedded to Aravan -- or Koothandavar -- they mourn the loss of their husbands by donning white and breaking the bangles they put on as married women.
"There were a few reservations about us calling the project 'Aravani'," says Priyanka Divaakar, India's first transgender radio jockey. "We are known by so many names across cultures, but how does a label even matter? We are one, after all."
Divaakar works with Radio Active CR 90.4MHz, an urban community radio station based in Bengaluru.
As she records the histories of many of the project's transgender collaborators, Divaakar has also taken on the role of the collective's cultural advisor.
She first joined the collective when a mural was in progress for St+Art India (a street art festival) in 2016, in Bengaluru. This mural for St+Art is a towering presence on central Bengaluru's Dhanvantri Road. It features a portrait of a trans-person alongside hibiscus flowers.
Often ornamental, but always bold, the hibiscus is also known to have both male and female features. Almost as a reminder to the people relegated to surviving in the shadows of mainstream society, the mural is titled Naavu Iddeve, Kannada for "We Exist".
Besides the bursts of colour and geometrical patterns the collective is now recognised for, their murals often include portrait-style pieces visualised by Sadhna Prasad, an illustrator who doubles as the collective's art director.
Depending on the funding that comes in for each project, artists are also paid for their effort and time: skill-development and alternative means of livelihood are by-products of the project.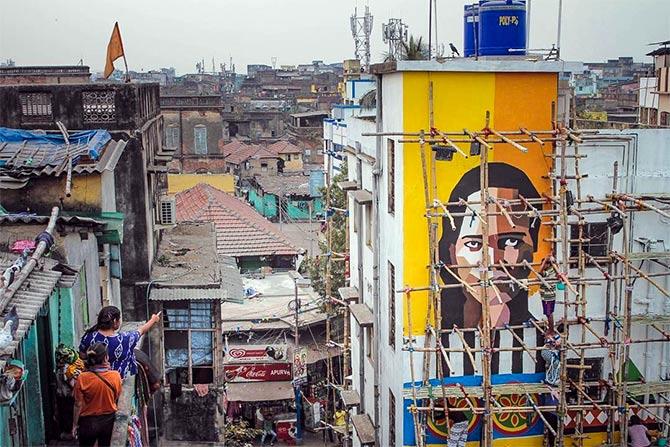 Even as the project grows, often with collaboration from corporate sponsors (they've worked on a mural at a Flipkart hub), and music festivals like VH1 Supersonic ("Be there, be free" reads the mural created at the festival's recent edition in Pune), their focus remains on engaging with transgender communities to share transgender stories.
Some of these are hopeful, others are nerve-racking wake-up calls.
A 60-foot-high mural in Chennai, for instance, was created in memory of Tara, a 28-year old trans-woman who was found with 90 per cent burns on her body. Tara died barely six months before the collective went to Chennai.
"The project we decided to create together became a tribute to Tara and the struggles of all transgender women trying to make a life filled with love, family and friends," says Baskin.
The mural featuring Tara is called Manidham Malarattum, Tamil for "Let Humanity Bloom".
"Like a lot of other trans-women, Tara was a sex worker, but this did not dilute her right to live with dignity," says Baskin, who first met the team while working on her PhD exploring the visual culture of transgender activists and artists.
Baskin has since stayed on as a producer, helping with documentation, grant writing, funding and storytelling.
A lot of people think, feel Divaakar and Sonu, "that transgender people are only fit for begging or sex work or giving blessings when someone gets married or a child is born. This art project is a way to tell them that we can do anything they can."
Bonding over meals and cups of chai, often balancing on scaffolding during projects, the Aravani team spends anywhere from three to six months working with different transgender communities to gain an understanding of their lives.
"We also experiment with local colours, patterns, motifs, languages, rituals and stories, and we embrace local religions and spiritual beliefs," says Baskin.
Art itself is therapy, feel many.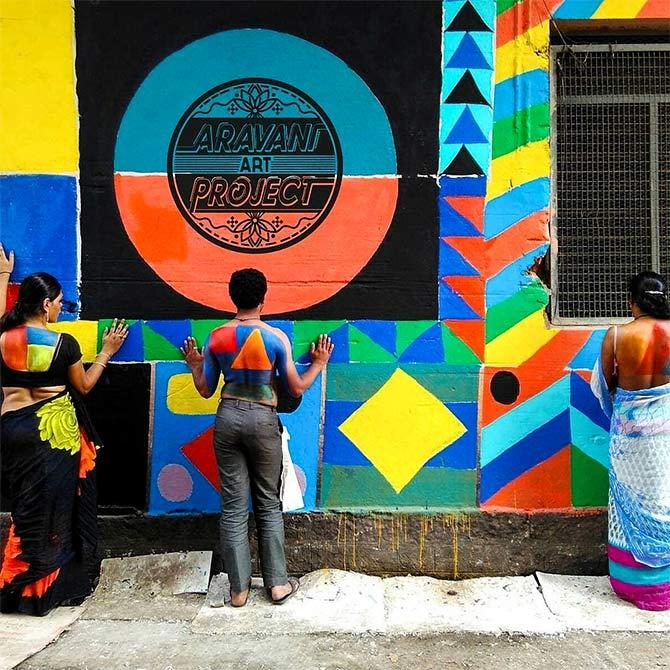 As is the custom that still continues in households across South India, Sonu's mother would draw kolams (geometrical patterns) on their doorstep every morning. Back then, Shanthi Sonu was still Shankar, a son to her parents.
"I grew up seeing my mother make kolams. But I would get slapped if I tried to draw one. I was told it was only for girls," recalls Sonu.
The desire to draw stayed, but her drawings were restricted to the empty pages of school notebooks. It was when her parents wanted to get "Shankar" married that Sonu realised she had to make a choice.
As Shankar became Shanthi, sex work seemed the only way to survive.
For many like her, the journey is long and marked by unpleasant, even violent chapters. As Sonu puts together the content for her radio programmes and paints to her heart's content, the Aravani Project, she testifies, has given her the sense of pride in her work that she had longed for.
"Besides new experiences like making a mural for VH1 SuperSonic, there's also a strong sense of community that we have developed," she says.
Even as Sonu travelled to Pune for the mural with two of her trans-friends who were celebrating their first flight ever, she was reunited with friends from Jaipur who had worked with her on a mural.
Divaakar also shares how the project has put her in touch with trans-friends in Chennai: "We chat over WhatsApp and video calls. We talk about everything from our regular lives to the policies our respective state governments are shaping or not shaping for us."
Activism is not just holding up a banner and shouting for equality, says Sonu. Long after slogans centered on gender equality fade away along with the events that brought them, the paintings on the wall remain -- the vibrant street art acting as visual reminders to society's collective consciousness.
Also read: How young Indians are bringing colour to Mumbai's slums