The sixth grader from California spelt 'marocain' correctly to win the competition.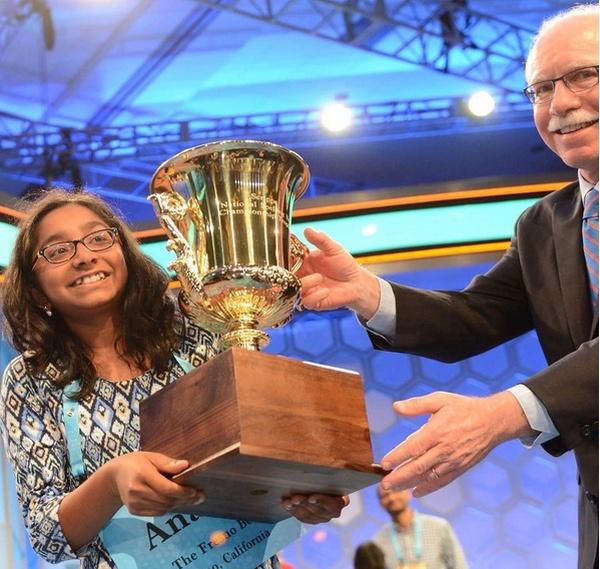 IMAGE: Ananya Vinay took home the 2017 Scripps National Spelling Bee Champion title and trophy.
Photograph:

Scripps National Spelling Bee/Instagram
Ananya Vinay was declared the champion of the 90th Scripps National Spelling Bee after a tense final that ended June 1.
Rohan Rajeev was declared as the runner-up. Mira Dedhia finished third.
Ananya is the first solo national spelling bee champion since 2014. She gets more than $40,000 in cash and prizes.
This was her second time participating in the National Finals.
It was like a dream come true for Ananya, whose happiness was palpable when she held the trophy. Her win makes her the 13th consecutive Indian-American to win the Bee.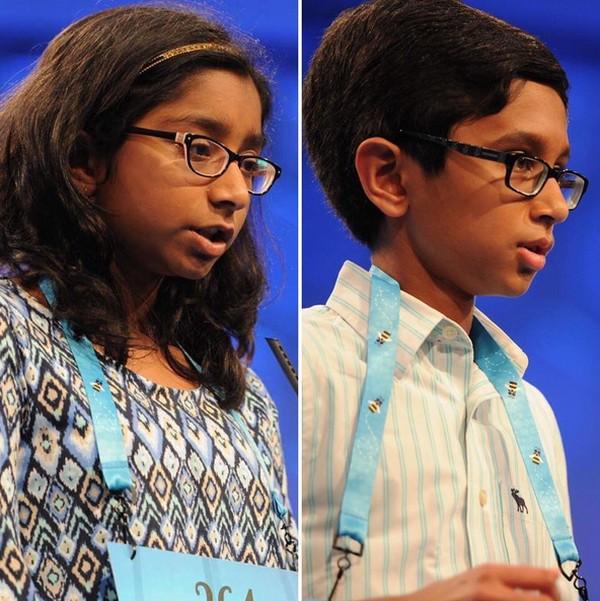 IMAGE: After 17 of the 25 rounds, Ananya and Rohan emerged as the final spellers.
Photograph: Scripps National Spelling Bee/Instagram
A sixth-grader, Ananya, 12, is from Fresno, California. Eight-grader Rohan, 14, is from Oklahoma City, Oklahoma.
Ananya won by spelling 'marocain', a French word for dress fabric made of ribbed crepe, correctly.
After several gruelling rounds, the two final spellers were Ananya and Rohan Rajeev.
However, in Round 36, Rohan missed spelling the word 'marram', a Scandinavian-derived word for beach grass, correctly and ended up as the runner-up. He spelled it incorrectly as 'marem'.
More than 11 million students participate in the Scripps National Spelling Bee each year. The competition began with 291 spellers who advanced to the Scripps National Spelling Bee after beating the odds to reach this level.
This is the first time since 2013 that the competition has a single champion. It ended in a tie for three consecutive years. They had added a tiebreaker test this year, but it didn't come into play.