Adhuna Bhabani opened her first salon in Mumbai in 1998. Several lessons later, she now helms an iconic chain of salons and hair products.
But more than that, she has played a pivotal part in changing the way urban India thinks about hair styles and experimenting with different looks.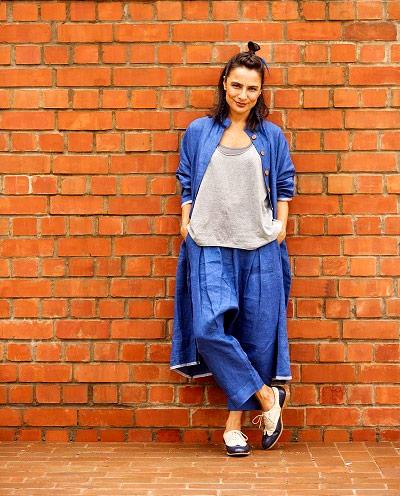 All photographs: Kind courtesy Your Story
The nineties were all about silver screen heroines sporting poker straight tresses, making an entire generation of girls hate their wavy, unruly locks.
Enter Preity Zinta with bouncy, almost unruly curls in the 2001 blockbuster Dil Chahta Hai.
And it wasn't just Preity; the other stars -- Aamir Khan, Saif Ali Khan and Akshaye Khanna -- all got makeovers.
Adhuna didn't just give the Hindi film industry new standards in hair styling, she made standout hairstyles accessible to young men and women who wanted to change their looks.
As she sits across from me on a straight-backed wooden chair, Adhuna is passionate as she talks about her journey as a hair stylist and entrepreneur.
The co-owner and partner of BBLUNT, a brand that spans salons, products, hairstyling training centres and film projects, has come a long way from when she started out as a hairdresser in the UK (because that's what she had always wanted to do).
The 50-year-old rattles on effortlessly as she describes -- in a husky British accent and endearing tone -- her love for hair and styling.
"My sister has curls. Every morning before going to school she would cry because her hair would be a mess while I had it easy," she shares.
I sit up, because my hair is exactly like that, curly.
Adhuna goes on: "She would just sit still and let me work on her hair."
I am jealous. I don't have a sister, who is a nationally acclaimed stylist, so my curls and I are on our own.
"At BBLUNT we love curls," she says, and that cheers me up. "Every time I look at curls, I am reminded of that time with my sister."
Born to a Bengali father and a British mother, Adhuna was born and raised in the UK.
Her love for hairstyling began at a young age when her mother would take her to the hairstylist.
She loved the ambience and the people who worked with hair, creating beautiful styles for their customers.
Adhuna talks about her first salon, freelancing work, and how after Dil Chahta Hai, she even ran her own TV show on TLC.
BBLUNT was a tick mark in her list of career goals.
Things were humming along nicely when the chance to go national came when Godrej Consumer picked up a 30 percent stake in the company in 2013.
A year later, they launched the BBLUNT range of hair care and styling products. Then came the TV commercials and Kareena Kapoor as brand ambassador.
I ask Adhuna what the challenges of setting up a business in India are.
She exclaims, half-jokingly: "Oh God! I can simply go on and on! Nothing is easy."
"I sometimes feel left behind in the way everything around me is changing so rapidly.
"I think people today are more adventurous and while some may not have the money to spend, they are more open to experimentation.
"So, our idea is to bring our salons to your home with our range of products. It is our way to access more people through the brand," says the celebrity stylist.
Adhuna's flagship salon in Mumbai has an airy, warehouse-like feel to it.
The bright colours and bright lights make you think you're in a theatre.
The salon is yet to open its doors to the public but there's a sense of agility in the staff who've come in early to prep for the day.
The wooden floors are being swept and the chairs are being shined. BBLUNT has a certain charm of its own; its co-owner and partner more so.
Being a WOMAN entrepreneur
I ask her what it's like to be a woman entrepreneur, and pat comes the reply: "But I've never been a man. At least in this life!"
There are challenges every entrepreneur faces, she says, no matter what the gender.
The hair-dressing industry, Adhuna believes, is one of the most open to all kinds of people and genders.
It doesn't matter if you're slightly different and off-beat, you're welcomed and accepted.
"I am different and have always been different," says Adhuna, adding, "While growing up, I was the only Indian child in my school. I had a name that nobody could pronounce even in the country I was born in. So, I was different.
"But in the hair-dressing industry, it was fine. My name and my look were cool. It allowed me, as a teenager, to really open up and come into myself. I love that about the industry."
While still at school, she would work at different salons over the weekends and during holidays to get the right kind of exposure.
Adhuna's big break came when she was 23. She helped her friend and mentor, the iconic hair stylist Tony Connel, to set up his own salon business.
It gave her a great view of what it meant to build a business from scratch.
"I realised that one has to be good at everything to build a business," Adhuna says.
What brothers are for
Adhuna explains that Tony was transparent, open and would be giving in terms of knowledge sharing.
That's exactly how she went about building her business.
But starting her own salon was never on the cards for Adhuna. It was serendipitous like her journey to India was.
Adhuna had just quit her job and was supposed to join Toni & Guy three months later in the UK.
She decided to use the time to visit India.
"And in the time I was here, I was having such a great time that I didn't go back. So, Toni & Guy never got the pleasure of my company," laughs Adhuna.
But she hadn't thought of starting up yet.
Adhuna explains that she was happy with freelancing jobs and working on her different passions.
That changed when her brother, Osh Bhabani, came to India in the late 1990s.
"My brother came along and said, 'Let's start a business,' and that's how it all happened. I keep saying he cashed in on my talent," Adhuna jokes.
If only cloning was legal…
BBLUNT was started in 2004.
Today, it boasts has 19 salons across the country, which means Adhuna is crazily busy visiting each of the stores, not to mention their training centres, as often as possible.
"I have seriously considered cloning, but it isn't feasible, and not exactly legal," she says tongue firmly in cheek.
On a serious note, she points out they have been able to expand rapidly because of the team she has been able to build.
Over the years, her job has become that of a motivator.
If one salon is up-and-running, it is easier to replicate the model.
Things are streamlined today, but in the early days, biggest challenges she faced was logistics, manpower and people management.
"People are individuals and the kind of business we are in also welcomes individuality. It is a part and parcel of what we do.
"Everybody has their strengths and weaknesses. So we see it as an ongoing training programme.
"We have people who have been a part of the team for over 10 years or more; there are others who come and go. It is difficult to balance that, but we try," she explains.
But everyone who is a part of the BBLUNT team has one thing in common: They're passionate about what they do.
Adhuna's dream for the future is to take BBLUNT and its products as far as she can.
"It is no longer is about me. It is about the team I have built and the partners who are a part of this business. Everybody is on the same wavelength, regarding the salons, good quality work, training or our creative/artistic projects," she says.
"But it will be nice to maybe take the products abroad," Adhuna muses.
Knowing her track record, it wouldn't be surprising if BBLUNT became a global brand in just a few years.