Dr Manjiri Bakre's OncoStem is revolutionising breast cancer treatment in India with a test that is faster AND cheaper than what is currently available in Europe and the US.
And OncoStem just raised $6 million to do more!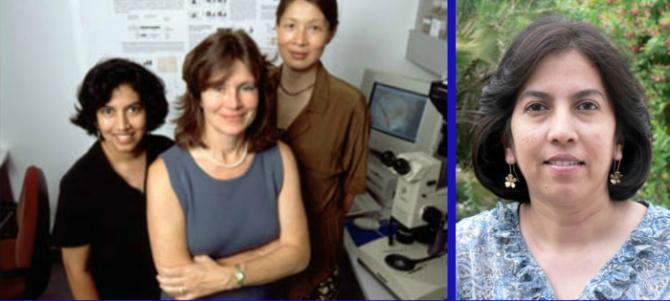 Manjiri Bakre (left)in 2002 during her time as a researcher at the Rebecca and John Moores UCSD Cancer Center lab at the university of California, San Diego.
She is now also listed as a researcher at the Mazumdar Shaw Center for Translational Research.
Photographs: Courtesy ucsdnews.ucsd.edu and msctr.org.
Payal Sharma, 40, was diagnosed with early-stage breast cancer.
As a standard course of treatment, she would have got chemotherapy, which has side effects. While the tumour is not detrimental at a primary stage, it can be fatal if it comes back.
Doctors tested her tumour to see if there was a low or high risk of it re-occurring. They found a low risk and she was treated with other therapies, not chemotherapy.
This particular test was conducted by OncoStem Diagnostics, a Bengaluru-based and oncology-focused start-up, which raised $6 million this month from Sequoia Capital India and Artiman Ventures.
This test is available in Europe and the United States, but is five to six times more expensive than what OncoStem's prices are and takes more time.
OncoStem Diagnostics is backed by Sequoia Capital India, Artiman Ventures and Biotech founder Kiran Mazumdar-Shaw.
It is able to do the test cheaper and faster, helping clinicians to customise the treatment for patients.
This test is not for screening breast cancer — it is to help clinicians decide the course of treatment.
Anjana Sasidharan, principal, Sequoia Capital India, says: "OncoStem is filling a critical need gap and helping spare thousands of cancer patients from severe chemotherapy, the associated toxic effects and the costs. The technology and pricing can fundamentally change patient access to such cutting-edge tests, expensive in most markets globally."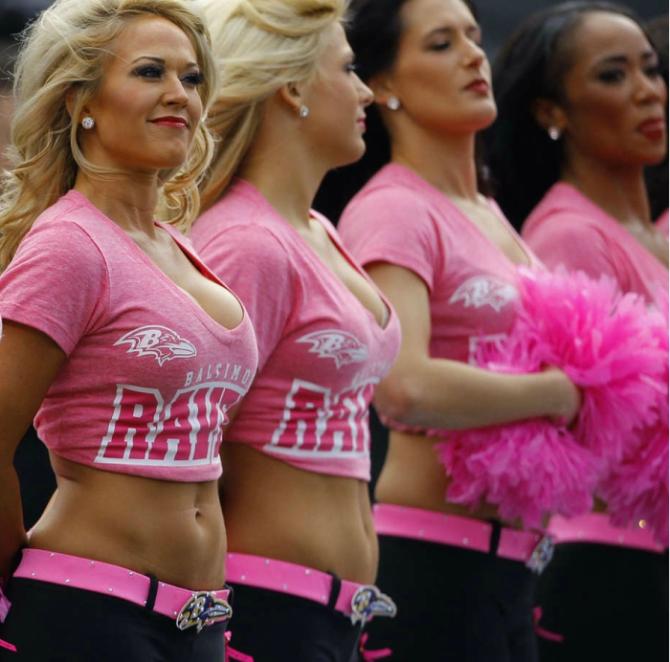 Cheerleaders don breast cancer awareness t-shirts at an American football game in Baltimore.
OncoStem is filling a critical need gap and helping spare thousands of cancer patients from severe chemotherapy, the associated toxic effects and the costs.
Photograph: Gary Cameron/Reuters.
Pain point
Cancer treatment has been continuously evolving with new research, and oncologists have realised that a one-size-fits-all approach to cancer patients is not conducive.
Today, 95 per cent of early-stage (Stage 1 & 2) breast cancer patients get chemotherapy to avoid cancer recurrence. Chemotherapy has been found to be beneficial in advanced stage patients but benefit only 10-15 per cent of those with the early-stage disease. It is not only expensive but has huge side effects that can substantially reduce the patient's quality of life.
"We are trying to solve the problem of which early-stage cancer patient has a high risk of recurrence, to plan optimum chemotherapy treatment," says Manjiri Bakre, founder and chief executive at OncoStem.
The loss of a close friend at a young age to breast cancer got her thinking and triggered this venture. "It made me think that perhaps, today, we do not diagnose the disease enough and we need to dissect the tumour biology more to understand the disease progression/aggressiveness," says Bakre.
She feels this will empower clinicians and the patient to understand the disease better and help plan an informed treatment.
OncoStem is focusing on breast cancer, especially for hormone receptor positive breast cancer. It is also trying to develop tests for oral, brain and colon cancer and automate these tests.
Opportunity
The global market for breast cancer in vitro diagnostics is estimated at $1.5 billion.
Each year, about 150,000 women are detected with breast cancer in India, but less than 8 per cent are detected in Stage 1 and 40-50 per cent are detected in Stage 2. In half of all patients, it tends to relapse within five years, says Bakre.
Hospitals can courier tumour samples to its lab in Bengaluru and it sends back results within 10 days.
It is betting on automation and distributors to reach other markets. The start-up will initially focus on India and then target markets in the Asia-Pacific, West Asia, East Europe and the US.
"Our business model is distributor-based. The distributors will have a wide network of doctors who will prescribe this test to patients and the distributor will help get the patient's samples to us for testing," says Bakre.
Ahead
The start-up has a central laboratory in Bengaluru to test all samples. OncoStem plans to increase its footprint by setting up laboratories in different regions (Asia, Europe) to run the test, to help in reducing turnaround times as the business grows.
It also plans to completely automate the test and package it as a kit which can be easily distributed across the globe, to touch the lives of the millions of breast cancer patients.
In addition, it will expand its sales and marketing team to increase reach and improve efficiency of the distributor.
In India, the company is trying get the test empanelled by central and state government schemes, and also by third-party insurance schemes. This will help patients to access it in a cost-effective manner and also help save the cost on chemotherapy for government and insurance companies.
"It has been wonderful working with OncoStem over the past five years, being the first investor in the company and to help in the commercial launch in India. We are off to a great start, and the journey ahead — to take the company global, is going to be exciting," said Ajit Singh, partner at Artiman and adjunct professor at Stanford School of Medicine.
Expert Take: Making cancer treatment cheaper
Modern science is helping the medicine world create algorithms/ models for precision medicine. If we can identify for a cancer patient, whether it's colon, breast or lung which medicines will be effective and which won't, we can tailor our treatment accordingly.
This not just brings down costs and prevents avoidable side effects, it also helps in instituting the effective treatment options early, which should go on for survival benefit.
OncoStem has helped the world move one more step in that direction.
The initial set of tests which were marketed have the first mover advantage, but are unfortunately exorbitantly priced, therefore, more than 98 per cent eligible patients are not benefiting from it. OncoStem, to my mind will disrupt this market and help bring down the cost, and, in the next couple of years these tests will be at 1/10th the cost.
This will mean more reach and more than 10-fold increase in this market space.
We need this for other cancers as well.