'Unfortunately, our system doesn't care for slow learners. That's where tutors like us come into play,' Aarthi Kannan tells Rediff.com's Divya Nair.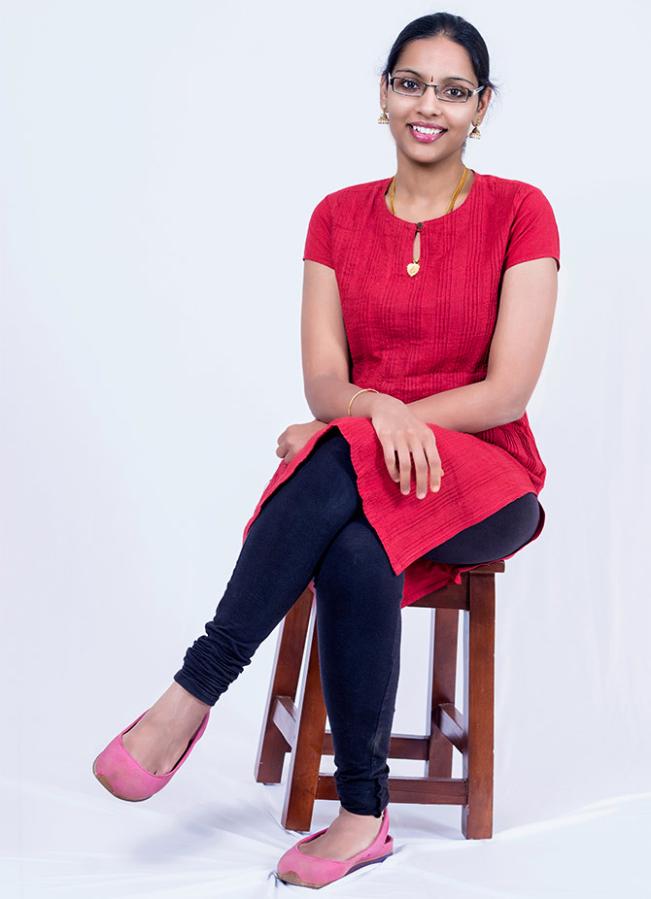 IMAGE: Aarthi Kannan quit her job as vice president, Goldman Sachs, in London, to look after her family and daughter. She now teaches math to school kids at home. Photographs: Kind courtesy Aarthi Kannan
Aarthi Kannan was brought up by traditional Indian parents who believed wholeheartedly in a good education.
She earned an integrated masters degree in management studies at the Birla Institute of Technology & Science, Pilani, Rajasthan, then worked as an engineer at Dell International Services for two years before moving to Bengaluru to work with Goldman Sachs in its technology section.
After marriage she moved to London.
In 2015 her daughter was born and Aarthi decided to take a break.
"I wanted to spend more time with my daughter and resolved to get back to work only after she'd start going to school," she says.
At the time, Aarthi was a vice president at Goldman Sachs, earning a six figure salary in Indian rupees.
She quit her job to become a full-time mother, moved to Bengaluru with her husband to stay with her family and focus on her daughter.
"After my daughter turned one, I realised I had a couple of hours to spare in the evening."
She didn't want to go back to a corporate career. Instead, Aarthi began looking at work-from-home options. From data entry to online learning, she analysed everything.
"I was always passionate about teaching."
Aarthi had taught before. When she was in college, she taught after her classes.
Since she had no formal experience she decided to tutor the kids in her neighbourhood in mathematics.
"That's when I realised that there was a huge gap between conceptual learning and rote learning (in math). Our current education system, unfortunately doesn't encourage conceptual clarity."
As part of her experiment Aarthi asked some basic mathematics questions to a 'top scoring' high school student. She couldn't answer them.
"When I shared this with (the girl's) parents they found it hard to believe that a bright child couldn't answer basic questions. I suggested the need for conceptual clarity. The parents reasoned that it's too late and their daughter doesn't have the time to learn concepts because she was already in high school," says Aarthi.
"I don't blame the child or intend to compare, but the Indian education system doesn't give you time to learn concepts."
Thus began Aarthi's journey to search for providers, who she could work for, who catered to this space of institutional conceptual learning.
"I found several apps and all of them stated 'We teach maths differently'."
After evaluating each of them, Aarthi settled with CueMath, a subsidiary of CueLearn, a learning management company.
"It was not an app or an online learning class. It was a proper class which enabled teacher-student interaction."
She liked that there were not more than five or six students per batch.
"If they had a query, they'd have to clear it before moving to the next question. They cannot dodge me. There is no rush, no pressure to perform and no benchmark of comparison."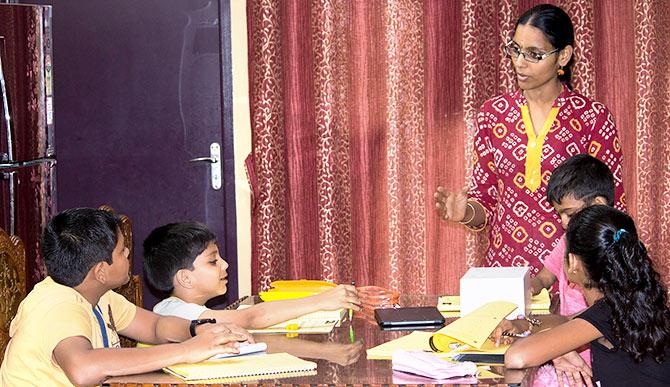 IMAGE: Aarthi interacts with students during a class.
The basic requirement for joining CueMath as a teacher is simple. You should have studied mathematics as a subject till Class 12.
Eligible tutors are screened for aptitude and conceptual skills. "Good communication skills are a must."
Once you qualify, you pay the registration fee and get inducted into the tutor programme.
"The investment was minimal and you get study material to work on. Interested people contact you through the app, your network or (hear of you from) word of mouth publicity. I could recover the money within a few months," she added.
Aarthi is happy with the slow-but-sure success she's had so far.
"I had a student from Class 7 who took two-and-a-half months to learn fractions. I was surprised when he finished the chapter on decimals in less than three weeks. When this student joined me, he repeatedly told me 'I am bad at Maths'.
"I told him, 'You join me. Let me decide'."
He appeared for an exam within three months of joining and surprisingly, he got all questions on fractions correct and all others wrong. His mother was puzzled, she says.
"I was happy that he'd fully understood fractions and was confident that with time, he'd ace the other chapters as well."
In December 2016, this boy appeared for his math exam and scored 70 against his previous score of 40. His parents, she says, were "over the moon".
"I had a student who refused to study with the rest of the batch because his self esteem was very low. He kept saying I don't want to come inside. I am not a math person, I just don't get it. After several months of coaching, he's now comfortable sharing the class and solving problems."
According to Aarthi, the fear of mathematics in kids develops early. Even when they are in Class 1 or 2 and escalates as they reach Class 4.
Considering our society's extreme love for the subject, it can harm their confidence if not identified and addressed early on.
"Parents, including mine, give too much importance to math scores. We keep telling our children, 'You can't make mistakes in math. You have to score well'. And put pressure on them. Unfortunately our system doesn't care for slow learners. That's where tutors like us come into play."
The kids who learn from her, approach homework positively.
"One of the modules we have is creative reasoning. We give one puzzle to the kids in every class and ask them to find different ways to solve it. They can take help from friends also. It is interesting how they argue with me once they find the solution."
Initially Aarthi's parents and in-laws were sceptical about her decision to pursue teaching part-time.
"I had no formal experience, just a passion for maths and the drive to make learning the 'dreadful subject' more fun and enjoyable. They weren't sure if I could do it.
"But my husband stood by me like a rock," adds Aarthi who credits her partner for supporting her decision to teach from home.
What does her daughter think of her classes? "In the beginning, my daughter couldn't understand why these kids were coming to our house and not playing with her. Slowly, she understood that they were here to study. Now, she also sits with them scribbling or drawing something."
Aarthi feels more content in this part-time role.
"I spend six hours a week and take two batches of five students each. I may not be making big money like I was in a corporate job. But am happy that I am able to bring a difference in a child's future. Also I get to spend time with my daughter who is three now. It's the best thing I could have asked for."
CueLearn caters to students between kindergarten and Class 8. It works on a 60:40 partnership with tutors. Aarthi is approximately paid Rs 1,800 per student.
"The rates are different in different cities. There are people I know who spend more hours in a day and are earning well," she says.
Aarthi has a simple message to new moms and homemakers who are looking to restart their careers.
"If you have just a few hours to spare, have mobility issues and are keen to teach, you should contact CueLearn. If I could do it, I don't see why anyone else cannot."
"The satisfaction you get when you make learning fun for kids will inspire your day."