The one common thread that we see across these jobs is that they are all highly human-centric, points out Ramesh Kumar.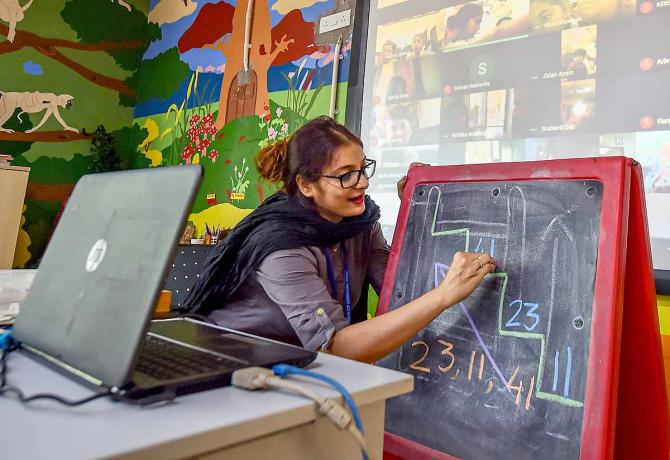 The emergence of cutting-edge technologies and their fast-paced adoption across industries pose an existential threat to many jobs.
Artificial intelligence, machine learning, robotic automation, cloud computing, blockchain, etc. have the capacity to replace labour-intensive roles and positions. At the same time, several new career roles and opportunities are emerging due to the dynamic change.
According to Guy Berger, principal economist at LinkedIn, 'Most of the workforce doesnt work in the emerging field of artificial intelligence, but that doesn't mean it won't impact everyone.'
'Artificial intelligence will require the entire workforce to learn new skills -- whether it's to keep up to date with an existing role or to pursue an entirely new career as a result of automation.'
Does that mean that future jobs are going to be monopolised by technologies alone?
Will all non-IT jobs be irrelevant or obsolete?
No, not by any stretch of imagination.
There will be some jobs that will continue to be in demand in the coming five to ten years (and even beyond).
The one common thread that we see across these jobs is that they are all highly human-centric. And like everything else around us, these too have been impacted by technology, making them more efficient and effective.
1. Marketing
It is a career that relies heavily on understanding human needs, developing products that meet or even exceed them.
The 'product awareness' though has been moving increasingly online.
A strong marketing resource is pivotal to the success of organisations across sectors.
Besides marketing products and services, marketing professionals help to build a trusted brand. Therefore, no IT innovation can replace a competent marketing professional in the near future.
2. Sales
Arguably one of the earliest professions, selling is eternal. Hence, sales roles will continue to remain popular in the foreseeable future.
As an extension of marketing, the salesforce is key to any organisation. They bring the revenue and real profits by selling products, services and solutions to prospective buyers.
The nature of the sales may change, but the relevance of human intervention is not going to diminish soon.
Like other jobs, there will be a great degree of technology in sales. Also remember, IT solutions and products themselves need sales to grow.
3. Business Development
This function brings potential clients to the company by pitching the right products or services, and maintains client relationships.
Business development opportunities are emerging along with the mushrooming of new businesses. It will continue to be a most sought-after career in the new world too.
4. Human Resources
By their very definition, these roles are essential to manage the human assets of an organisation to enable them to work at their best efficiency.
Technological innovations in HR and new business models won't become detrimental for HR.
From hiring or recruiting new employees to helping them grow in the organisation, HR executives play crucial roles.
HR is also decisive for strategising and executing learning and development plans for the workforce as per evolving needs.
5. Content
With a large part of the human population connected to the Web, content is king; and demand for a talented content developer is ever increasing.
On a daily basis, several forms of content are required for organisations.
Product description, user manuals, brochures, posters, landing pages, webpages, blogs, emailers, public relations materials, and others are some examples.
Though AI-enabled writing robots are emerging, technical or general content writing jobs are only expected to soar in the coming years.
6. Teaching/training
With our aspiration of becoming one of the leading economies of the world, India needs a large workforce that is skilled.
Upskilling and reskilling are becoming more prominent in the private as well as public sectors.
It is essential for everyone to update their skills and knowledge to stay relevant.
Organisations are now promoting the upskilling/reskilling of employees and some of them offer in-house training opportunities.
Only qualified trainers or teachers can deliver the requisite training to build a future-ready workforce.
In the coming five to ten years, we are going to witness many disruptions in the job market.
A study from Dell estimates that 85 per cent of the jobs that will exist in 2030 haven't even been invented yet. However, by adopting the changes demanded by an ever changing business environment, the above mentioned careers will continue to remain relevant and demand for them will further increase.
The onus is on individuals and organisations to train or retrain to build competencies, remain relevant, and be a proud part of the future workforce, especially in a post-pandemic world.
Ramesh Kumar is director-academics (Consumer Goods and Other Industries) at Manipal Global Education Services that provides industry relevant certification courses to make aspirants job-ready..