Hima Das's journey from the rice fields of Assam to a world champion today is inspirational.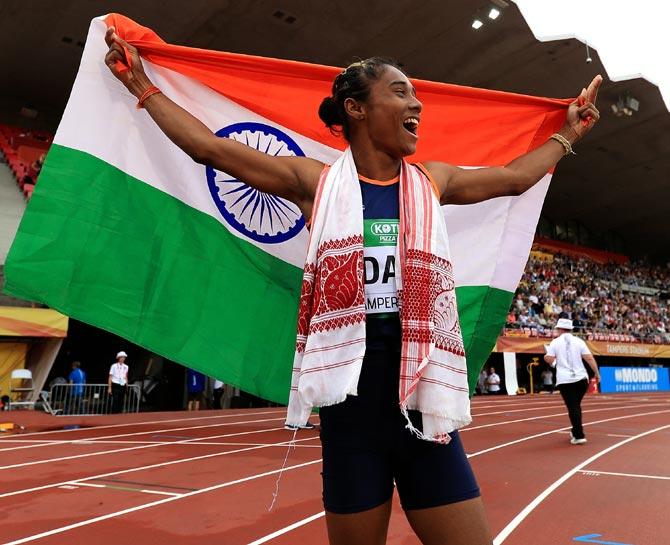 The year 2018 has been one of celebration for India's sportswomen.
On Thursday, Hima Das brought home glory of a different kind.
She became the first Indian to win a gold medal in the women's 400 metre event at the IAAF World U20 Championships held in Tampere, Finland.
As we congratulate the young champ, here are some inspiring lessons we can learn from the 18-year-old's successful run so far:
1. Your background is not an excuse
Hima is the youngest of six children and her parents work in a rice farm in Dhing village in Assam's Nagaon district.
But that was no deterrent as far as Hima's love for sports is concerned.
She started off playing football as a child, playing with boys in the mud pits next to the rice fields where her father worked.
Seeing her passion for sport, she was advised by a local coach to pursue athletics professionally.
'She was wearing cheap spikes but she won the gold in the 100 and 200. She ran like the wind. I hadn't seen such a talent in ages,' her current coach Nipon Das told The Indian Express (external link).
2. Nothing is impossible
According to Hima's coach, Assam is not known to produce runners.
But Hima was destined to go the extra mile and create history for India.
In the world championship, Hima competed with sprinters from the US and Jamaica and proved her detractors wrong by winning the gold.
3. Don't lose sight of the big picture.
While everyone is busy congratulating her for the big win, not many know Hima has proved her talent in the past and has been working hard to improve her timing.
She competed in two events at the Commonwealth Games 2018 -- in the 400 metres and 4x400 metres.
In the 400 metres, Hima qualified for the final, but her timing of 51.32 seconds was below gold medalist Amantle Montsho. In the finals, she finished sixth.
In the 4×400 metres category, Hima, who was part of the Indian team reached the final, finishing the race in 3 minutes and 33.61 seconds.
She trimmed seconds off the Indian Under-20 record in the 400 m to make it 51.13 seconds while winning gold in the recent National Inter-State Championships in Guwahati.
With each game, Hima was preparing for the big day.
On Thursday, her efforts paid off as she brought home the first gold medal.
4. Be humble
When you succeed, it is sometimes possible that you may get carried away with the sudden adulation.
However, it takes a real winner to be able to stay humble and reflect on your success with gratitude.
After the big win, Hima did not forget the hardships of her parents and the people who helped her in the journey.
'I want to thank my parents and my coaches, who brought me out of Guwahati. I also want to thank the people of India for their blessings,' she told NDTV.
5. Dream big
Coach Nipon Das's belief and confidence has definitely paid off.
Hima is celebrating her win but is also preparing for her future.
Like a true champ, she shares her secret: 'I don't run after medals, I run after time,' Das told NDTV.