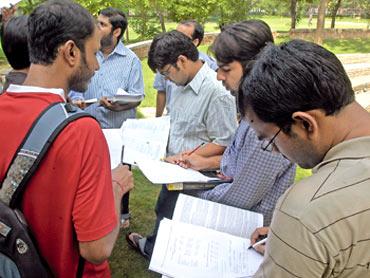 With lesser students appearing for JMET, IITs may end up considering CAT scores starting this year.

The Joint Management Entrance Test (JMET), used for admission to the two-year MBA programs offered by the Indian Institutes of Technology (IITs) might be abolished starting this year.

Instead, a candidate's Common Admissions Test (CAT) score could be considered for the admission process, Prof MR Ravi, Vice Chairman, Graduate Aptitude Test in Engineering (GATE), IIT Delhi told PaGaLGuY.

IIT Delhi was the organising institute for JMET last year.

"In the review meeting of JMET held in June 2011 at IIT Delhi, it was realised that the number of takers for JMET were lesser than last year," Ravi said, adding that only about 30,000 candidates appeared for the test.

Keeping in mind the amount of resources required to conduct a national level entrance test, the senates of the various IITs realised that the turnout for the test was not sufficient to warrant continuing the test.

However, the final decision about whether JMET will be conducted this year or not is yet to be made. The next meeting on this matter will be held sometime in September this year.

Officials at the GATE office of IIT Bombay and IIT Roorkee confirmed that the IITs might not conduct JMET this year but refused to add more to the information.

An official at the GATE office of IIT Delhi said that if JMET was abolished, the IITs would use his CAT score for admissions.

Each IITs might have different cut-offs. However, the official added that the decision was yet to be finalised and nothing had been decided about cut-offs as of now.

JMET is one of the five tests accepted by the All India Council for Technical Education (AICTE) approved b-schools as well.