Yogini and wellness entrepreneur Radhika Iyer Talati tells you how to tweak your daily Indian diet to make it healthy and wholesome.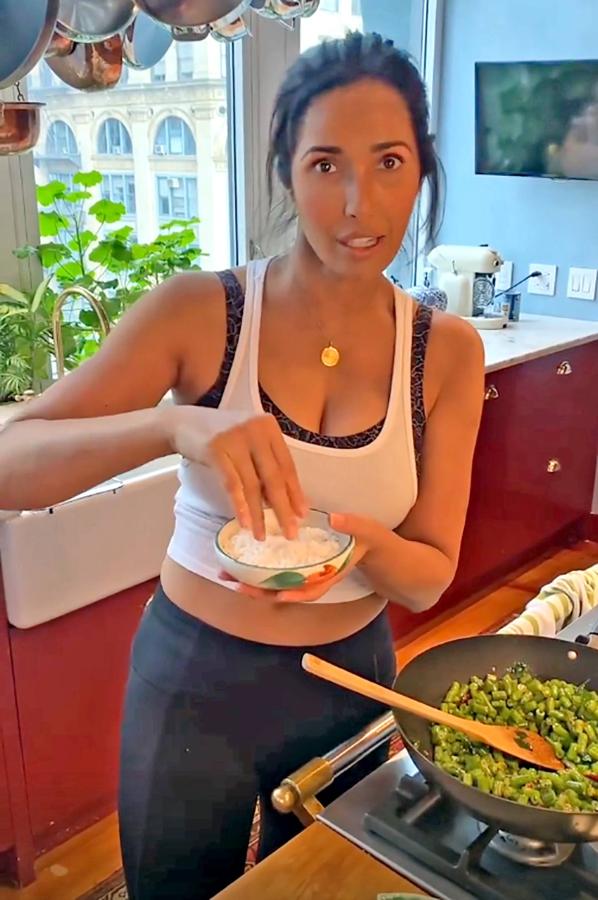 Indic cuisines are known to be labour intensive with an eclectic mix of myriad spices that not only taste good but also boast of a wide variety of nutrients in a balanced quantity.
Traditionally, Indian home-made meals consist of good carbs, healthy natural proteins and fibres which are beneficial in maintaining holistic health.
The simple Indian food is diverse and is enriched with infinite variations.
Comprising a huge variety of lentils, vegetables, curries, rotis, rice, chutneys and podis, the cultural diversity of the typical Indian meal is intense.
Post pandemic, the world is moving towards consuming more healthy and natural food.
Getting into the habit of eating simple home-made meals is an important step in that direction.
By cooking ourselves, we can consciously tweak our meals for better nutritional balance, more organic appeal, and a delicious earthy taste.
Remember that eating healthy food doesn't mean giving up on your favourite foods.
It is simply to adopt an alternative using ingredients that are delicious, healthier, fresher and more nutritious.
Traditional recipes had the ability to restructure themselves into whatever we wanted. For example, with just a few additional ingredients, leftover rice could become a nutritious porridge or pancake the next day.
Leftover bread and idli could manifest into a nutritious upma, while unused subzi can be transformed into a whole wheat frankie.
Here are few ways you can tweak your regular meals into exotic items using wholesome ingredients from your kitchen.
1. Use whole spices
Indian cuisine is rich in spices.
Tweak your food with whole spices like cloves, coriander, curry leaves, cardamom and cinnamon, instead of using easily available flavouring agents.
This will give your meal a natural earthy blend and help you cut out any artificial ingredients from entering your body.
2. Limit refined oils
Limit refined oils and make a switch to cold pressed organic oils that are packed with antioxidants.
You can also learn to cook in liquids, such as vegetable stock, tamarind or lemon juice or plain water.
These will retain nutrients boosting the body with high energy and vitality.
3. Substitute fats, sugar and salt
Substitute pasteurised fats, refined sugars and salt with clarified butter, whole jaggery and rock salt.
Foods with added fats, sugars or salt are unhealthy and can cause serious damage to the arteries as well as the digestive tract.
4. Tweak your curries
Tweak a simple dal or curry by adding loads of fresh seasonal vegetables and seasoning with freshly prepared ingredients.
A plain dal-chawal can be turned into a wholesome set meal bowl of veggies, seeds, lentils, rice and herbs when tweaked.
5. Chutneys over sauces
You can make interesting combinations to your food by using pesto, salsas, chutneys and vinegars instead of sour creams, butter and creamy sauces that only add unnecessary fat to your diet.
6. Explore alternative grains
Tweak your rotis by mixing several kinds of flours like bajra, jowar, corn, or even a mixture of dry dals to make delicious rotis, paranthas and phulkas.
Opt for wholemeal flour instead of plain flour when making chapatis or parathas and swap white rice for brown basmati or red rice.
7. Traditional super foods
Include desi superfoods and traditional spices in your daily diet.
Add turmeric and black pepper more regularly and avoid using off the shelf masalas. Indulge in traditional recipes from your family.
8. Alternatives to cheese and cream
You can also try to use coconut milk, skimmed milk, cashew nut or poppy seed paste instead of cheese or whole fat cream for those gravies.
9. Micro-greens and legumes
Bulk up your salads by adding healthy legumes such as sprouted beans and micro greens with simple seasoning to boost immunity, increase digestion and keep the mind and body healthy.
10. Less oil, less frying
In order to cut down the fat content of your meal, switch the menu to cook dishes and breads that require no frying.
Learn the art of grilling, boiling, steaming and baking, instead of frying whenever possible.
Radhika Iyer Talati is a yogini, mountaineer and philanthropist. She is the founder of Raa Foundation and Anahata Organics.