Eavesdropping over conversations, I can state with some authority that the transition from a winter body to a summer one is proving traumatic for most, saybrs Kishore Singh.
Illustrations: Uttam Ghosh/Rediff.com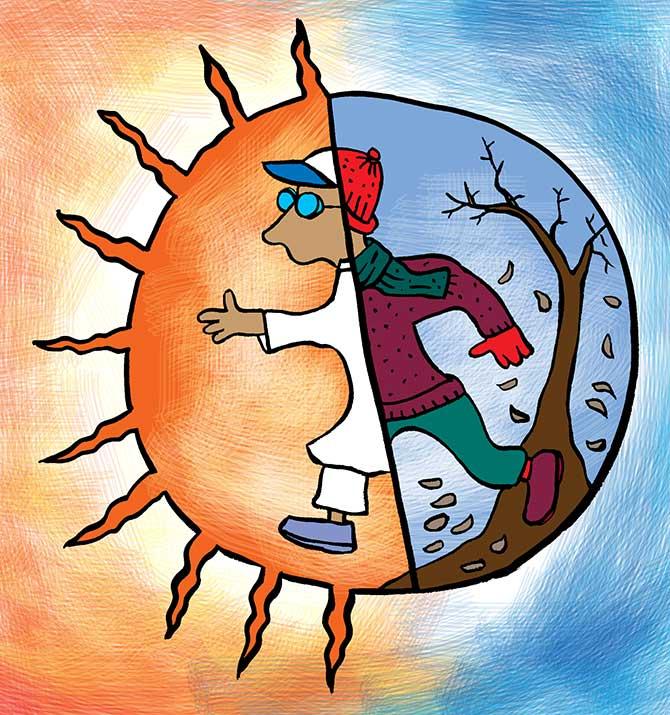 How seriously the young generation of millennials takes itself struck me when I overheard a colleague tell his peer group that, thanks to a tryst with typhoid, at least he was ready with his "summer body".
For those of us in the northern parts of the country, the only downside of winter is the fantastic range of foods and feasting, the results of which are hastily tucked behind sweaters and coats.
The unusually cold spell this winter meant that pushing oneself out of the comfort of one's bed for an hour of walking in the morning chill, or even getting dressed for the gym, was given short shrift.
The arrival of spring, and rising day temperatures, has led to a shedding of layers, but most are still clinging resolutely to the last refuge offered by a jacket or shawl.
It's a matter of days before that too must go, resulting in visible panic.
The dreaded D word -- diet -- is everywhere.
Any visible remains of winter food -- stuffed parathas as brunch, haleem for breakfast or at dinnertime, halwas and other sinful desserts as anytime treats, chiki as a frequent snack, samosas for tea -- are being shunned, but four months of indulgence leaves empirical evidence.
Weighing scales are being sulked over.
Everyone's making the shift from the delicious addiction of carb-heavy foods to scrimping with salads.
Clear soups are being offered as an antidote, the weather no longer permits lingering lazily in bed, but to achieve in days what took weeks and months to build is an unenviable task.
Eavesdropping over conversations, I can state with some authority that the transition from a winter body to a summer one is proving traumatic for most, the winter wardrobe chastened by the summer one.
Emergency options are driving up sales at malls with special consideration for flowing, free style options that enjoy a brief spurt annually -- a brief "season between seasons" according to fashionistas.
Restaurants are doing less well than shops.
Those who command flexible work options have a solution -- simply extend the season.
I know a few who are headed for parts of Europe where it will remain cold for a while longer, though the recent floods in England and France have proved a damp squib (literally).
There's always New York to escape to, where it's colder than most prefer, but at least the food isn't as fattening as desi khana, and all that trudging around Manhattan provides the exercise one misses at home.
Lurking anxiety over coronavirus -- with airlines and airports cited as suspects -- are proving a deterrent.
The argument for looking good versus mortality is at best weak.
Those of us who must stay on for reasons of work have our task cut out for us.
One friend has been put on a "liquid only" diet by his dietician; another has shifted entirely to fruit for breakfast, lunch and dinner -- and I'm referring only to the male of the species -- while soup and salad now comes in gourmet varieties with conditional prices.
Those like us have fortunately made peace with our bodies that remain resolutely beyond the care of winter or summer.
My generation is comforted by the knowledge that somewhere behind our winter bellies are our summer abs enjoying a temporary hiatus, only we're less fraught about proving the point.