'Anantkumar Hegde will be pleased that those thousands who formed a long line to enter the grounds of St Paul's Cathedral on Christmas Eve night were both aware of their 'parentage' -- to use his insulting term -- and would describe themselves as Hindu,' says Rahul Jacob.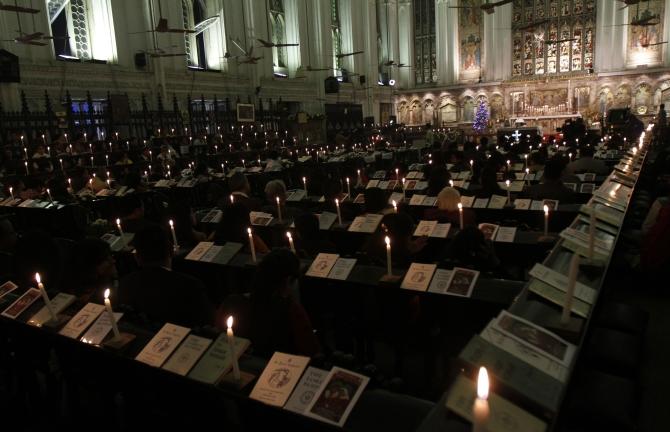 IMAGE: Christmas Eve Mass at St Paul's Cathedral in Kolkata. Photograph: Rupak De Chowdhuri/Reuters
One moment loud carols in Bengali seemed to echo up and down Kolkata's Park Street, the next minute the familiar silhouette of a small woman in a white and blue saree striding purposefully onstage appeared on the big screen at the open-air Christmas celebration that would go on for a couple of days.
Chief Minister Mamata Banerjee's appearance at Allen Park seemed that evening part of a docudrama of Kolkata's secularism.
Against the backdrop of Madhya Pradesh where carol-singing clergy were detained by the police on suspicion of forced conversions and in Aligarh (Uttar Pradesh) where schools were warned by Hindu fundamentalists not to commemorate Christmas before the state government intervened to assure the safety of such celebrations,
Ms Banerjee's flag march for religious tolerance resonated loud and clear.
In Kolkata, she was preaching to the choir. Few cities anywhere in the world glorify the Christian holiday with such pomp and pandemonium.
A Parsi friend, an airline pilot, remarked that the decorations on Park Street now outdo London's Oxford Street.
The queues at Nahoum's, the famous cake seller, were this year running to 200 people one day and 500 the next.
The metro stations on Park Street and Chowringhee had to be shut for about 40 minutes at a ime on Christmas day. (In The Telegraph''s exuberant prose: 'Those who chose a Metro ride had to use rugby-style aggression for entry or exit and fight claustrophobia inside overcrowded coaches.')
By early evening, the crowds were so unmanageably large that police appeared to be rationing pedestrian traffic on sections of Chowringhee.
The police commissioner was out on the streets for more than an hour, monitoring situations that could easily have turned into a stampede.
Sensibly, Park Street had been completely car-free from 4 pm on Christmas day, but even so the police had to resort to using ropes to hold back the people.
This seemed the stage-set for the Malthusian nightmare that biographers of the city such as Geoffrey Moorhouse warned the city would become decades ago, but transformed into a comic street theatre by Bengali bonhomie and the good-natured Kolkata police, champions in crowd management who earned their stripes in Eden Gardens (official capacity 68,000 but as much as 95,000 a couple of decades ago) and the annual, ever more populated perambulations of puja pandals.
Why the so-called Borodin or Christmas Day is quite such a big deal in Kolkata would require a forensic anthropologist to discern.
As a teenager in the city, I thought it had to do with the large number of formerly British-owned managing agency firms that are part of the city's legacy as commercial capital of the British Raj.
In an essay written decades ago, alternately laughing at and lauding Calcutta's box-wallah executives, V S Naipaul conceded that the city was 'an explosive mixture of East and West.'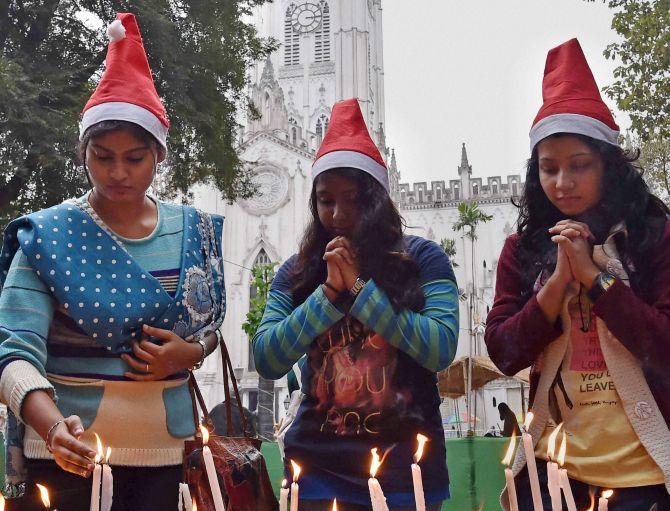 IMAGE: Candles lit outside St Pauls Cathedral in Kolkata, December 25, 2015. Photograph: Ashok Bhaumik/PTI
The headgear worn by the crowds to the pagan carnival on Park Street were often confusing and might have alarmed the Pope -- women wore Playboy bunny-styled hairbands in unconscious homage to Hugh Hefner who died last September, men were seen sporting devil's horns while the unimaginative wore the Santa cap.
At the Calcutta Swimming Club Christmas Eve party, a rapper called Badshah 'sent the revellers into a tizzy with his Baby Ko Bass Pasand Hai number,' according to The Telegraph.
Meanwhile, on Park Street what sounded from a distance as if it were a riot turned out to be repeated Mexican waves.
In other words, the Vishwa Hindu Parishad and other hypernationalists can look forward to the new year secure in the knowledge that one of the country's most populous cities is not going to fly the Vatican's yellow flag anytime soon.
Anantkumar Hegde will be pleased that those thousands who formed a long line to enter the grounds of St Paul's Cathedral on Christmas Eve night were both aware of their 'parentage' -- to use his insulting term -- and would describe themselves as Hindu.
What was on display in Kolkata was commercialism and the city's bottomless hunger for culinary stimulation, but also the Bengali appetite for adventure that made them the country's most fearless travellers long before Indigo.
But the foundation for this sound and light show goes much deeper.
Read the writings of Rammohan Roy from 200 years ago and Rabindranath Tagore from the 1880s on, and the foundation of a deep-rooted cosmopolitanism is easily visible.
Their tracts on the equal rights of women, say, or the excesses of nationalism sparkle when compared with Bal Gangadhar Tilak, let alone the muddled majoritarian mumbo jumbo of M S Golwalkar and Deendayal Upadhyay.
About a hundred years ago, a British periodical quoted in Ramachandra Guha's Makers of Modern India predicted that Roy's newspaper, Sangbad Kaumudi, would be 'the means of the moral and intellectual renovation of India.'
That proved too bold a claim, especially for a city that would soon lose its work ethic. Even so, amid the sparkling streamers of red, blue and white on Park Street, Kolkata, dismissed so often as a dying city, seemed a beacon of hope.