Urban lives are the opposite of rural ones, especially when it comes to evenings out, says Kishore Singh.
Illustration: Uttam Ghosh/Rediff.com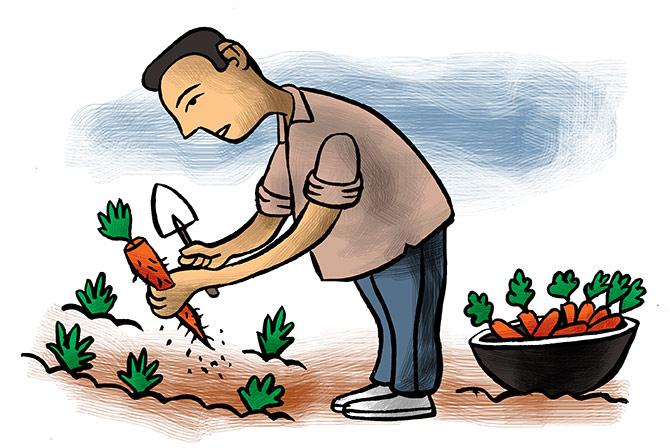 Now that we are farmers -- sort of -- my wife and I have begun to keep bucolic timings as far as our mornings are concerned.
Which means, dear reader, while you are snuggling in your quilts, still hours away from your wake-up calls, chota hazris, or walks, we're pottering around amidst our vegetable patch, picking chillies (fiery), uprooting carrots (not yet tender), marvelling at the cauliflowers (perfect), fretting over the broccoli which refuses to flower (imported seeds), monitoring the papaya (which is resisting growth).
Thanks to a barter system our caretaker has perfected, we get the pick of neighbouring fields -- lemons, brinjals, pomello, cucumbers -- for the loan of a lawn mower, or a pipe connection from our bore well.
Having fussed around a bit, we drive back to our city home to find the rest of the family still in bed.
Only we farmers -- sort of -- have it tough.
The hard life is accentuated by our urban duality, when we must go to work later in the day despite an early start. Urban lives are the opposite of rural ones, especially when it comes to evenings out.
Farmers sleep early, sometimes at times when we're still in office, and parties start even later. It takes a toll, this pre-dawn rising and late socialising, but the reality is that we can't afford to be farmers without a city job.
Our maali's family is generous with sharing produce, charring yam and skinning it for us to relish.
My wife has been at pains to tell them they must wash their hands (to their bemusement) before dicing, peeling or otherwise serving anything, and invite some scorn for insisting it be served plated, with fork, spoons and knives, in a tray.
So, the radish must be washed and sliced, the fruit peeled, the salad drizzled with dressing. Last weekend, the maali wanted to know whether he could pluck me some sugarcane stalks.
"You peel the cane back with your teeth and then chew it for juice," he explained. I told him I'd like some, yes, but sliced and diced, much to his amusement.
If our ways are alien to them, our children -- and friends -- who come visiting us over weekends prefer not our farm produce because their idea of countryside dining -- or a picnic on the lawns -- seems to consist of pizzas and pastas with freshly crushed herbs for a "rural" flavour.
I'm game for something more rustic -- a khichdi, perhaps, or hot corn rotis made with our own flour, served with saag of mustard greens plucked fresh off the field.
The maali gets me lassi sometimes, making the kids turn up their noses -- they've only ever had it in tetrapacks. They'd prefer a beer. I join them on occasion, even though farmers oughtn't to be drinking during the day.
For most part, we dress in tracks similar -- if a little less soiled -- than that of the farm hands, hoping to merge in.
Alas, we speak differently, and our family and friends dress in clothes more suited to urban environments.
The cultural clash is most evident around the swimming pool -- which we are now trying to screen from prying eyes. We'd put it in for exercise, or leisure.
Our caretaker, escorting his father around the property, explained to his father however: "This is where they have their baths."