The dead boy was a first generation learner in a government school, with all odds stacked against him.
While everyone celebrates this year's toppers, Geetanjali Krishna wonders about the failures, and how our system has failed them.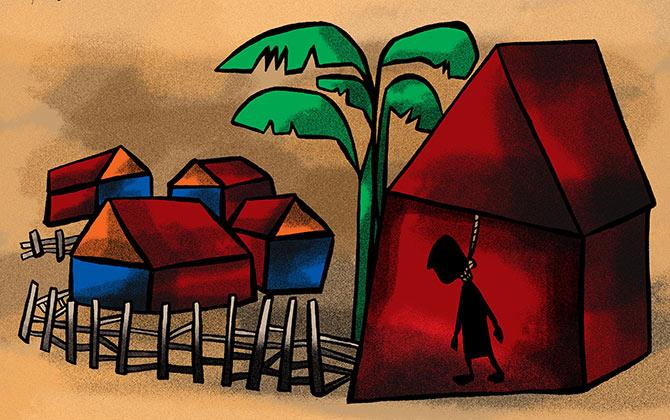 When the CBSE Class X board examination results were declared, my daughter performed rather well.
After the first euphoric checking of marks followed by an hour of congratulatory calls, I gave the old cook some money to buy some sweets for her family.
As she congratulated my daughter, I saw her eyes were red-rimmed.
She had just received the news that a distantly-related nephew, barely 17 years of age, had died the day before.
"We aren't closely related but since he used to live in the neighbourhood, I'd seen him since he was born...." she said, adding, "it's a day of celebration for you, let's not talk of sad things..."
It was clear that she wanted to talk, however.
When I urged her to, her eyes welled up again.
It turned out that the boy, who had gone to spend the summer in his village in West Bengal while his parents remained behind in Delhi, had given his Class XII board examinations this year.
Soon after the results were declared, he hanged himself without saying a word to anyone.
Their relatives in the village called the parents as soon as they discovered his body.
Everyone was naturally distraught, and eventually, they decided to cremate him without informing the police.
"Luckily, since the village is very isolated, these things are still possible," said the cook.
"Else, the poor parents and the family in the village would have had to make endless trips to the police station and undergo questioning."
Why did the boy kill himself, I asked. Nobody knew at that point.
Somehow, that entire evening, as we took the family out for a celebratory dinner, the faceless dead boy remained on my mind.
The next morning, when the cook arrived, she had more to tell.
Apparently, the boy had failed in economics in the board exam. They were all speculating that this is what drove him over the brink.
"Actually, we have been suspecting this ever since we got to know that he'd committed suicide barely an hour after the board exam result was declared," she said. "Apparently, his father had told him that if he didn't pass, they would not let him return to Delhi."
I felt crushed.
My daughter's school continuously stresses upon the students that a single poor result is not the end of the world, even as it provides them with a rich learning environment.
The dead boy, on the other hand, was a first generation learner in a government school, with all odds stacked against him, and yet, paradoxically, felt that his future hinged upon this one examination.
"That's why today, when our children come of age, they are under immense pressure to achieve what their parents and families can never provide for them," said the old cook.
Failing Class XII, on the other hand, had serious ramifications.
"Perhaps he'd have cleared it in a second attempt, but people like us don't have the luxury of letting our boys stay unemployed for so long," said the cook. "He'd have always felt he was a failure."
Nothing much can be done now. The boy is gone.
In the absence of a suicide note, nobody knows what really made him hang himself.
But while everyone else celebrates this year's toppers, I'm thinking about this year's failures, and how our system has failed them.