From the boys who used to hand out tickets to people on the streets and invite them to their concerts free of charge to the men selling out Wembley Stadium in less than a day, having about 20 songs on Billboard #1, BTS have come a long way, says Maya Dominic, a fan of the Korean pop band.
K-pop or Korean pop as a genre has struggled to overcome the criticism thrown at it over the years.
But thankfully, it is finally starting to be acknowledged by the world, gaining more popularity among all age groups.
More people genuinely enjoy the music itself, as well as, things that the artists do outside of their music career.
What they don't realise is that one song doesn't define the entire genre because K-pop, unlike its name 'pop', encompasses not only pop but a fusion of many different genres and styles combined.
If you ask any fan or Army (their official fandom name), why BTS -- a seven member Korean pop band -- is important to them or why they listen to their music, most, if not all, would say that they are a source of comfort to them. That they helped them get through some low point in life. Or their music brought in the warmth that they needed.
BTS's music consists of such a wide range of genres, pop, hip-hop, R&B, rap, ballad and even moombahton (a type of house music) trap, that there's always something for everyone.
All these different songs convey different messages, touch different emotions which makes listening to them even more special.
Like most of you reading this, I was sceptical when I was introduced to the world of K-pop way back in 2016.
"It's Korean, I don't speak the language."
"Why is there so much focus on the choreography and costumes and the music video?"
"They all sound so similar," were a few of the arguments I had when my friend tried to get me to listen.
I relented only because my friend asked me if it hurt to try.
Of course, it didn't.
My very first BTS song was Blood, Sweat and Tears from their 2016 album Wings.
In the beginning, the language sounded a bit weird to me. I listened to more songs and ended up adding a couple to my playlist.
I realised the music was catchy, and I actually liked them even though the lyrics were obviously lost on me.
The video production quality was amazing and over time I discovered, they didn't sound so similar after all.
Even later, as I started following their concepts and story line, I found that Blood Sweat and Tears was inspired by German-Swiss poet Hermann Hesse's 1919 coming-of-age novel Demian, a classic where an older man reflects on his childhood.
K-pop songs usually base their albums and songs on a particular concept.
It could just be a theme such as a futuristic or fantastical one and the whole album would then be based on that theme or it could be a whole story binding all the albums together.
BTS's earlier albums were loosely based on their own struggles in life -- something the youth could relate to, misunderstandings and prejudices against them, angst, dreams and goals, school-age and youthful love.
Their album series -- Love Yourself -- consists of three parts -- Her, Tear and Answer which in the respective order tell a story of falling in love, an inevitable breakup and the epiphany of loving yourself.
Their music features references to literature and psychological concepts and includes a plunge into an alternative universe as well.
Apart from their various concepts and storylines, they are also exceptionally hard working and extremely passionate about all that they do.
They are also very open about their personal lives with fans, are incredibly grateful and have immense adoration for them, that somehow makes the fans feel very close to the artists.
They have upon numerous occasions stated that just like they are a source of comfort and strength to their fans, the fans are pillars of strength to them as well and wouldn't have made it this far without their love.
BTS's V, at their 3rd Muster in 2016, told the audience, 'Purple is the last colour of the rainbow. Purple means I will trust and love you for a long time,' thus coining the phrase 'I Purple you', which the members often use for their fans and vice versa.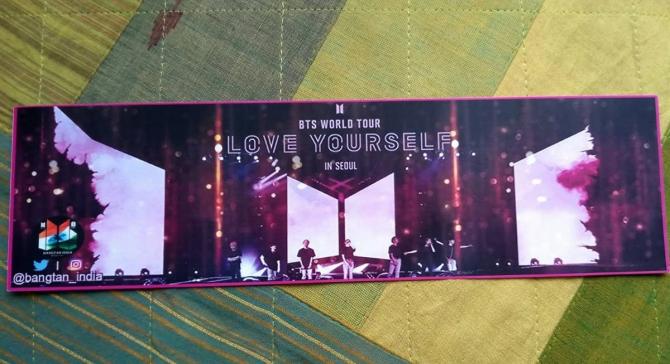 Last year I went for their 'Love Yourself in Seoul' movie shot at the Olympic stadium during their 'Love Yourself' 2018 tour, which was an exclusive screening of their most sought after concert and was a one-day screening at cinemas worldwide.
Looking at all other BTS enthusiasts, receiving purple wristbands, watching the movie together which was thrilling, almost as if we were there for the live concert, taking pictures with everyone who had come to see the movie. There was almost a sense of community in there.
Another thing I really respect and admire about the members is that they don't abide by any social norms to be 'masculine' just because they belong to the male gender.
Initially, during their first few albums, there are glimpses of objectification which they have acknowledged and apologised for, and now their music focuses more on self-love and other emotional issues.
Their costumes have included all sorts of frills, ruffles, laces, pastels, chokers, many things which are deemed 'girly' or 'feminine'.
Their fashion, even outside of stage is not limited to only 'men's fashion', each of the members has their unique style and never shy away from including various accessories to their outfits.
They have also had collaborations with so many amazing female artists like Halsey, Nicki Minaj, Sia, IU and Suran which make the songs even more powerful.
Their music now continues to break boundaries and as I've seen them grow up on screen, in their lives and their music, like all other fans, I feel a sense of pride looking at their progress.
From the boys who used to hand out tickets to people on the streets and invite them to their concerts free of charge to the men selling out Wembley Stadium (in the UK) in less than a day, having about 20 songs on Billboards #1, followed by the BTS X UNICEF campaign and their performance at the 2020 Grammys, they've come a long way.
I will continue to listen to their music and support them as artists and individuals.
I will always have a special place in my heart for this group, who introduced me to K-pop, made me see things from different perspectives, and have shown me that all was not necessarily lost when I felt that way.