'It's cool in a decadent, Rome-is-burning kind of way,' says Kishore Singh.
Illustration: Uttam Ghosh/Rediff.com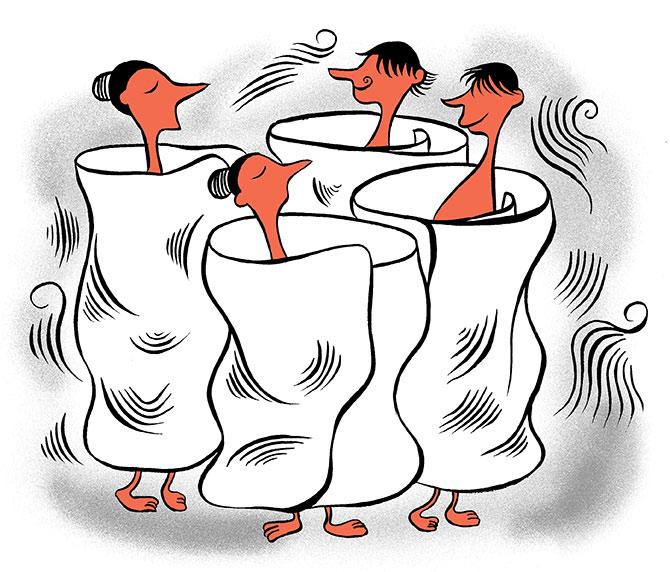 No matter how long you plan on staying away from an Indian summer, the heat will outlast you because Bittoo and Monty need to go back to school, their 'Popsies' need to return to work -- and, well, Europe isn't cheap.
Besides, their 'Mummyjis' have had enough of washing the dishes and doing the laundry and can't wait to get back home to the luxury of full-time staff, who work well beyond their working hours to keep the family in suited-booted glory.
But entertaining at home is a chore.
Even seasoned hostesses say, 'Let's meet somewhere outside, yaar,' as the air conditioning struggles to cope with the heat, and sweat (okay, 'perspiration') proves ruinous for make-up, men's eyeliner included. (Don't tell me you didn't know that the men about town wear foundation and eye make-up, and buff and polish their nails?)
Enter: Spa parties.
It was a trend waiting to happen. I've seen more billboards for neighbourhood spas than nursery schools in tony colonies across India, and not just in the metros.
In Jaipur, there were more spas in a half-kilometre than its population warranted.
Clearly, India's citizenry is toning and shaping up, though the results are far from visible yet.
But while the masses seek them out for their head and foot massages and meditation therapies, the cognoscenti have honed in on the ones that have their own health cafes.
What's a rejuvenation therapy or two without a flagon of wheatgerm juice, or kale-and-papaya smoothies?
But downing the vile stuff is lonely business, and boring to boot, unless you have friends along to compare notes about how many kilos you knocked off or how many calories you added on as a result of your spa lifestyle.
Slowly building up these last years, the spa party is now a legit social event.
You create a WhatsApp group to include anyone who isn't shy of dropping their modesty, if not yet their weight.
What better than to meet up after a sea salt scrub, freshly showered after a turn at the communal jacuzzi and steam followed by transcendental yoga?
To step straight out from it not into the dust and grime of the city but into a party room next door, to declare how 'decadently fresh' you're feeling over a helping of low-protein lentils, or scallops and fish?
Spa cafes have jazzed up their act to include alcoholic beverages on their menu -- or, at least, wine, and some low-cal beers.
Options are not just leafy, unsatisfactory greens, but fitness feasts laid out by celebrity chefs who make a virtue of steaming and sautéing.
What's raw is delightfully heightened by the tangy, but there's enough that's tossed or cooked in nutritious mediums, and the grains and produce of distant continents is served up as 'superfoods' without noticeable loss of taste.
It might not beat butter chicken, but it's palatable and sexy.
You can book the café for your revelries, or inveigle a party room.
Entertainment is on offer too -- soul singers, or a jazz musician -- and the service staff is solicitous, and won't tattle to the management should they spot a hip flask with the forbidden elixir of the ancients who cared a hoot for waistlines and propriety.
Spa parties ease up the guilt as well, for, as Sarla, who wore a toga and cajoled everyone to come in gladiatorial wear, said, "You can always shed what you put on at the next spa party, darling.
It's cool in a decadent, Rome-is-burning kind of way.