It is that time of the year when fresh business school graduates try their luck at placements.
Indrajit Gupta builds a list of things that do need to change for the better.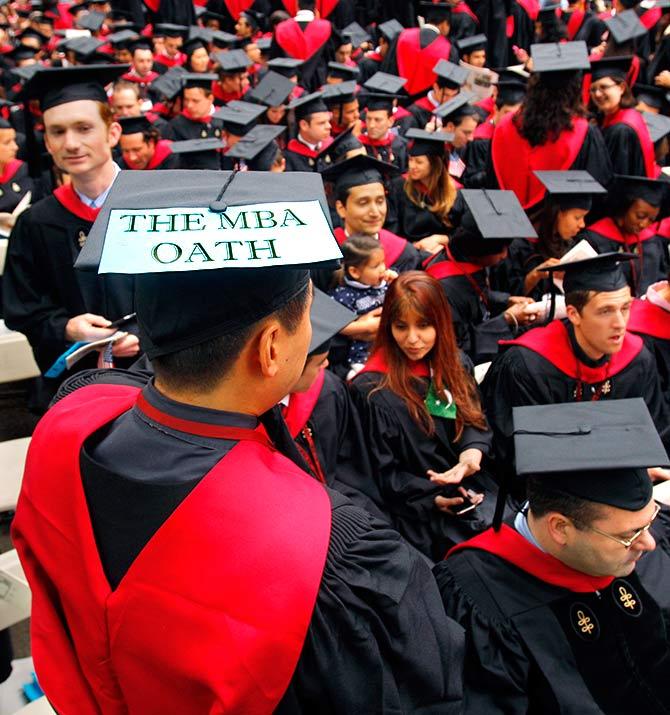 Photograph: Brian Snyder/Reuters
A column I had written for Business Standard -- provocatively titled 'Placements, statistics and damned lies' -- exactly three years ago popped up again on Facebook a few nights back. It was posted by none other than Madhukar Shukla, one of the senior-most and much-loved professors at XLRI, Jamshedpur.
Professor Shukla added an intriguing comment to the post: He said the column is still relevant and will be year after year!
Now, this ought to gladden the heart of any columnist, except that this isn't about tooting my own horn. Because this column in question dealt with a serious subject: Why the process of campus placements at business schools was dangerously flawed. And to have Professor Shukla openly and honestly admit that things had simply not improved was disappointing, to say the least.
It is around this time every year that thousands of young business school graduates try their luck at placements. For a variety of reasons that the earlier column had explored, it remains a game of hit and miss. More miss, less hit.
Next morning, I shared the column with my business school batchmates on our WhatsApp group. Many of them now had grown-up kids.
And the refrain was much the same: Getting a job wasn't a challenge. But more often than not, either it was a job that they didn't want -- or they were merely doing it to mark time, save some money and pay off their educational loans, before taking the plunge into something that they really cared about.
In that same column, I had quoted a survey done by a leading business school, which seemed to suggest that nearly 70 per cent of students quit their first job after graduating within nine months to a year!
And no one seems to be too bothered.
So long as business schools maintain a 100 per cent placement record and they continue to receive thousands of applications during admissions, they aren't overly worried about the lack of fitment.
HR folks in the country's best-run companies are rated on their ability to attract the cream of the batch. And so long as they build their profile on campus by organising yet another business plan competition and making a few targeted pre-placement offers, they aren't unduly concerned about deeper issues of mismatch.
And the media too remains more interested in publishing special B-school editions -- choc-a-bloc with advertisements from business schools themselves -- based on rankings that give high weightage to the school's placement record, but conveniently ignoring the underlying issues.
So, what needs to change?
I spoke to a bunch of people, including Professor Shukla, to build a list of things that do need to change for the better.
One, insist that students have at least two years of work experience before applying for business school.
It is hard to blame students for their naivety, if they've never seen the insides of a workplace, let alone understand the purpose of management, strategy and leadership. Not only will they relate better to what is being taught in class, the assumption is that their sense of clarity about career choices will be a lot better.
Two, invite alums to run career clinics and drive greater industry interactions from the get go.
A few things are clear: Core faculty are often not best placed to offer career advice. And today, there's a lot more choice beyond the traditional MBA hunting grounds in investment banking, consulting and FMCG. Each student must get proper coaching in building personalised career plans. That's one way to beat the herd mentality which is evident at placements.
Three, dismantle the pernicious rules that reduce choice.
In the last three years, things have actually got worse. As batch sizes have increased, business schools have enforced tougher rules that force students to accept the first firm offer they get. Also, the personalised advice that faculty would provide when the batch size was smaller has gone out of the window. Business schools must refrain from irresponsibly crowing about completing placement in less than three-four days -- and tom-tomming the big salary jobs. Neither of these really matter, in the final scheme of things, and do more harm than good.
Four, there's one silver lining though: A few business schools are now offering a modicum of financial support for the first three years for students, who prefer to skip placements and start up their own new venture.
This will encourage at least a few more students to follow their heart -- and chase their dreams.
If there is one thing that has truly changed since the time I graduated 25 years ago, it is this: Entrepreneurship.
More young people want to start their own venture rather than look to climb the totem pole at a global corporation.
In the end, our best hope is to make it more aspirational for our young MBAs to be job creators, rather than chase big dollar salaries. And I'd argue this is what India truly needs.
The writer is co-founder at Founding Fuel.