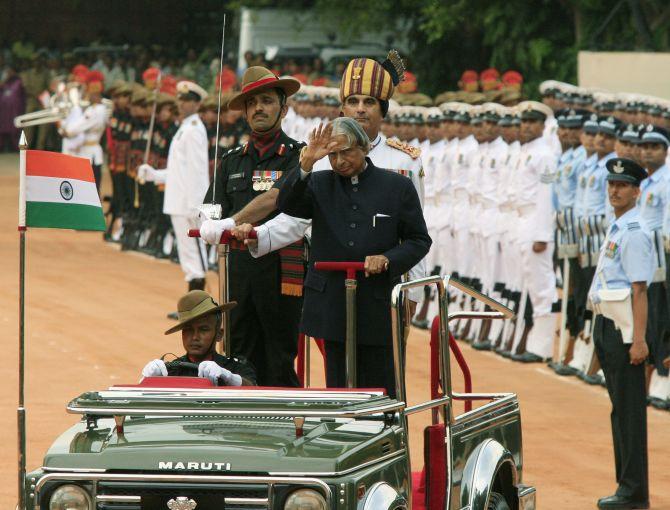 Shambhavi, who was invited by President A P J Abdul Kalam to Rashtrapati Bhavan as a 13 year old, remembers the meeting with awe and pays tribute to the man who inspired her.
As a 13 year old I was nervous while slipping into wear crisp formals and put in my best combination of charm and confidence because I had been called by the Head of State to a formal high tea.
I had never been to the gorgeous Ashoka Hall at Rashtrapati Bhavan. It was an invite that one does not get gets casually. It was not something you'd hear every day.
I was lucky to get the golden embossed invitation card with my name inscribed on it in gothic style handwriting -- S H A M B H A V I.
Little did the girl in me know that I would remember this meeting for the rest of my life, making a mark on my soul to grow further ahead in life.
July 28, 2007, I was called amongst the top editors and journalists of our nation. It was President Dr A P J Abdul Kalam's last press meet and to have been invited was a gesture in its own.
The name on the invitation card. The feel of the Presidential stationary. It sure is a great recognition. This was like a dream come true.
I was nervous and sweating. Writing articles and putting up your opinions is one thing, but voicing them is entirely a different task. Who would have thought this lesson would be taught to me by the President of the nation?
Standing inside Ashoka Hall, the grandeur was breathtaking. But the real brightness that shone in the hall came when Dr Kalam walked in. Swift walk with a resplendent smile on his face, I was awestruck, till suddenly I realised that any minute soon he would he standing right in front of me shaking my moist hands. I had to hold myself together.
When he came near, I saw the sparkle in his eyes. Almost as if saying, 'I am so proud of you child.'
Or maybe that was what I wanted him to say. He took the magazine I had got for him to read. He smiled again and then suddenly while flipping through laughed, "You put my poem too?" he asked. I smiled sheepishly.
With a pat on my back out of nowhere he told his aide, "Make sure she eats well and goes." Everyone around laughed. When the tea was served, in the crowd of over a hundred, he decided to personally come to me again. "Did you eat? Good. Keep writing well."
Dr Kalam! In a country of 1.2 billion there would hardly be a youth who has not been mesmerised by his modest and down to earth nature.
His simple smile, the aura of positivity and humbleness around, the sparkle in his eyes that pulled you.
India has lost not just an inspiration, but a man synonymous with Indian values.
India truly has lost its very own superhero.
Shambhavi is majoring in economics at Fergusson College, Pune. She was Editor of Invincible, a Web magazine.
MUST SEE!
Image: President A P J Abdul Kalam inspects the guard of honour at Rashtrapati Bhavan, July 25, 2007, his last day in office. Photograph: B Mathur/Reuters