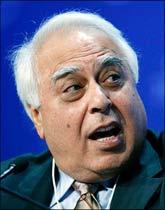 Expanding its sphere of activities, the Indian Institutes of Technology would now offer courses in medicine.


They would also allow foreign nationals on permanent faculty positions and students from abroad at the post graduate level.


Decisions to this effect were taken at a meeting of IIT council presided by HRD Minister Kapil Sibal in New Delhi on Friday.


The government decided to seek the approval of the Medical Council of India for the medicine course, Sibal told reporters.
The IIT council meeting decided to carry out appropriate amendment in the Institute of Technologies Act to enable the IITs to offer the medicine programme, he added.
"We are making sure that wherever the instruction leads to a degree relating to any branch of medicine, then, of course, clearances from MCI under the Act will have to be taken," Sibal said.
He, however, said no MCI approval would be required where IITs engage with inter-disciplinary research for the advancement of learning and dissemination of knowledge not leading to a degree or qualification for the practice of medicine.
For this exercise, it has been decided to set up a permanent standing committee under R A Mashelkar, former head of Council for Scientific and Industrial Research.
The council also decided to enable IITs to recruit foreign faculties which should not be more than 10 per cent of the total faculty strength.
"In principle, we agreed that IITs are entitled to recruiting foreign faculties," Sibal said, adding that they will set up a mechanism with the home ministry to ensure there is no 'hiccup in the process and there is easy exit and entry of people' as faculties.
Some other issues like bringing amendments to the Indian Citizenship Act will also have to be looked into, he said.
IITs have contended that the presence of foreign faculty in their campuses would expose students to globally distinguished professors besides lending a true international flavour in campuses and reducing brain drain.
Sibal said the meeting also agreed in principle to admit up to 25 per cent foreign students at the post graduate level on a 'supernumerary basis without affecting the present admission norms for Indian students'.
Centres for policy studies, which would serve as advisory forum for policy formulation in strategic areas, would also be set up by the IITs, the minister said.
Each IIT could concentrate on a particular country. As in the United States, such centres will be available for advising the government especially in terms of strategic negotiations.
Sibal said they also decided to set up a cadre of technical staff within the IIT system for the benefit of academic staff and to ensure seamless teaching process.
He said the present norm of the finance ministry of having 1.1 technical staff for one academic staff is creating a lot of problem in getting adequate technical people. He said the proposed cadre will not be covered under this norm and once the papers are prepared, they would move the Cabinet for its approval.
Notably, the IIT council also decided on adopting norm-based funding to allow greater autonomy on matters related to financial decisions to IITs and to put an end to the disputes arising out of the hiring process.
"Norm-based funding would be based on the norms the institutes should follow. Then in terms of those norms, funding would be given and then the institute itself will decide whom to hire, how to hire and at which level to hire," he said.
The issue is presently being looked into by a committee on autonomy of central educational institutes.
The council also decided to evolve a mechanism that will allow it to seek recommendations from the board of governors of IIT about nominations of members to the board under the categories of education, engineering and industry.