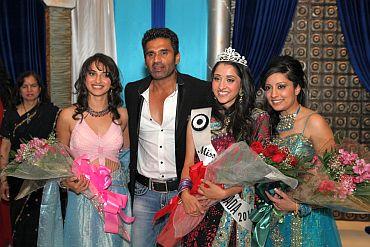 Meet the winner of the Miss India-Canada 2010 pageant, the beauty queen who wants to become a teacher.
Anchal Sharma, who recently completed her Bachelor of Arts and Bachelor of Education degrees from York University, Toronto, was crowned Miss India-Canada 2010 at an event packed with the who's who of the city on August 21.
The winner's name was announced by Bollywood actor Suniel Shetty, the chief guest, and Sharma was crowned by her predecessor and namesake Aanchal Dogra. The two runners-up were Maaza Jaan, 20 and Anokhi Delvi, 18.
"I am excited," Sharma says. "I don't have words to express (my feelings) and I am exhausted. I had to pull all my energy during the evening."
This was her first time in a beauty pageant and the win came as a surprise. "Of course, when I decided to contest I had wished to be a winner; you contest to win, not to lose. But not everyone can get the crown, so primarily I wanted to have fun," she said.
Sharma, 23, who triumphed over 15 other contestants, said all her competitors were "outstanding, wonderful, magnificent and so successful. I have never before been around such women, where all of us were motivated...We are all winners."
She added that her strength lay in the talent round: "I demonstrated both my Western and Indian sides...I performed Kathak." Sharma started learning Indian classical dances as a child. She began with Bharat Natyam, but later moved to Kathak.
"It is interesting that now with Bollywood becoming so big and Indian artists travelling to North America and acting in Hollywood films, Bollywood dances have become so popular that mainstream women are learning and performing them," she said. "That motivates South Asian women; we are saying to ourselves 'My God my culture is being shown on TV'."
This was the 20th anniversary of the beauty pageant, which has crowned Indo-Canadian women who have gone on to prove their mettle in various fields -- like Melissa Bhagat, who holds a senior position with Citizenship and Immigration Minister Jason Kenney, and Ruby Bhatia, a popular name on Indian television.
"Sharma will be a terrific brand ambassador for Canada and India," said Sanjay Agnihotri, chief organiser of the event. "She has poise. She has talent. She's balanced in her thinking. She has the personality to connect with people."
Agnihotri also presented a special achievement award to Shetty. "He (Shetty) added so much of glamour to our event," he said. "The crowd just embraced him. He was patient and genuine with the crowd...It made the evening that much more special."
Dogra marked the end of her reign, saying, "During my reign, I met innocent and impoverished children in India, dignitaries, celebrities, spiritual and political leaders...(and) every experience has changed my perspective of life in a vivid and dramatic way."
And for Sharma, it marked the beginning of many new experiences. "Now that I have the title, I will travel to New Delhi and Mumbai soon and meet my extended families in both cities and I will take it from there," she said. "I am trained to be a teacher and that's what I want to do. Of course, if some of the right doors in Bollywood open for me, I might consider it, but my first love and dedication is teaching."
To her fellow South Asian women her message was: "Be determined to succeed and do what you love best."
Image: Second runner-up Anokhi Delvi, actor and chief guest Suneil Shetty, Miss India-Canada 2010 Anchal Sharma and first runner-up Maaza Jaan
Photograph: M Sagoo