It's never easy to pick a batsman's one particular innings from the many he has played and rate it as his best or greatest. You're always in a dilemma when you attempt to select Sunil Gavaskar's in particular. He played a number of memorable innings, scoring 34 centuries and 45 fifties in Test cricket, many of them under trying circumstances, while representing a weak side for a major part of his career.
Many prefer Gavaskar's last Test innings, a painstaking 96 on a minefield of a wicket in adversity, against Pakistan at Bangalore in 1987. Though India fell only 17 runs short chasing a victory target of 221, Gavaskar demonstrated what Test match batting is all about while showing a lot of application and character. His handling of spinners Iqbal Qasim and Tauseef Ahmed, who had bamboozled other batsmen, was exemplary.
Gavaskar's own choice has always been his classic 101 against England at Old Trafford, Manchester, in 1974. England fielded a formidable seam attack, comprising Bob Willis, Chris Old and Mike Hendrick, as the conditions were particularly amenable to swing and cut. Though Gavaskar overcame them with a truly refined technique and solid Test match temperament, he couldn't prevent England from winning by 113 runs in the end.
But none of Gavaskar's innings could beat his epic 221 at The Oval in 1979. Although conditions were good for batting and the English attack less testing, the circumstances in which this unforgettable innings was essayed were woefully daunting.
Mike Brearley set India an improbable target of 438 over four sessions. It was almost an impossible task, considering that only once India had passed 300 in the previous three Tests of the series.
At the fourth day's close of play, Gavaskar and his opening partner Chetan Chauhan had added 76 without being separated. Rather than dreaming of an epoch-making victory, Team India was hoping for an honourable draw on the final day. The redoubtable Chauhan never scored a Test hundred in his career but he had put together more century stands with Gavaskar than any other batsman.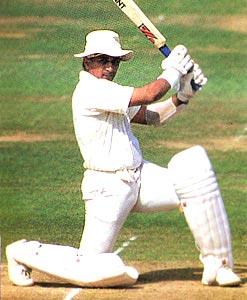 Concentration and grit writ large on their faces, the Indian openers continued from where they had left and scored another 137 between them in the first three hours. Chauhan was finally caught by Ian Botham off Willis for 80 (314 minutes, 263 balls, 7 fours) in the mid-afternoon after putting on 213 with his illustrious partner. Gavaskar, batting with his trademark flair and finesse, became suddenly aggressive after Chauhan's departure.
He found an ideal ally in his young Mumbai colleague Dilip Vengsarkar. With Gavaskar "doing all the thinking and playing most of the shots", the pair raised 153 runs for the second wicket in less than two hours and Brearley and his bowlers began to panic. Vengsarkar was held by Botham off left-arm spinner Phil Edmunds for 52 (152 minutes, 139 balls, 5 fours) in an attempt to exhilarate the scoring.
With the score having reached 366 for the loss of just 2 wickets, with Gavaskar in complete comannd, with Gundappa Viswanath still to come, India was in with a very good chance to pull off a sansational win. There was fairly enough time to make the necessary runs. But it was precisely then that S. Venkataraghavan committed a couple of massive blunders and gave the game back to England. 
Instead of sending in the the in-form Viswanath, who was India's topscorer with 62 in the first essay, the visiting captain promoted the hard-hitting but unreliable Kapil Dev at No. 4. The move proved disastrous as the young allrounder didn't give the scorer any trouble. As if that was not enough, Venkataraghavan still kept Viswanath in the greenroom and threw the raw Yashpal Sharma in the ring. The price had to be paid. And how.
While struggling to score quickly, Sharma saw, to his utter disappointment, the fall of the wicket that England badly needed at that moment. Gavaskar, who looked determined to take India home without being dismissed, was smartly held by David Gower in the covers off Botham. Gavaskar batted for 490 minutes, faced 443 deliveries and hit 21 fours during his enchanting 221.
The match was still interestingly, even tantalisingly, poised. Sushil Doshi, that brilliant Hindi commentator, appealed the "weak hearted" listeners to switch off the radio. The situation was so delicate, so tense. India still required further 49 runs for the magic moment with six wickets in hand. Back home, many over-enthusiastic cricket fans started firing crackers in anticipation of India's win.
Entered Viswanath, the original little master of Indian cricket, carrying tremendous responsibility on his tiny but capable shoulders to complete the task left unfinished by his brother-in-law. As if to convey his feelings to his captain, who hadn't sent him at his customary position, Viswanath immediately executed an exquisite square-drive off Botham with no fielder daring to touch the ball.
Viswanath struck another four and made his intentions clear. When he had scored 15 off just 11 deliveries, Viswanath was given out caught by Brearley off Willey from what many present at The Oval, including nonstriker Sharma, believed was a bump ball. The expression on Viswanath's face also suggested that he was done in by a controversial umpiring decision.
A thorough gentleman, Viswanath did not make an issue of his doutful dismissal. In fact, a year later, when leading India against England, captained by none other than Brearley himself, in the one-off Golden Jubilee Test in Mumbai, he recalled Bob Taylor after being convinced that the umpire had erred in his judgement. Taylor went on to add 171 runs with Ian Botham. India eventually lost by 10 wickets. 
The fall of Viswanath's wicket at a crucial juncture dashed India's hopes. And when Yajurvindrasinh Bilkha (1), Venkataraghavan (6) and Sharma (19) were dismissed in quick succession, there was danger that India might lose. But Karsan Ghavri and wicketkeeper Bharat Reddy batted with caution in the last critical minutes and at close of play India stood at 429 for 8. It was so close, just 9 runs from a win, and yet so far. 
The Indian camp was in complete silence for a long time. The Indians living in England, who had come in droves at The Oval, returned home disappointed. In India, too, a pall of gloom prevailed. But for Gavaskar's heroics, India would surely have lost, let alone coming so close to winning. He was unconquered on 42 overnight and scored exactly 179 on the eventful final day and brought India to the threshold of a victory.
If India had actually won, Gavaskar's 221 would surely have challenged for the first half-a-dozen positions in the list of all-time great innings. But this can't in any way take the gloss away from what was an astonishingly superb innings.
'Gavaskar's 221 should, at the very least, be bracketed with Stan McCabe's 232 at Trent Bridge and Wally Hammond's 240 at Lord's,' said Len Hutton.