The win at Edgbaston was not the first time an Indian team had vanquished Pakistan in an ICC competition.
Rajneesh Gupta surveys the landscape of India-Pakistan encounters in ICC contests.
In the end, it was an anti-climax this time around -- the India-Pakistan match -- the mother of all contests in world cricket.
After all the hype built around the Champions Trophy game at Edgbaston on June 4, India proved too strong for their arch-rivals and registered their second biggest win over Pakistan.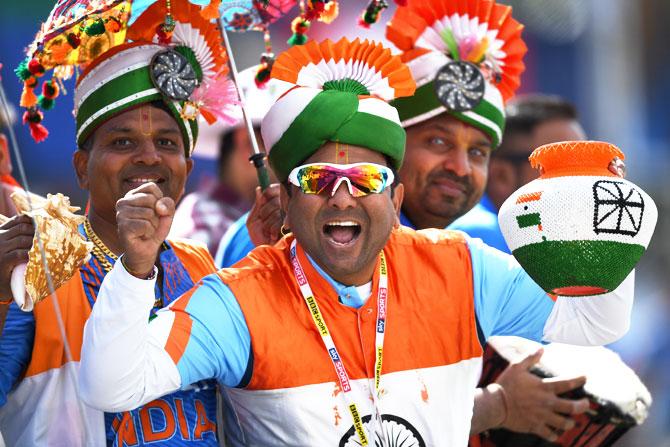 Pakistan still have an edge over India as far as overall results in one-day internationals are concerned.
India, however, have a stranglehold over Pakistan when it comes to ICC tournaments across all formats.
India have won 6 out of 6 matches against Pakistan in the World Cup, 5 out of 5 in the World Twenty20 (including a bowl-out after a tie) and 2 out of 4 in the Champions Trophy -- 13 out of 15 games so far!
A look at all the games when India and Pakistan met in ICC events.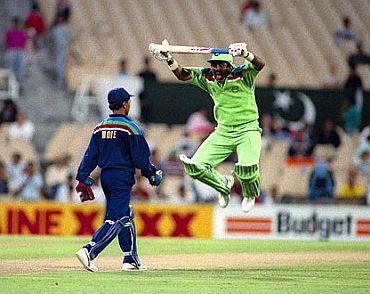 IMAGE: Javed Miandad mocks Kiran More, but the wicket-keeper had the last laugh.
The World Cup, Sydney, 1992. India won by 43 runs
The first-ever World Cup meeting between India and Pakistan and Sydney had never been so tense.
India dropped Ravi Shastri and asked Ajay Jadeja -- in his second international -- to open.
Jadeja played well for his 46, but the finest innings came from Sachin Tendulkar, unbeaten on 54 from 62 balls. Sachin put on 60 in 8 overs with Kapil Dev.
India ended with 216/7.
Pakistan had a shaky start, but opener Aamir Sohail and Javed Miandad kept them in the chase.
Miandad mockingly mimicked wicket-keeper Kiran More's appealing by leaping up and down.
More had the better of the cricketing contest, with two catches, a stumping and the run-out of Imran Khan.
Miandad took 34 overs to score 40, leaving his colleagues with a tall order.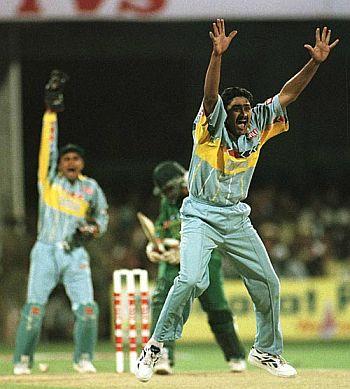 IMAGE: Anil Kumble appeals for a wicket.
The World Cup, Bangalore, 1996. India won by 39 runs
Bangalore's first floodlit match coincided with the first meeting of these teams on Indian soil for six-and-a-half years.
And it was a crucial game -- a knock-out encounter -- the quarter-final.
The match inspired high passions which boiled over in Pakistan after India won.
One fan reportedly shot his television set and then himself, while captain Wasim Akram was burned in effigy.
Wasim wasn't even playing, having ruptured a side muscle, but conspiracy theorists, fuelled by the previous year's allegations of bribery, speculated that he might have withdrawn deliberately, a charge the great left-arm bowler indignantly denied.
The game was keenly contested and turned into a thriller.
India chose to bat, but though the Pakistan bowlers made no gains until the 22nd over, the top Indian batsmen never quite took control.
Tendulkar's 31 was a trifle by his standards. Sidhu, 7 short of his century when Mushtaq Ahmed's flipper deceived him, steered India to an impressive-sounding 168/2, but the scoring rate was barely 4.5 runs an over.
Again, it was Jadeja who played the decisive role, scoring 45 from 25 balls (4 fours and 2 sixes), coupled with a tremendous onslaught from the tail.
They smashed 51 off the last 3 overs.
Waqar Younis bowled two of those overs, giving away 40 runs after his first eight had cost just 27.
When Waqar got Jadeja he became the fourth player to take 200 wickets in one-day internationals.
A slow over rate was punished by the deduction of an over from Pakistan's reply, the only such penalty in the tournament.
Even so, their openers seized the initiative. Saeed Anwar scored 48 from 32 balls, including 2 sixes, before he skied to Anil Kumble.
Stand-in captain Aamir Sohail was cruising along though. However, his antics got the better of him.
After hitting a boundary off Venkatesh Prasad, he gestured at the bowler.
Prasad had a few words to say as he disturbed Sohail's furniture off the very next ball.
Prasad grabbed two more wickets and gradually, the scoring rate faltered.
Rashid Latif, with two big sixes in a run-a-ball 26, kept Pakistan going, but his stumping sparked a collapse.
Javed Miandad's run-out signalled the end of Pakistan's reign as one-day champions and, apparently, of a career spanning three decades.
Miandad announced his retirement one final time.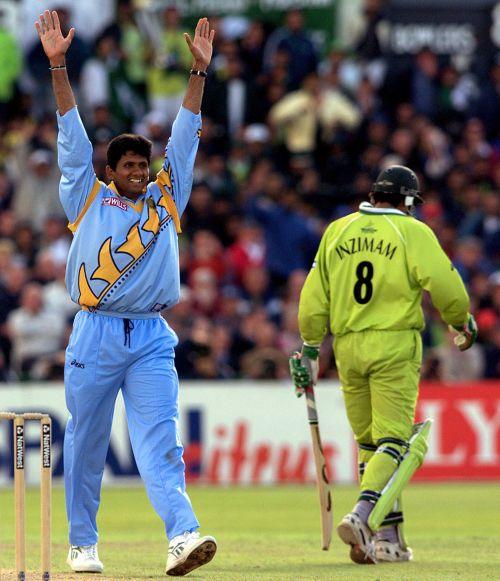 IMAGE: And Man of the Match Venkatesh Prasad -- 5/27 in an amazing spell -- sends Inzamam-ul Haq on this way...
The World Cup, Manchester, 1999. India won by 47 runs
India and Pakistan's armies were engaged in battle in the Kargil heights when thw two sides met in the Wolrd Cup.
Security was intense -- but there were three arrests, nine ejections, and one Indian flag burned during a scuffle at the close.
The rival fans, waving flags, blowing whistles and beating drums, created a passionate atmosphere unimaginable in English cricket.
India's batsmen, though, were below their aggressive best. Tendulkar blazed briefly, passing 8,000 one-day international runs as he dominated the early stages.
Rahul Dravid lost momentum, and Mohammed Azharuddin only found top gear late on, adding 60 in 9 overs with Robin Singh.
Saeed Anwar launched his assault on a target of 228 with 6 fours. But Javagal Srinath was chipping away at his partners -- then Venkatesh Prasad took over, finishing with 5/27.
His victims were Salim Malik, Anwar, Moin Khan (who scored an explosive 34 in 37 balls), Inzamam-ul Haq, unusually subdued for 30 overs, and finally Captain Wasim Akram, caught on the square-leg boundary.
Pakistan suffered their third successive defeat while Skipper Azharuddin won all the three India-Pakistan matches in World Cup history.
His compatriots were euphoric, but it was their last hurrah, and later results made the victory irrelevant. Venkatesh Prasad was the man of the match.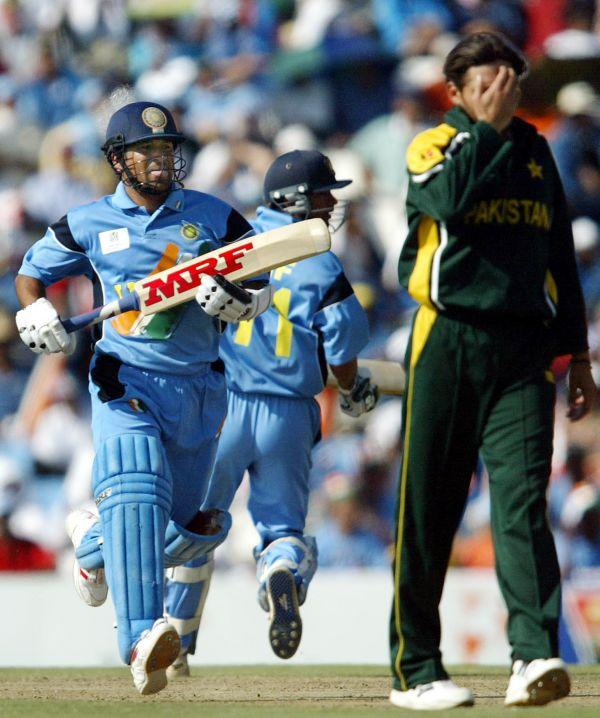 IMAGE: Sachin Tendulkar during his dazzling knock at the Centurion. Photograph: Arko Datta/Reuters
The World Cup, Centurion, 2003. India won by 6 wickets
Though the players played down the euphoria surrounding this game, it remained the tournament's most feverishly talked-up match.
Almost incredibly, the cricket lived up to the hype.
Under a hot sun and in front of a crammed stadium, Tendulkar played an astounding innings - perhaps the best of the tournament, and undoubtedly one of his best in one-day internationals.
Chasing 274, against a pace attack comprising Wasim Akram, Shoaib Akhtar, Waqar Younis and Abdul Razzaq, he hit a vivid and memorable stream of shots, none so perfect as the cut six and the two fours -- one swirled into the leg side, one pushed down the ground -- which concluded Shoaib Akhtar's first over.
By the 12th, India had reached 100; Tendulkar, missed on 32 and struggling with cramp, went on to score 98 from 75 balls.
After the storm came calm, as Dravid and Yuvraj Singh eased home to maintain India's pristine World Cup record (four wins out of four) against Pakistan.
All along it had been a batsman's match, started by Saeed Anwar, whose century, full of dextrous, angle-batted shots, contained only seven boundaries.
It took the ball of the game -- a rapid Ashish Nehra yorker -- to remove Anwar.
Younis Khan provided a late, impish flourish, along with Rashid Latif, who was hit on the helmet and could not keep wicket.
The 28 extras in India's innings were not so much an indictment of Taufeeq Umar's 'keeping as of the experienced fast bowlers who billowed in with passion, but not discipline.
IMAGE: Rahul Dravid during his knock.
Champions Trophy, Birmingham, 2004. Pakistan won by 3 wickets
The tournament came alive as the one match-up in world cricket that can draw a one day crowd any time, anywhere, filled Edgbaston with noisy fans who paid up to £150 for £35 tickets.
The game gave them fair value: It was fraught with the sort of tension and momentum swings that low-scoring matches can sometimes inspire.
After being put in, India's batsmen soon found themselves struggling at 28/3, which became 106/6 in the 34th over.
But an innings from Dravid which began in timid defiance and bloomed into belligerence -- he held Shoaib Akhtar's fiery glares and occasionally told him where to get off -- provided a gleam of hope, as did some joyous biffing by Ajit Agarkar.
A total of 200 was defensible, and Irfan Pathan kept Indian hopes alive, swinging the ball with real control to reduce Pakistan to 27/3.
Inzamam-ul Haq and Yousuf Youhana, captain and vice-captain, steadied the ship with a stand of 75, but India kept chipping away and at 152/6 Asian pride was up for grabs.
Enter Shahid Afridi, held back until No 8, to thrash two mighty sixes and provide impetus for the final push.
Youhana, composed and canny, hardly put a foot wrong throughout his innings, and eased Pakistan to victory with four balls to spare.
India, meanwhile, had to cope with the humiliation of being dumped out of the competition by their arch-rivals.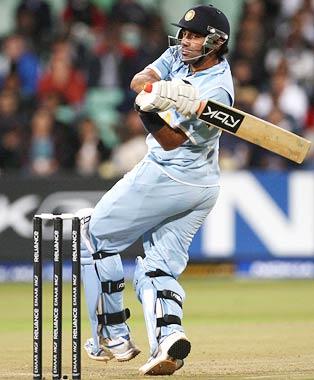 IMAGE: Robin Uthappa's knock rescued India.
World T20, Durban, 2007. Match tied (India won in the Super-over)
The India-Pakistan league encounter ended in a thrilling tie when Misbah-ul Haq was run out off the last ball with the scores level.
Robin Uthappa played a superb innings after Mohammad Asif had skittled India's top order.
Asif bowled four magnificent overs on the trot in overcast conditions, leaving India tottering at 36/4, India recovered to 141/9, with Mahendra Singh Dhoni and Irfan Pathan making useful contribution after Uthappa's brilliant effort.
R P Singh then gave India the perfect start, cleaning up Imran Nazir. Both he and Shantakumaran Sreesanth kept the runs down to increase the pressure on the Pakistan batsmen.
The fielding was top-class too and at 47/4 Pakistan were reeling. A partnership was needed, and Misbah and Shoaib Malik built one, concentrating mainly on singles and the odd clever thump over the field.
Malik finally lost his patience and holed out. Pakistan needed almost two off every ball when Shahid Afridi walked to the middle.
Afridi could score only 7 off 9 balls. With 39 needed from 14 balls, all seemed lost for Pakistan, but Misbah changed gears in no time.
Harbhajan Singh had been very economical till then, but he was hit for a six and a four off his last two deliveries by Misbah.
Yasir Arafat and Misbah then took 17 from the penultimate over bowled by Agarkar.
The equation came down to just 12 from six. Misbah placed one beautifully over cover and then thumped one straight down the ground for four.
Only one run was needed off two balls now, but Sreesanth came round the wicket to deliver a dot ball and then a short one that Misbah could not get away with.
He had no chance of completing the single and was run out.
The match ended in a tie, but as per the playing conditions, the match had to be decided by the bowl-out.
No one in the Pakistan camp was aware of this regulation and, therefore, were not prepared for this situation.
India picked up Virender Sehwag, Harbhajan Singh and Robin Uthappa as the bowlers and all three hit the stumps.
Pakistan had Yasir Arafat, Umar Gul and Shahid Afridi, and all three missed by a fair distance as a sell-out crowd celebrated an enthralling finale as India won the bowl-out 3-0.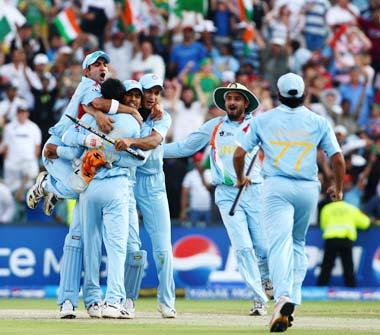 IMAGE: The Indian team celebrates the fall of the final wicket. It was India's first major triumph since winning the 60 overs-a-side World Cup in 1983.
World T20, Johannesburg, 2007. India won by 5 runs
The two teams met again in the tournament -- this time in the final.
India won the match and the inaugural Twenty20 World Cup when Misbah-ul Haq's attempted scoop landed in Sreesanth's hands at short fine leg.
It was Misbah again, who had brought Pakistan back into the contest from a position of no hope.
Pakistan needed 54 from the last four overs, but Misbah was in no hurry.
He hit three sixes in one Harbhajan over to bring the equation down to 35 in 3.
Sohail Tanvir was dismissed by Sreesanth off the last ball of the 18th over, but not before Tanvir had hit him for two sixes.
The equation was now 20 from 12. R P Singh bowled a tight 19th over, but Pakistan started the final over needing a manageable 13, though with their last pair at the crease.
Dhoni went for the seam of Joginder Sharma even though Harbhajan had one over remaining.
Joginder's first ball was the widest of wides. 12 from six now.
12 from five after Misbah played and missed.
6 from four as Misbah dispatched Sharma's nervy full toss straight down the ground.
Surely, Pakistan could not lose from here, but Misbah tried to be too cheeky by trying to play a scoop over the short fine-leg fielder.
Instead of the distance, the ball gained height and Sreesanth made no mistake in lapping it up.
The crowd erupted in deafening ecstasy.
Hundreds of Indian tricolours waved in the late afternoon sun as the victory lap began.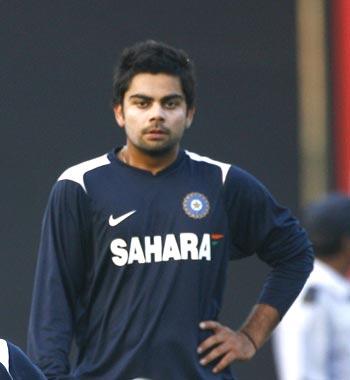 IMAGE: Virat Kohli, before his Champions Trophy debut.
Champions Trophy, Centurion, 2009. Pakistan won by 54 runs
After the sides' memorable meeting during the 2003 World Cup, expectations were high.
Pakistan emerged stronger thanks to a fourth wicket stand of 206 between Shoaib Malik and Mohammad Yousuf.
M S Dhoni, India's captain, said he felt three bowlers short as the partnership evolved from consolidation to ferocious hitting by Malik, whose second fifty came from 27 balls.
Malik scored 127 off 126 and crossed the 5,000 run mark in one-day internationals.
Pakistan's total was only the fourth of 300 or more not to include a six.
The Indian reply faltered on two needless run-outs: Gautam Gambhir sent back by Dravid, and Dravid himself, with 67 from 49 balls, called for an impossible third run by Harbhajan Singh.
A pitch invasion at the finish prompted the ICC to review its security operation.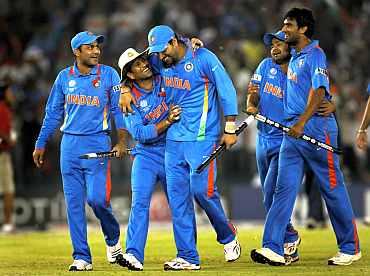 IMAGE: The Indians celebrate winning the semi-final against Pakistan. Photograph: Getty Images
World Cup, Mohali, 2011. India won by 29 runs
India's dream of winning the World Cup at home came one step closer after their bowlers restricted Pakistan's batsmen to set up a 29 run victory in the semi-final in Mohali.
The match's script could have come from the Bollywood as it had everything.
Dhoni had no hesitation in batting first after winning the toss.
Sehwag started in his usual fashion, but it was his opening partner Tendulkar who soon took centre stage for different reason.
Tendulkar survived two very tight calls on 23: An lbw decision that was given out by Ian Gould but on review proved to be spinning down leg, and a near stumping the next delivery when he just got his back foot down in time after losing his balance reaching outside off.
He was then dropped four times: On 27, 45, 70 and 81 as Pakistan fielders tried to outdo each other for comical ineptitude.
Ajmal finally got rid of Tendulkar 15 runs short of his 100th international hundred.
Wahab Riaz ended with a five-for as India had a rather healthy 260/9 on the board.
By contrast, India's display in the field was much more professional, and that was the difference in a match that lived up to the extreme pre-match hype.
The decision to leave R Ashwin out to make room for Ashish Nehra was an odd choice on a pitch offering plenty of spin, but Nehra and his bowling colleagues built the pressure and gave Pakistan's batsmen little to attack after they made a promising start and reached 70/1.
The Indians didn't give away an extra until the 37th over of the innings, and the way they put together strings of dot balls and tight overs was key to their success.
Munaf Patel picked up two victims and Yuvraj Singh made up for his golden duck with a pair of wickets, but the most important breakthrough came when Harbhajan Singh bowled Umar Akmal for 29.
Akmal had struck a pair of sixes off Yuvraj, driving him over the sight screen and pulling him over midwicket, and anything was possible while he was at the crease.
But Dhoni called on Harbhajan to replace Yuvraj, and with the first ball of his spell he came around the wicket and pushed one across Akmal, taking the off stump when the batsman played for the spin.
Shahid Afridi also fell to Harbhajan when he skied a catch off a full toss, and the obdurate Misbah was left to steer the chase.
He found it difficult to lift his tempo and was the last man out, caught on the boundary for 56 in the final over, but he ate up 76 deliveries.
Had he shown some more intent earlier, Pakistan might have had a chance.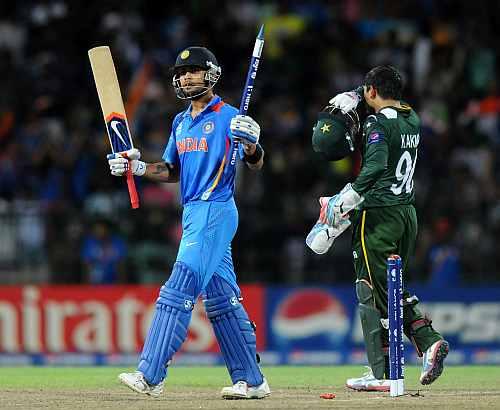 IMAGE: Virat Kohli's unbeaten 78 helped India beat Pakistan by 8 wickets. Photograph: Pal Pillai/Getty Images
World T20, Colombo, 2012. India won by 8 wickets
Pakistan won the toss and elected to bat first.
Zaheer Khan sent down a horrible first over, spraying the ball all over, conceding 13 runs and saw Sehwag dropping Pakistan Captain Mohammad Hafeez in the slips.
The over brought back memories of the 2003 World Cup final against Australia when India was out of the contest after Zaheer's first over.
The second over also yielded 13 runs though Pakistan lost Imran Nazir.
At 26/1 after two, no one could imagine that Pakistan would barely add 100 more runs.
For some strange reasons Pakistan were a nervous wrack of a batting side and nothing more exemplified this than Hafeez's batting approach.
He just kept defending and defending for no apparent reason.
Hafeez was finally dismissed in the 10th over after scoring 15 off 28 balls and sucking all the momentum from Pakistan's innings.
Yuvraj, Ashwin and Lakshmipathy Balaji helped hustle Pakistan out for 128.
India never sweated over their target even after losing Gambhir in the first over.
Virat Kohli scored an unbeaten 78 off 61 balls and took India through with three overs to spare.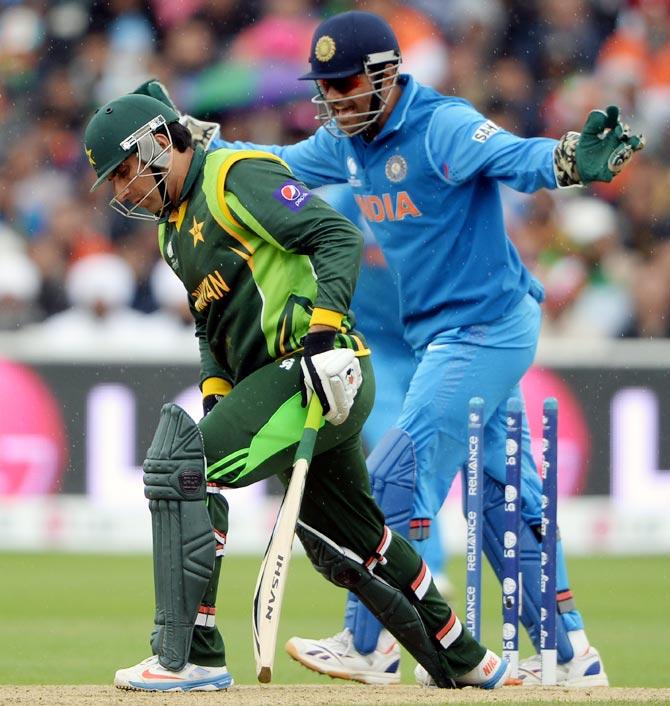 IMAGE: Mahendra Singh Dhoni celebrates Misbah-ul Haq's wicket during the ICC Champions Trophy game at Edgbaston. Photograph: Gareth Copley/Getty Images
Champions Trophy, Birmingham, 2013. India won by 8 wickets (D/L)
With the fate of both teams already sealed, events in the middle rarely matched the excitement in the stands.
Rain forced four interruptions and seemed more likely than an out-of-form Pakistan to end India's 100% record.
The group winners eventually reached their adjusted target of 102 from 22 overs with 17 balls to spare.
Indian supporters outnumbered their counterparts by roughly four to one, and their cheers when Dhoni won the toss reflected its importance.
Bhuvneshwar Kumar made good use of damp, overcast conditions, and there was appreciable turn for Ashwin.
Pakistan had been doing reasonably until the first delay after 12 overs.
But Ravindra Jadeja outsmarted Misbah, and an Indian review against Asad Shafiq revealed a thin edge en route to Dhoni down the leg side.
Six wickets fell for 34, the last two to run-outs: one stemming from Kohli's athleticism, the other from Pakistan's confusion.
Rohit Sharma and Shikhar Dhawan then continued their productive opening partnership, though Dhawan's 48 from 41 balls, which ended with a misjudged cut off Wahab Riaz, felt like a failure after back-to-back hundreds.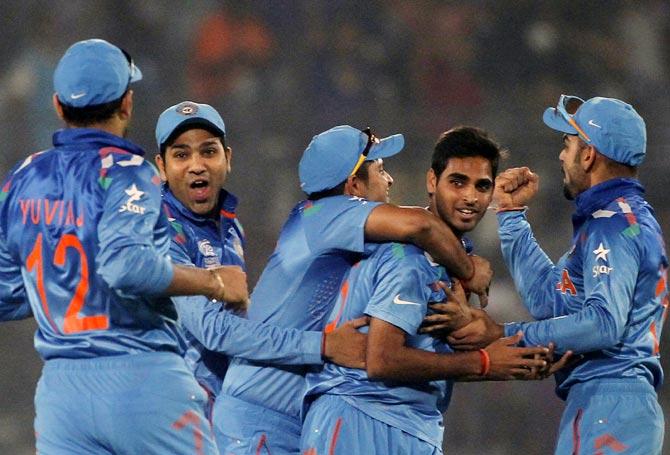 IMAGE: Bhuvneshwar Kumar (second from right) is congratulated by his teammates after catching Mohammad Hafeez. Photograph: Andrew Biraj/Reuters
World T20, Mirpur, 2014. India won by 7 wickets
The most awaited game of the tournament failed to live up to the hype.
The win was fashioned by the leg-spin of Amit Mishra, in only his second Twenty20 International, nearly four years after his first.
Against seasoned players of the turning ball, he finished with 2/22 including a wicket-maiden to spearhead a controlled display by the Indian spinners.
Dhoni, breaking from the norm, included three spinners in the playing eleven -- a decision that proved to be a master-stroke.
Mishra, Ashwin and Jadeja collected 3/63 from 12 overs as Pakistan could muster only 130/7 after being put in.
If the Pakistanis had hoped to return the favour, they were in for a nasty surprise.
Rohit Sharma and Shikhar Dhawan added 54 runs for the first wicket, before Kohli and Suresh Raina stepped in to finish off the chase with an unbroken stand of 66 for the fourth wicket.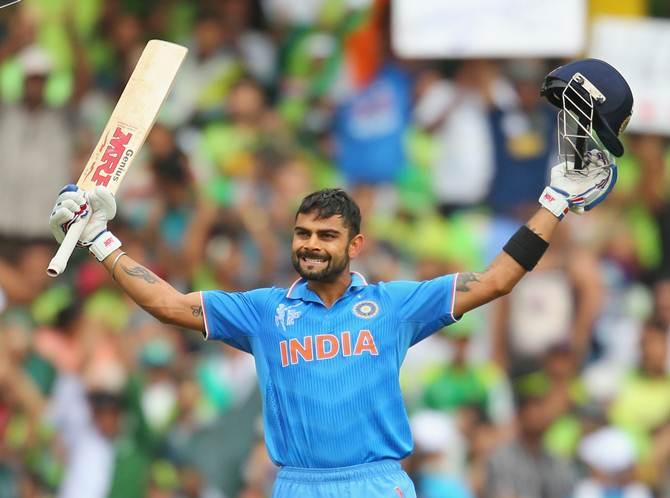 IMAGE: Virat Kohli celebrates his century. Photograph: Scott Barbour/Getty Images
World Cup, Adelaide, 2015. India won by 76 runs
The match was not exactly a classic, but had almost everything one could hope for in an India-Pakistan encounter.
Nearly 41,000 fans crammed a vibrant Adelaide Oval, predominantly Indians.
India did not put a foot wrong after Dhoni won the toss and elected to bat.
Kohli (107) was the lynchpin with his 22nd ODI hundred.
Pakistan did not do any favours to themselves by dropping him on 3 and 76.
Dhawan and Raina chipped in with useful fifties.
Though India could muster only 27 runs in the last five overs, losing five wickets, the final tally of 300/7 was always a daunting task for the opposition.
Pakistan were never in the hunt. Pakistan fans hoped for a miracle from Misbah after they were 102/2 in 24 overs, but the asking rate was too steep.
Misbah top scored with 76 as Pakistan crumbled for 224 in 47 overs.
Mohammed Shami (4/35) and Mohit Sharma (2/35) were the pick of the Indian bowlers.
Ashwin bowled beautifully in the middle overs without much luck.
The result extended India's record against Pakistan in World Cups to 6-0.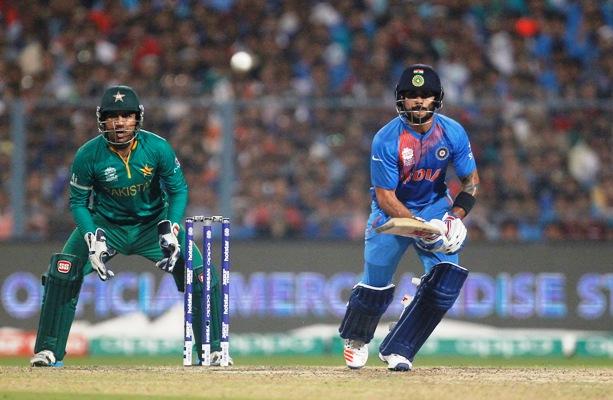 IMAGE: Virat Kohli's elegance watched by Pakistan's wicket-keeper Sarfraz Ahmed. Photograph: Rupak De Chowdhuri/Reuters
World T20, Kolkata, 2016. India won by 6 wickets
Over 61,000 fans were witness to a Kohli classic that helped India thump Pakistan on an Eden Gardens surface that offered plenty of assistance to the bowlers.
The start was delayed because of the rain and a ceremony featuring legends of the game.
The game was reduced to 18 overs a side.
India needed to win to stay in control of their fate in the tournament.
Dhoni won the toss and put Pakistan in to bat.
Runs were never easy to score with the ball gripping the surface and turning big.
Pakistan did well by losing only one wicket in the first half of their innings, as only 42 runs were scored.
The second half was much productive with 76 runs coming off it.
Pakistan were also assisted by Dhoni's decision to not give Ashwin his full quota and the seamers dishing hittable balls towards the end of the innings.
Mohammad Sami -- brought in for Imad Wasim -- turned in to wrecker-in-chief by dismissing Dhawan and Raina off two consecutive deliveries.
India had already lost Rohit to Mohammad Amir. With 23/3 in the fifth over, the Indian inning was in disarray.
Kohli then brought sanity to the proceedings. He cut down on playing away from his body and played as late as he could.
Placement was the key and Kohli always looked for the singles.
Skipper Shahid Afridi made a tactical blunder by not giving Amir a chance to bowl at him when he was fresh.
Yuvraj also helped soak some pressure. Together, these two added 61 runs for the fourth wicket.
There could be only one winner from this position and India won comfortably in the end.