'If Richie Benaud was born to play cricket and born to lead, he was also born to commentate on the game he graced with his inspirational presence.'
Haresh Pandya pays tribute to the legendary cricketer-commentator who passed into the ages on Thursday, April 9.
Image: Richie Benaud looks on during the 2013 Allan Border Medal awards ceremony, February 4, 2013 in Melbourne. Photograph: Scott Barbour/Getty Images
Richie Benaud was a genius of a rare kind, both on and off the field, a household name in the cricket world for over 65 over years. Fifteen years as an active player, and 50, after he called it a day, as the 'Voice of Cricket.'
The Australian, so gifted in many aspects of the game, seemed to have lived cricket throughout his eventful life. He was simply too versatile a performer, inarguably, the greatest postwar all-rounder from Down Under and one of the greatest captains of all time.
Benaud's shrewd and subtle leg-break bowling fetched him 248 Test wickets, at 27.03, in an era dominated by many prolific batsmen from England, South Africa and the West Indies.
He was a strong, attacking batsman down the order, good enough to score three Test hundreds. Brilliant both in the close and outfield, he snapped 65 catches in 63 Tests. He was the first player to achieve the Test double of 200 wickets and 2,000 runs.
As a captain, he was astute, imaginative and adventurous, at times. He was looked upon with awe, not only by his team-mates but also his opponents, for his profound knowledge of the game and its finer points, as well as his ability to accurately study and judge the plus and minus points of rival teams.
'Captaincy is 90 per cent luck and 10 per cent skill. But don't try it without that 10 per cent,' he would say. 'Any captain can only do his best for the team and for cricket. When you are winning, you are a hero. Lose, and the backslappers fade away.'
He once famously said: 'The hallmark of a great captain is the ability to win the toss at the right time.'
Benaud was a true leader of men. He came on the scene just at the time when Australia were going through a lean phase in the mid-1950s and needed someone who could instill a new dose of confidence in the despondent side and inspire it to greater heights again.
Among his many achievements, Benaud the captain will always be remembered for his remarkable leadership in the unforgettable 1960-61 series against the visiting West Indies, led by the peerless Frank Worrell.
The cricket-crazy Kangaroos had been starved of quality cricket for long and were subjected to some tedious contests, but that particular five-Test series, featuring electrifying batsmanship, superb fast as well as spin bowling, exciting fielding and, of course, captaincy, more than made up for the boredom that prevailed Down Under and quenched the Aussies' thirst for action and romance.
Huge credit went to Benaud and Worrell for the happy metamorphosis. The very first Test of the series in Brisbane delivered the thrill of cricket's first-ever tied Test, with Benaud playing a captain's innings (52) and adding 134 with Allan Davidson (80 not out) under trying circumstances and mounting pressure for the crucial seventh wicket after the Aussies were tottering at 92 for 6, chasing 233.
Australia won the second Test in Melbourne by seven wickets. The visitors fought back and, riding on Garfield Sobers's 168, wicket-keeper Gerry Alexander's 108 and some super spells of spin bowling by Alf Valentine and Lance Gibbs, crushed the hosts by 222 runs in the third Test in Sydney.
The Aussies were saved from the jaws of certain defeat by a pulsating last-wicket stand between Ken 'Slasher' Mackay (62 not out) and the unlikely Lindsay Kline (15 not out) in the fourth Test in Adelaide, which looked like heading for yet another tie.
Many believed the fifth Test in Melbourne too was heading towards a sensational tie after the West Indies set Australia 258 to win the series and had the hosts in all sorts of trouble when they lost four quick wickets between 200 and 256 after they appeared cruising along at 176 for four. It was going to be Benaud's moment.
When Australia scored the required two runs without losing any other wicket, there was a smile of satisfaction of defeating a mighty and worthy opposition on Benaud's face.
Benaud and company were in England a few months later to regain the Ashes, and, by all means, they achieved their objective, winning the battle 2-1.
'Benaud took Ray Lindwall's advice and bowled his leg-spin around the wicket into the rough; when all seemed lost in the Old Trafford Test (the crucial fourth of the series), his wicket-taking that afternoon ensured that Australia retained the Ashes and raised the captain close to sainthood in the estimation of his team and his country,' noted cricket writer David Frith.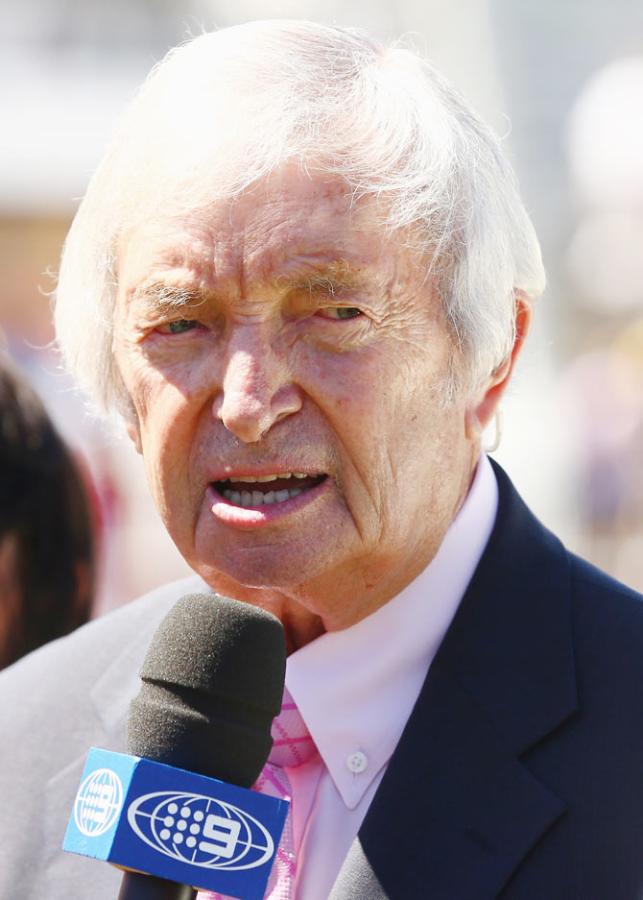 The great Richie Benaud. Photograph: Mark Kolbe/Getty Images
'One of my great joys of captaincy of a cricket team was that the eleven players were such a diverse lot,' he wrote in his book, On Reflection. 'It was a fascinating exercise to be part of that team and in the end, hopefully and thankfully, to see order come out of chaos and excitement and of sheer hard slog.'
If Benaud was born to play cricket and born to lead, it is no exaggeration to say he was also born to commentate on the game he graced with his inspirational presence. The Australian, who began his career in the media as a journalist in 1956 on the police-rounds department of The Sun, an afternoon tabloid from Sydney, began working for the BBC, on radio, in 1960. He switched to television in 1963 and continued to work for the BBC for nearly four decades.
'It was sad leaving the BBC; not quite like being divorced, but you don't leave after a period stretching 1960 to 1999 without feeling a certain number of pangs,' he said.
Down Under he was the senior commentator for Channel Nine television since 1977 and remained the mainstay of its cricket coverage until 2013.
In all, he witnessed over 500 Tests. No other cricket broadcaster has had Benaud's formidable weight of experience to reflect on every aspect of the game with such deep knowledge and perception. His insights were enlightening and opinion forthright.
He was the prototype of a television broadcaster and always worth listening to. Unlike many, the seriously quiet Aussie was eloquent with his golden silence on the small screen, allowing the picture to tell its own story.
Benaud was and will always remain a legend, an institution.
ALSO READ