'No 3 batsmen are very crucial in the way the team sets up a total. Virat Kohli should bat at one down,' V V S Laxman tells Harish Kotian/Rediff.com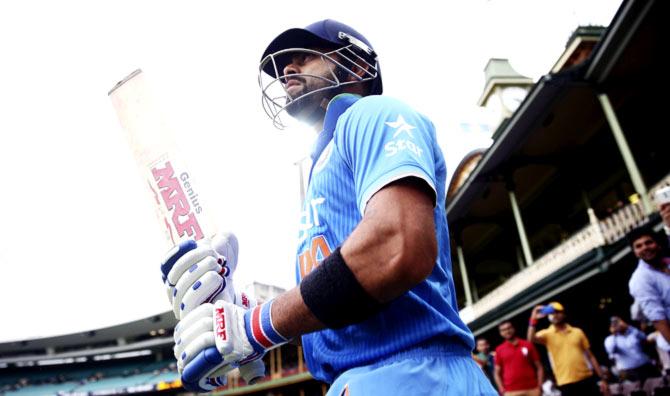 Image: Virat Kohli walks out to bat during the One Day International game against Australia in Sydney. Photograph: Ryan Pierse/Getty Images
With their bowlers struggling to check the flow of runs, many believe India's hopes of successfully defending its World Cup crown rests solely on the shoulders of their young and talented batsmen, the key among them being Virat Kohli.
The run machine hit a purple patch in the Test series against Australia, but is yet to get going in the ODI tri-series, having fallen cheaply in the games against the home side and England.
While his poor form is nothing to worry about, his batting position has become the subject of debate.
Kohli has batted at No 3 for most of his career in ODIs and been successful, but India's team management has surprisingly decided to demote its best batsman to No 4 just weeks ahead of the World Cup.
Former India batsmen Rahul Dravid and V V S Laxman are not fully convinced about the move.
"I would like Virat Kohli to bat at No 3, because I feel that No 3 batsmen are very crucial in the way the team sets up a total. I would like to see Kohli at one down," Laxman told Rediff.com in Mumbai on Wednesday, January 28, on the sidelines of the launch of Gillette's special edition INDIA razors, as a tribute to the spirit of Indian cricket fans.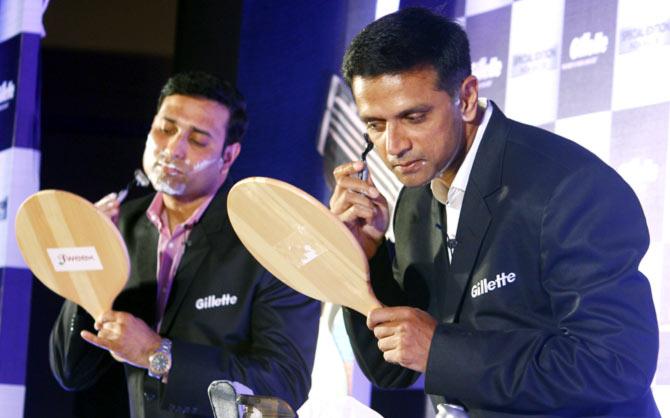 Image: V V S Laxman with Rahul Dravid at the launch of Gillette's special edition INDIA razors in Mumbai. Photograph: Hitesh Harisinghani/Rediff.com
Batting at No 3, Kohli has scored 4,158 runs, including 14 centuries and 23 fifties, in 93 matches, at an average of 51.
At No 4, his record is better -- 1.721 runs from 38 matches, averaging a massive 61.
India captain Mahendra Singh Dhoni has already indicated that Kohli's batting slot could be flexible at the World Cup. Dhoni says the position Kohli comes out to bat depends on how the openers fare.
'We have to make the middle order strong; the middle and the lower middle order. With Virat batting at four, what really happens is, if he bats he will go in quite early. Still close to the 12th or the 13th over, if a wicket falls we will send him in and from then on he can create a partnership. He can bat from one end and we can all look to give him company from the other side,' Dhoni said in Brisbane last week.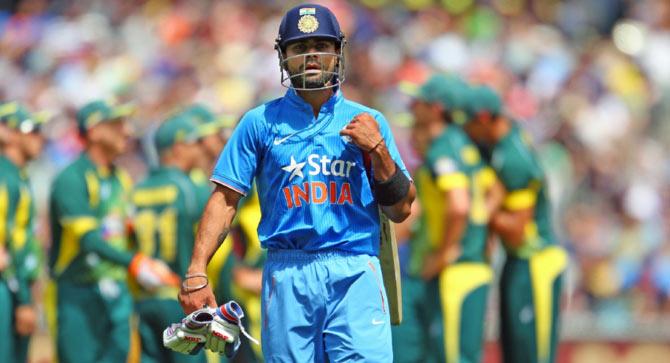 Image: Virat Kohli leaves the field after being dismissed. Photograph: Scott Barbour/Getty Images
Dravid agreed with Dhoni's theory, saying it makes sense to protect Kohli and ensure that he does not come out to bat if a wicket falls early. He said he could be sent at No 3 if the openers play out the new ball.
"I would like him to bat after 10 overs or so. Definitely, he should be batting at No 3; I would like him to bat at three," Dravid added. "Generally, you are assuming that your openers should be able to play out the first 10 overs."
"But I guess at the moment the way this Indian team is structured, six batsmen and the all-rounders after that, they almost feel they are light in the batting and they want Kohli to be able to bat there and control the game through the middle," he said.
"I think they need to be flexible about it and ensure that he is not batting anywhere lower than the 10 or 12th over. Once it is 10 overs and the openers are still there then Virat should go in," the former captain added.
What is your view?
Should Virat Kohli bat at No 3 in the World Cup?