'Indian cricket is in the safe hands of excitingly talented cricketers. No team can afford to underestimate India. If they do, it is to their peril.'
A memorable conversation with Madhav Apte, gentleman and cricketer who passed into the ages.
IMAGE: Madhav Apte, left, whose Test career was mysteriously cut short, despite being the second highest scorer on a tour of the West Indies.
It could happen only in India.
Young accomplished batsman Madhav Apte's scores were 64, 52, 64, 9, 0, 163 (not out), 30, 30, 15 and 33 for an impressive aggregate of 460 runs at a healthy average of 51.11 in the five Test series on the 1953 tour of the West Indies.
He had played two Tests before -- both against Pakistan in 1952-1953, scoring 30, 10 not out and 42 -- and was one of the first players to be picked for the West Indies tour.
Apte's performance in the West Indies, where he finished second to Polly Umrigar and ahead of far more experienced batsmen like Vijay Hazare, Vinoo Mankad, Pankaj Roy and Vijay Manjrekar, triggered great expectations.
Many believed India had unearthed a gem of an opening batsman. Others felt that a great Test career was launched. What followed has never been explained until now.
Madhav Apte was never selected again to play for India in an official Test. He played two unofficial 'Tests', against the Commonwealth Team that toured India in 1953-1954. He was only 21 when a brilliant cricketing career was mysteriously cut short.
Apte did not know what went wrong or why he was dropped. But he was never bitter about the selectors. He kept performing consistently in domestic cricket while watching other batsmen play for India. Some of them clearly not in his league.
Apte was an illustrious alumnus of the famed Bombay School of Batting and a favourite disciple of its founding principal, Vijay Merchant.
He played for Bombay for many years, shining particularly in an hour of crisis. He would usually say 'It was strange,' 'It was surprising,' 'It was shocking,' 'I haven't figured out,' whenever journalists asked why he had been treated so shabbily.
More than 60 years after that West Indies tour, Apte made a startling revelation in his autobiography, As Luck Would Have It.
'My sudden disappearance (exit) from Test cricket, especially after an impressive record, was never explained. Lala Amarnath chaired the selection committee. During the second Test in Bombay, curiously he approached me with a request to meet my father. He wanted cloth distributorship of the Kohinoor Mills for Delhi. He came home to meet my father. Bhausaheb (Apte's father; the Aptes owned mills) was shrewd enough to put two and two together! He and me, both of us would never have liked to link my cricket career and business,' Apte writes in the book.
'He politely declined Lala's distributorship proposal! Lala continued to be the chairman of selectors for a few years! I was never selected to play Test cricket again!'
When asked, during a freewheeling conversation in Ahmedabad in 2015, if he harboured any ill-will towards anybody, Apte told me (Haresh Pandya) that though he had still not "comprehended" why he was dropped for good for "no apparent reasons", he had "no negative feelings whatsoever" for any individual.
"Cricket is a great game. It is a microcosm of life itself. It teaches you many virtues, including how to take the rough with the smooth. I have long forgotten everything. And I really have no complaints about anything and against anybody," Apte said.
"I was shocked initially because I had performed far better than many in the West Indies. But as the reality that I was not going to play for India again began to sink in, I took it all in my stride. I was happy playing for Bombay and rubbing shoulders with some of the best cricketers of the country."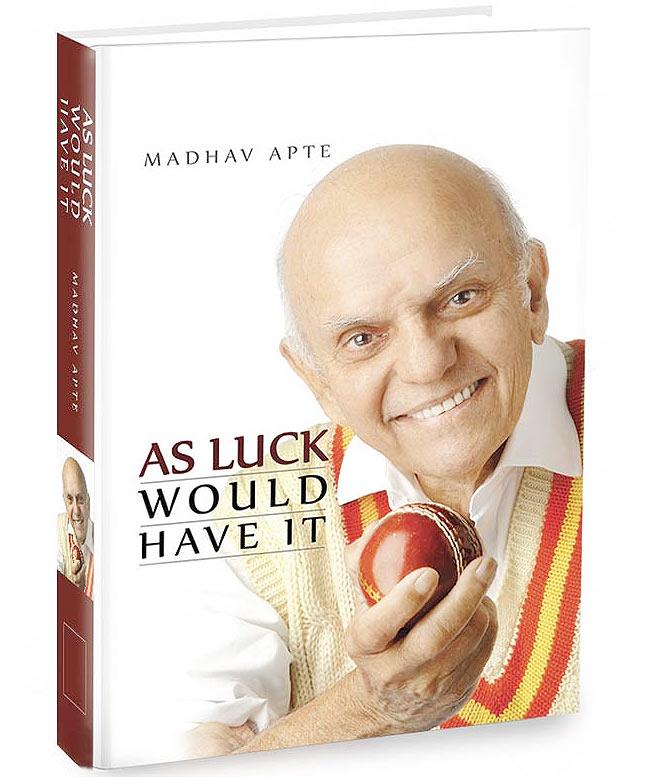 IMAGE: Madhav Apte's autobiography As Luck Would Have It.
Instead of writing his autobiography during or immediately after his playing days were over, Apte wrote As Luck Would Have It at the age of 82.
"The book was initially meant for my family and relatives only, and I had decided not to print more than 100 copies," he explained.
"It was intended to be a short memoir for my children and grandchildren. But when they read the rough draft, they were so happy they insisted I write it in greater detail and for the public, not just for the family. In the end, I had to honour their wishes."
Apart from scoring 542 runs at 49.27 in his all too brief career of seven Tests, Apte made 3,346 runs at 38.79 in all first-class cricket. Though he was a businessman by profession, his approach to cricket was "completely amateurish."
Technically and temperamentally he was in the Vijay Merchant and Vijay Hazare mould. If he had wanted, he could have plundered runs by becoming a bit selfish.
"Cricket is a team sport and there should be no place for personal glory, though an individual can shine through with his spectacular performance and singular contribution to his side's cause," he emphasised.
Cricket may have undergone a sea change since Apte's playing days, but the game is still "essentially a battle between bat and ball" for this unassuming man, whose fitness, memory and zeal for life are a lesson for many people half his age.
"And cricket is still a gentlemen's game for me. It will always remain so," he added. "There may be odd incidents of unfair play involving certain cricketers. But this does not mean cricket has ceased to be a gentlemen's game. At least for people of my generation cricket was meant to be played in the right spirit."
Apte was not in favour of 'walking,' even though it is believed to be one of cricket's noblest qualities. "When a batsman walks before being officially given out, he may be showing a fine example of sportsmanship, but is unknowingly snubbing the umpire's authority," he argued.
"He must wait for the umpire's decision even if he is convinced he is out. If he is declared out, fair enough. But if given not out, he should respect the umpire's decision, howsoever erroneous. You get some good decisions; you get some bad decisions. All this evens out at the end of the day. Walking, to me, does not serve any purpose."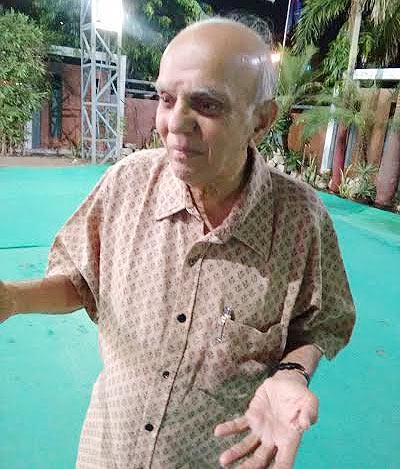 Though steeped in tradition, Apte is not averse to modern technology. His views on the Umpire Decision Review System, UDRS, are clear as crystal.
"When the technology is there, you must make the most of it. When most cricket-playing countries have favoured the UDRS, it is really baffling why the BCCI (Board of Control for Cricket in India) is against it. I think the sooner the BCCI accepts it and implements it, the better. Once a questionable verdict is referred to the UDRS, the batsman will have no reasons for any complaint if he is indeed out."
Discussing some Indian captains, Apte, in no uncertain terms, said he did not rate Hazare, under whom India recorded her maiden Test triumph, high.
"Hazare was a very defensive captain, just like his batting. He could never be imaginative or adventurous. He would never take undue risks. For him, a draw was an achievement, almost a victory. Maybe it was because the Indian team was not strong enough in those years. I know Merchant famously said that Hazare should never have led India. But let me tell you that Merchant, who never captained India in an official Test but so much was made of his so-called leadership ability, was even more defensive," revealed Apte, increasingly animated.
"To me, Tiger Pataudi was the best captain India ever had. He built a fairly powerful team and injected a much-needed dose of world-class fielding into it. He had both the imagination and vision as well as guts to take calculated risks. He commanded tremendous respect among his teammates. Pataudi would have achieved much more than he did as a captain if the resources at his command were not limited."
Apte stressed that while he admired Sourav Ganguly's captaincy, he did not approve of his shirt-waving act baring his chest at Lord's in celebration of India's victory in the NatWest Trophy final in 2002.
He was all praise for Mahendra Singh Dhoni who, he said, was never seen behaving "badly" on and off the field. "Dhoni set high standards of proper behaviour."
"Virat Kohli appears to be a natural leader of men," Apte added, "though only time will tell whether he has justified his talent as a captain."
"The Indian team has come a long way since my playing days. It has continued to flourish under different captains. Today, we have an array of fast and medium-pace bowlers. The trend was, of course, set by Kapil Dev, who remains the finest fast bowler India has ever produced. He was almost a perfect bowler," said the octogenarian observer.
"Indian cricket is in the safe hands of a bunch of young, excitingly talented cricketers headed by Kohli. They have been doing noticeably well in all the three formats of international cricket for quite some time now. No team can afford to underestimate India or take us for granted any more. If they do, it is to their peril."
This feature was first published on August 7, 2015. Haresh Pandya, who contributed this feature, sadly passed away in November 2017.